No propaganda, just real people telling their story to you.
Looking for first hand stories from our graduates?

Check out our Alumni Country Q&A, Articles and Blogs here to read about how their TEFL class training provided them the opportunity to teach English around the world.


Other Testimonials:
1) Online TEFL Class Testimonials from our graduates, click here.
2) Onsite TEFL class testimonals below:
Before teaching English in South Korea I worked in a stable, salaried position for a firm in downtown Chicago. Despite my general comfort, I knew I was ready for a change and wanted more stimulation in my life.
However, when I began considering teaching English abroad I naturally had many questions. And Ian Davis was an invaluable resource for me in making one of the biggest and ultimately best decisions of my life. He helped turn what originally seemed like a wild fantasy into reality.
From our very first contact, he had a way of thoroughly explaining all the technical processes and options, without ever sacrificing any of the enthusiasm involved in such a decision. Whether it was explaining the job markets, outlining the hiring process, or even small details like how to shape a resume, Ian always advised me with an energy that matched my own excitement.
In short, he kept the informative process simple and fun. And that's an attitude I've taken with me to Korea and the students I teach every day.

- Keith W., Seoul, South Korea
---

"I have found the organization, teacher-student contact and feedback, as well as overall care for the students and teachers to be very high. I have enjoyed the course because of the challenging material and encouragement from the trainers. I feel prepared to enter a classroom because of the training. I am very pleased with the course!"
Nichole P.
---

"I had a great experience with the TEFL program in Rio. Our teacher was fantastic—totally professional, knowledgeable…and always approachable. We covered pretty much everything [about] how to teach English as a foreign language. I also appreciated the section on how to teach Business English, since that's a lucrative and growing market. And, of course, Rio was the perfect place to strike a balance between work and the beach!"
Deborah C.
---

"I was very impressed with all your teachers - not only with their knowledge and expertise but also with their commitment."
- Francesco - Italy


"Actually, I had the expectation that we wouldn't have such freedom in the classroom and the chance to test ourselves quite so much, so it was brilliant that we were allowed to do so."
- Jillian - USA


"Everyone I have met here I have liked and this is one thing I would convey to a potential student. Budapest is a very appealing city!"
- Don - USA


"I was surprised to see how dedicated the teachers were to the course activities and how much they care about their students."
- Svetlana - Macedonia


"Friendly environment and willing to help with all sorts of info and aspects of life."
- Martina - Ireland
I learned to plan for my lessons and I even use the lesson plan sheets we were given. I think the main thing I learnt was to relate lessons to useful everyday life, and to tailor them to meet each students individual interests so I am always keeping an eye open for inspiration for lessons.

Lydia M
---

I have had so many work offers but I haven't been able to accept all of them. In fact I am working with different levels such as business English, general English and as a 'lettrice' in two state high Schools.

Sarah L
---

I never ever could have taught a single day without having what I learned at the TEFL course. In the long run, almost everything I learned has remained a part of both my teaching and my daily experiences here in Italy.

Janssen S


The trainer was open and brimming with enthusiasm.
I recommend this experience to anyone interested in teaching English abroad, while tasting the job you also get a new qualification.

Joshua G


The grammar classes have proved to be invaluable.
The wonderful experience I had confirmed my decisions and abilities. I also found both that I enjoy teaching and have ability at it, which, as I am working towards phasing out my current profession into something different, gives me direction and confidence.

Jackie D

-----

The Florence TEFL course was an investment which showed its rewards from day one. I was extremely impressed with the level of professionalism, enthusiasm and organization of the trainers and all the staff involved. The instructors instilled me with a solid grounding, enthusiasm and above all, the confidence for teaching English as a foreign language. I started the course with an eagerness to learn, and during the course absorbed more than I could have imagined in such a short period of time! This was the result of the material being presented in a way which facilitated the best possible learning – 'practice makes perfect'.
The course practiced what it preached. It was a true testimony of its effectiveness. The trainers were highly qualified and sensitive to all our needs, making the learning process enjoyable and relevant.
To learn more about teaching abroad and TEFL Certification go to our form to request a brochure.

I began working in Milan immediately after finishing the Florence TEFL course. Milan offers a huge pool of teaching opportunities as well as being ideally located for wonderful weekend trips to the awe-inspiring Alps, tranquil lakes or spectacular sea of the Italian Riviera. It's definitely the place to kick start a rewarding and enjoyable career in teaching English as a foreign language.

Irene
---

"I would highly recommend the TEFL course in Buenos Aires. [The TEFL trainers] were excellent. It was a challenging course with a lot of homework. The most valuable part was the practice teaching, which was a great way to apply the theory in a realistic setting and to build confidence."
- Robert C.


"The trainers made the learning process fun, even the grammar lessons. And their positive attitudes made it a pleasure to come to class every day. I feel I am now qualified and ready to take on a teaching job here in Argentina. I have been given many important tools that have helped to build my confidence in the field."
- Kelly N.


"All the instructors were extremely helpful and responsive. The client service staff is excellent; they're all extremely helpful and smile all the time."
---

"Just finished the TEFL. I can't believe how much I learned in 4 short weeks. The hands on nature of the course really prepared me for teaching! Sherry is a great teacher! I would recommend this course to anyone for sure."
---

"The trainers were very knowledgeable, energetic and always gave us good, constructive criticism. The feedback was always very effective. Very helpful staff and good, clean facilities. This course was far better than I ever expected."
---

Sabrina was an excellent trainer! She inspired me. All 12 modules were excellent. The student teaching was VERY VALUABLE—Thank you!
---

Sherry works so much and so well, she should earn hundreds of thousands of dollars for what she does. She is fun, knowledgeable and thorough.
---

All the trainers were very knowledgeable and enthusiastic about the course. The staff were very helpful.
---

Tom and Sabrina were really enthusiastic and motivated trainers. They showed real interest in all of us. The client service was really good.
---

My TEFL group really enjoyed hearing about practical experiences from Sabrina. The observations and feedback were invaluable. The dedicated computers for the TEFLers were awesome, and the new TEFL Room is lovely, as are all the other amenities. Wow!
---

This was the most fun I have ever had taking a class. I have traveled all over the world and this one of the best trips I have taken. The course is fun and very enlightening. Sherry is an awesome teacher!
---

All the instructors were extremely helpful and responsive. The client service staff is excellent; they're all extremely helpful and smile all the time.
---

My instructor always had good energy to keep us motivated and most importantly she's extremely approachable. Service is excellent and so are the facilities. The TEFL Office is AWESOME and it was really important that we had our own space and computers.
---

Sherry was always high energy and full of positivity. I really valued her feedback. She had very high expectations of us, which was good, because it made us reach for more.
---

Tom was very dynamic and entertaining. He even made grammar interesting! I really enjoyed this course. All the services at and the availability to the teaching and training rooms was amazing—I was very impressed with this.
---

Just finished the TEFL. I can't believe how much I learned in 4 short weeks. The hands on nature of the course really prepared me for teaching! My instructor is a great teacher! I would recommend this course to anyone for sure.
---

The trainers were very knowledgeable, energetic and always gave us good, constructive criticism. The feedback was always very effective. Very helpful staff and good, clean facilities. This course was far better than I ever expected.
---

The trainers were dynamic and energetic. The International Programs Department was great with solving personal issues for me—Overall, a fantastic course, and very comprehensive. Thanks very much!
---

Sherry is incredibly knowledgeable and really cares about how we do. In the beginning, I was worried that she was looking for us to completely conform to her style but she is very open to different approaches and rapports in the classroom.
---

All the help my professor gave me to refine my teaching skills was excellent. I really appreciated the feedback and the honesty. The staff are very polite and willing to help with any situation. Very good environment, clean and very organized.
---

My teacher possesses unbelievable amounts of energy. The course was full on, but Tom also made it lots of fun. With respect to the staff, at any point I've needed help there was always someone there. The staff go out of their way to be friendly and helpful. Facilities are always available and very clean. The school has a wonderful vibe.
---

The instructor was excellent at delivering the material. He was always fun and energetic. The people in office always greeted me with smile. I really enjoyed my time over the 4 weeks, learned a lot of new skills and have a totally new view on how second language learners learn English.
---

To learn more about teaching abroad and TEFL Certification go to our form to request a brochure.
"The feedback from our instructor Andy was invaluable & very constructive. Rick's theory delivery in Cambodia was informative, interesting & delivered well. Hands on experiences in context with our learning was a great combination."

- Lynn
Rick was an excellent teacher for the traveling and I felt I learnt a lot from his wealth or experience. Invaluable feeback from Indy really useful"

- Corinne

---

"The academic week was good, introducing methods of teaching about the actual teaching practice, I have really enjoyed this TEFL training."

- Gill

---

"I enjoyed the TESOL training the most. I felt that I leaned things that I will keep with me forever. I also enjoy the group I learned with."

- Christopher -

---

"The class provided many opportunities to be creative in your activity participation /design. I loved the tour and travel program. I felt it was well organized and a great introduction to some of the wonders of S.E. Asia "

- Christian

---

"The best thing about the TEFL course was our instructor Rick. It's very apparent he has tons of experience and he was able to explain things very thoroughly. The travel point of the program was great, especially Laos. "

Azalea -


"It was an awesome experience!"

- Joshua

"The open – minded, friendly, supportive staff were great. It was exhausting, a lot of time spent travelling . However, I appreciated every moment and am really glad that we went to go many different places."

- Ben


"The teacher was fantastic! He was so enthusiastic it made the course very interesting."

- Adele
---

"The best thing was that we got to be new learners ourselves and with that in mind. We have learned how to teach using the best strategy."

- Liu


"Teaching to students who wanted to learn to improve their current situation was most rewarding. It was good fun!"

- Paul

---


"I got the tools and guidance I need to teach English confidently in front a room full of students."

- Larry

---

"I'm glad to have chosen Cambodia as the country to do my TEFL course. The International TEFL Academy's package is thorough, well planned and run professional by all your staff. The depth of experience evident and there is considerable support from my course colleagues. I was particularly drawn to the chance to take part in some formal Khmer language lessons and to be able to practice teaching in Cambodia."

- Tom

---


"I truly had a blast during the 4-week course! There was a good mix of class instruction, preparing for lessons, actual teaching, and discussion! I met wonderful people from all over. Although the course was intense, the laid-back atmosphere provided a relaxed, enjoyable environment in which to learn."

- Brian

---


"Great course. I got offered the first job I applied for. It's a great feeling knowing that you can go to any country and find a job and lifestyle you want."

Zack

---


"The bit loved most was working and teaching the young orphans."

- Molly

---


"I began my search for an English Teaching course in Asia; I stumbled across several TEFL courses on the internet. International TEFL Academy's struck me as the most compelling program for several reasons.

First, the TEFL courses and job guidance opportunity was very attractive. International TEFL Academy's offers an international TEFL certification with the prospect to teach in Cambodia and other locations in Asia while I explored the surrounding countries like, Thailand, Vietnam, China and Laos.

Secondly, job guidance assistance provides me with a sense of job security. I felt comfortable traveling to a new country and not worry about searching for work around Asia.

Lastly, everyone I contacted who completed the program had great things to say about the course and the year long trips program around Asia."

- James

---


"Your business English module really opened my eyes to how I could teach English to businesses in Cambodia."

- Chris

---


"I found my experiences with the International TEFL Academy's training and excursions to be one of total satisfaction!!!! The training was difficult, yet very exciting as I learned many things about the Asian culture that fascinated and intrigued me. The ability to put the things I learned in class with the real world experiences was incredible.
The excursions that were planned allowed me to interact with the people and to understand how and why their culture was formed and has succeeded for thousands of years. I highly recommend this program to anyone who wants to experience and work in countries that have some of the most diverse populations and the friendliest people I have ever met."

- Mary

---

"Great fun, well organized and professional. I learned much more than I could have ever have imagined. Cambodia was just amazing and the local people were so nice. I'll never forget my experience there."

- Sarah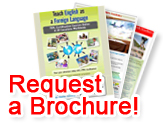 Contact International TEFL Academy today to speak with an advisor to find out about our online course, multiple on-site TEFL classes or request a brochure to learn about TEFL training courses and a comparison of the most popular countries to teach English.