TEFL TESOL Certification
Phnom Penh, Cambodia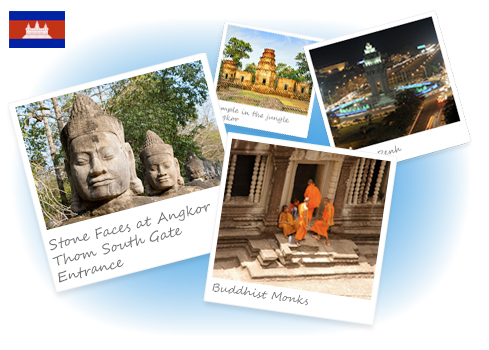 Length of training: 4 weeks

Tuition: $ 1,525 ($ 500 Deposit, $ 1,025 balance)*
(Housing costs are not included)

More information on TEFL Course Dates
Note: This is a partner course of International TEFL Academy. All students receive the full benefits of ITA students and alumni, including lifetime Job Search Guidance.
Phnom Penh, Cambodia
Cambodia has become one of the must-visit destinations in Southeast Asia. Pristine beaches, ancient temples and exotic jungle are just some of the compelling attractions of the country. TEFL TESOL certification students regularly find paid teaching positions throughout the country, and demand for English teachers in Cambodia remains consistently strong.

As the capitol, Phnom Penh is the political and commercial center of the country, and the city is home to over one million people. Once considered the most beautiful of all cities in French Indo-China, much of the city's colonial charm has survived the violent decades the country and its people have experienced since independence. Beautiful public buildings and private villas are a lovely part of the legacy left by the country's French rulers. Phnom Penh also offers travelers the Royal Palace, the Silver Pagoda and the excellent National Museum, plus a wide selection of hotels, restaurants, cafés and bars.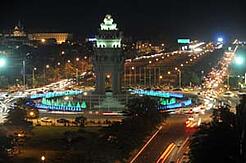 While many areas of the city, such as the beautiful riverfront, are thriving, it is hard to escape the ever-present poverty and reminders of the fact that many Cambodians are still struggling to make ends meet. The economy in Cambodia is beginning to take off, however, and its residents have a strong need and desire to learn English.
International TEFL Academy offers lifetime job search guidance for all our graduates.
Tuition Covers:
Tuition does not cover:
Personal Expenses

International Flights

Visas

Insurance

Airport Pickup

Housing payments are made directly to hostels or apartments in Cambodia

Housing & Communication:
During the four-week TEFL TESOL training program, housing will be available at a local hotel or in the nearby apartments. These apartments are set up for single occupancy, though couples can certainly share an apartment if they wish. All apartments are fully furnished with double beds, wardrobes, dressing tables, air-conditioning, TV with cable, refrigerators, microwaves, western style bathrooms with hot water, tables, chairs, and couches. Kitchen utensils, bedding, and towels are provided. Often, a one month security deposit and the first month's rent are required at the time of rental.
An international cell phone will be available to all program participants ($75 dollar fee for lost phone).
You will be given access to the Internet during training at the training center. Most hiring schools have Internet access available to teachers during school hours.
Food & Clothing: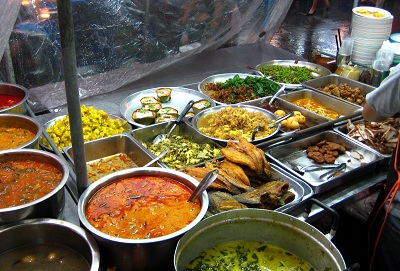 Phnom Penh offers the discerning diner plenty of choices at a range of prices. Be prepared for rice and seafood, especially shrimp, crab, and freshwater fish dishes. The rich flavors of Cambodian cuisine can be sampled from streetside vendors just as easily as from a refined designer restaurant.

Cambodian fare is related to that found in both Thailand and Southern China. Favorite soups include somlar machou banle (sour fish soup), somlar chapek (pork soup with ginger) and num banh choc (a noodle and fish soup often served for breakfast). Rice is often served with sach mon chha khnhei (stir-fried chicken and ginger), choeeng chomni chrouc chean (pork spareribs), or the spicy an sam chruk (pork and soybeans marinated with ginger and chilies.)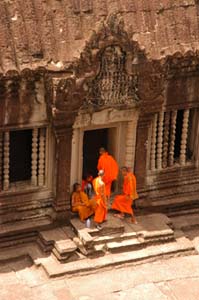 In Phnom Penh, the large number of Chinese immigrants means that excellent Cantonese, Hokkien, Teochou and Hailam restaurants abound. Thai, Vietnamese, and French cuisine is also available.
Fresh vegetables and fruits - especially coconut, durian, mango, pineapple, rambutan, starfruit, and watermelon - are in abundant supply, as are vegetarian restaurants. The beverage to indulge in here is coffee- it's always best to drink bottled water and juices in Cambodia.

Light, comfortable, easy to launder clothing in natural fabrics such as cotton, suits Cambodia well. Good walking shoes and sandals that can be easily slipped off are recommended, as shoes are removed when entering temples and homes. No need to over pack, as high-quality clothes are strikingly cheap, while inexpensive laundry service is generally available wherever you go.
English language teachers should adhere to the local culture and ideas of professionalism. "Casually smart" attire means that women should cover their shoulders (sleeveless shirts are acceptable, but very thin straps or tank tops are not). Women should avoid wearing low-cut shirts, mini skirts, and shirts that show their midriff. Open-toed shoes are acceptable. Men should wear long pants (not jeans), short- or long-sleeved shirt with a collar (possibly with a tie), and loafers or dress shoes. Sandals and tennis shoes are not acceptable when teaching. Long hair should be neatly tied into a ponytail.
Excursions:
Excursions are not just a leisure activity - they are an integral part of developing a true understanding of the character and beauty of your host country and its surrounding area. We balance the intensive TEFL TESOL classroom work and practice teaching of your training with by offering series of enriching excursions throughout Cambodia.

Approximately once a month, a variety of excursions in Thailand, Vietnam, Laos, and Cambodia are offered for TEFL course students. Some of the trips currently offered include:
Angkor Wat Temples

Scuba diving in Ranong, Thailand

The Rocket Festival and a kayak trip in Laos

Hanoi, Hai Long Bay, and the mountain village of Sapa, in Vietnam

Sihanoukville Beach in Cambodia

Flower festival in Chiang Mai, Thailand

Nha Trang beach and boat trip in Vietnam
Costs vary by excursion. These brief trips are a great way to travel and spend time with other TEFL TESOL course participants working in Cambodia or elsewhere in Southeast Asia.

Things to See & Do in and around Phnom Penh:
The Cambodian city of Phnom Penh is home to a continually rising number of entertainment venues catering to a mixed crowd of expatriates, tourists, and locals. The choice of pubs and bars in Phnom Penh varies widely, from inexpensive backpacker bars to sophisticated nightclubs. Take a trip outside the city and learn more about the tragic history of the Pol Pot years. Tours of the Tuol Sleng Museum and the Killing Fields of Choeung Ek are a profoundly memorable experience.

Bordered by Thailand, Laos, and Vietnam - with a coastline on the tropical Gulf of Thailand - Cambodia is at the heart of Southeast Asia. Border crossings are now easily negotiable for travelers wishing to explore further afield.
Job Prospects & Pay:
English teaching jobs in Cambodia are available in public and private schools. Local living expenses are low: about US$500/month. Typical wages for English language teachers range from US$700-$1,100/month. Benefits vary greatly from school to school. Most TEFL TESOL certified teachers can earn enough to live very comfortably, enjoy local entertainment and restaurants and travel to local attractions.
An average workweek for an English teaching in Cambodia is usually 30-35 hours, including class time and preparation. Schools usually open at 8:30am and generally close at 3:00pm. A typical teaching day consists of five lessons and then planning time. Our Cambodia TEFL TESOL course graduates typically conduct their job search in Phnom Penh and surrounding areas.
To learn more about teaching abroad and TEFL Certification go to our form to request a brochure.