Teaching English in Cambodia: The Old World Charm of Phnom Penh
Thinking of teaching English in Cambodia?
Combining old world charm, tropical flavor the vibrant spirit of a city on the move, Phnom Penh is the bustling capital of Cambodia, one of the fastest growing job markets for teaching English in Asia. This historic city is located at the confluence of three major rivers in Cambodia: the great Tonle Sap, the Bassac and the country's longest, the Mekong River, which flows from Tibet and meanders southwards through China, Burma, Thailand, Laos and Vietnam, before finally emptying into the South China Sea.
Known for generations as the "Pearl of Asia," Phnom Penh is divided into three sections; the north, a concentrated and attractive residential area; the south, considered the French part of the city that is home to many government ministries, banks, and colonial houses; and the city center, which represents the heart of the city's commerce, markets, foods stalls and shops.

Like many cities in Southeast Asia, Phnom Penh has undergone tremendous changes with the arrival of new investment and economic growth. With the construction of new hotels, shops and office buildings, businesses are springing up constantly and tourism is booming. Increased international trade and tourism has generated enormous demand for English language instruction and has created thousands of jobs for teaching English in Cambodia. Yet despite recent growth and development, Phnom Penh has managed to retain its old charm and character, embodied in its centuries-old pagodas, broad boulevards, old French colonial buildings, and parks and green spaces that provide oases of peace and serenity among the city's constant frenzy of motorbikes, bicycles and street hawkers.
If you're considering teaching English in Southeast Asia, Phnom Penh boasts countless attractions and a rich historical culture to explore, so here are just some of the best places to discover: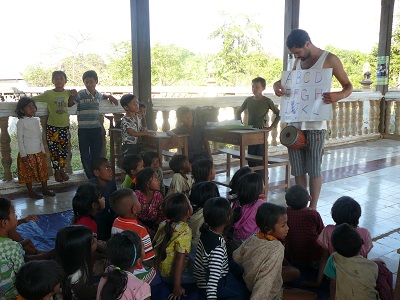 Read more about teaching English in Cambodia
The Royal Palace
Built in 1866 by King Norodom, the magnificent Royal Palace is still home to Cambodia's royal family. The grounds contain several buildings, each one used for different events, like the coronation of kings, receptions, traditional celebrations and dance performances. When the King is not in residence, the Palace is open to the public and offers fascinating insights in Cambodia's history, culture and artistic heritage. One of the most impressive buildings in the palace complex is the Silver Pagoda, which owes its name to the 5,000 silver tiles weighing 1kg each that cover the entire floor.
National Museum of Cambodia
The National Museum is housed in a graceful terracotta structure of traditional design, just north of the Royal Palace. Surrounded by beautifully manicured tropical gardens, the museum hosts one of the world's preeminent collections of Khmer art and artifacts. The term "Khmer" refers to the ethnicity and language of most Cambodians. It also refers to the great Hindu-Buddhist Khmer Empire that ruled Cambodia and many other parts of Southeast Asia between the 9th and 15th centuries. A highly advanced civilization, the Khmer Empire produced a wealth of culture, art, and architecture, the most famous of which is the great temple complex of Angkor Wat.
Sampling Traditional Cambodian Cuisine at Romdeng
From sumptuous prawn curry and fish amok (curried fish steamed in a banana leaf) to deep-fried spiders, Romdeng serves fantastic (and perhaps bizarre to some) traditional and contemporary Cambodia cuisine in an elegant French colonial villa that is decorated with handmade carvings, tapestries and furniture. In addition to serving great food, the restaurant is managed by Mith Samlanh, an organization associated with Friends-International that provides homes, schooling and medical services to local disadvantaged street children. In fact many of the restaurant's staff were themselves former street youth, and proceeds are used to fund the organization's charitable programs.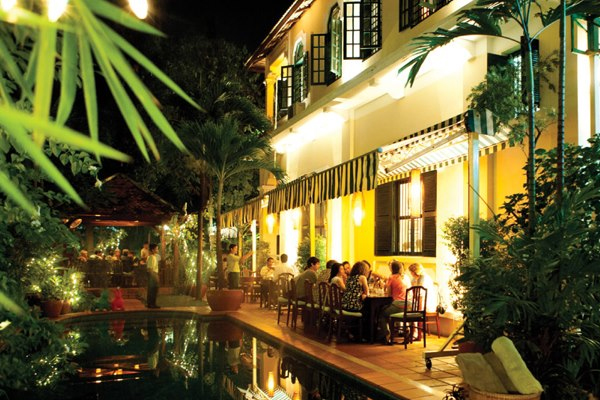 Wat Phnom
One of the most magical places in Phnom Penh, this magnificent pagoda was built in 1373 and sits on a tree covered hill about 30m high in the northeast section of the city. According to local tradition, this temple is so powerful that anyone who makes a wish here will have it granted. Watch out for the monkeys, because a generous offering of a single banana could attract a large furry crowd and warrant more attention than you may expect (hint: they're not shy at all!).
The Markets of Phnom Penh
The authentic character of Phnom Penh is perhaps best discovered in one of the city's many markets, where people from all walks of life congregate to buy and barter for daily goods, meet with friends and grab a quick meal. At the new Central Market you will find textiles, antiques, gold and silver jewelry. Tuol Tom Pong Market is also known as the Russian Market, and here you can find paintings and antiques. Psar Thmei is also called Central Market and is one of the top 10 largest domes in the world. Here you will be able to find everything you want, from jewelry, live seafood and produce to electronics, textiles and souvenirs.

Related Articles:
Founded in 2010, International TEFL Academy is a world leader in TEFL certification for teaching English abroad & teaching English online. ITA offers accredited TEFL certification classes online & in 25 locations worldwide and has received multiple awards & widespread recognition as one of the best TEFL schools in the world. ITA provides all students and graduates with lifetime job search guidance. ITA has certified more than 25,000 English teachers and our graduates are currently teaching in 80 countries worldwide.
Want to Learn More About Teaching English Abroad?
Request a free brochure or call 773-634-9900 to speak with an expert advisor about all aspects of TEFL certification and teaching English abroad or online, including the hiring process, salaries, visas, TEFL class options, job placement assistance and more.