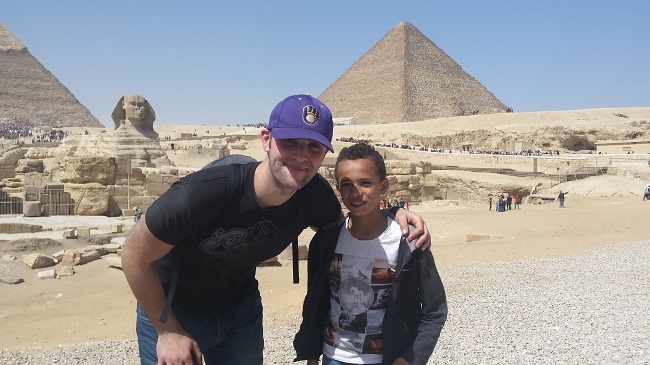 By: Eric Schenck
My name is Eric, and I don't really know what I'm doing with my life.
For almost three years, I lived in Cairo, Egypt. I was certified to teach English through International TEFL Academy in April of 2015. One month later, I graduated from Gonzaga University. Three months after that, I packed my bags, quit my job, and flew out.
On August 11th of 2015, I arrived in the land of the pharaohs. It is now September of 2018. I write this from my new apartment in Düsseldorf, Germany. It seems like an entire lifetime of experiences has passed by in just moments.
……………
People thought I had a death wish. Voluntarily teaching English in Cairo?
Surely I was insane. They didn't get my conviction of "wanting to see something." That's what studying abroad in France was for. They also didn't get my love for Arabic. How every word learned was a door unlocked in my mind. How every conjugation mastered was a part of me I didn't know existed.
For everybody else, it was just weird. So they laughed. For a friend and coworker and family member that craved the Middle East, that was all they could do.
……………
It took me a while to settle. Once I got through customs, it was recovering from jet lag. Once I bought a SIM card, it was finding an apartment. It was an endless set of problems that never seemed to end. The fact that three years of Standard Arabic at school hadn't prepare me in the slightest for the Egyptian dialect only made things worse.
But then I hit my stride. I started making friends. I explored Cairo. And in the city of the pyramids, my Arabic only got better.
The first month turned into six months, which turned into a year, which turned into two. At that point, I started making plans. I loved the city, but I needed something new. Cairo had taught me so much, but I longed for bacon.
……………
Then I met a German girl. She was doing a three month long internship in Cairo, and she wanted to know where the best place for tea was. I took her out for beer instead. We instantly clicked.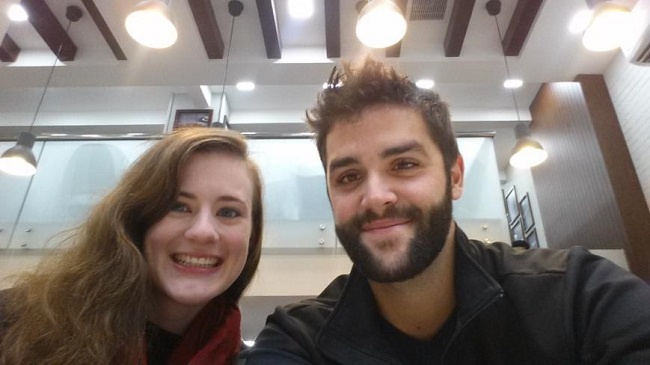 But in December of 2017, she left. Two years and four months after I arrived, I had my heart broken again. We both cried. It had happened once before in Egypt. This time was different, but very much the same. Another goodbye, and another long ride home from the airport to an apartment suddenly too small.
I went to work that morning. My boss asked me why my eyes were so red. I blamed it on my allergies. It was two weeks before Christmas, and I blamed it on my allergies.
……………
Over cocktails and sugar cookies, as Christmas music played in the background, I had one of those talks with my mom. Those talks where you once again realize just how smart your parents are. I was done with Egypt, and I needed something new.
I called the German girl the day before I went back to Cairo. My time home for the holidays was over, and I needed to tell her: this would be my last time flying back. My voice on the phone sounded far less convincing. I didn't know my next country, or my next job.
But July. That was the only certainty. On July 1st I was flying out….or hopping on a bus……or renting a hot air balloon and seeing where I landed. That gave me six months to figure things out. I told her that I had no idea where I was going, and she laughed. She told me that Germany had really good beer. That's all I could think of when we hung up.
After three years of Egypt, good beer sounded nice.
……………
We made plans for me to see her. I quit my job in April, and bought a ticket for May. A week before I left,I started emailing people. I didn't have too many skills, and my Political Science degree didn't mean much. But damn could I teach. I knew how to make students laugh. I knew how to ask good questions. I knew which lesson plans were gold, and which textbooks weren't worth the paper they were printed on. Three years in Cairo had taught me something.
Apparently, that was enough. By the time I arrived in Cologne, I had two interviews set up. By the time I went back to Egypt, I had two offers. We talked about it the night before I left. I didn't have to, of course. But it was there. An opportunity had presented itself, and I had something in my pocket.
I went back to an apartment suddenly made larger. I started teaching English online.
And thinking.
……………
On July 1st, 2018, I left Cairo. That was the plan all along, after all.
I spent my last weekend in Egypt on the beach. Surrounded by good music, great friends, and subpar wine, I bid farewell. To a country that had broken me, and a city that had built me up again.
I was different than I was three years ago. The way I walked, the way I held a conversation, the way I looked at a map. It had all changed. My flight to Greece was at 3:30 AM. I stumbled into the airport at one in the morning, sleep-deprived and nervous. My life was neatly packed away in two bags. It was 1,054 days since I had come. I did the math while waiting for Uber. As I lifted off, I put my hand on the window. Staring out at a city of lights, I whispered "Thank You."
It was time to move on.
……………
Noah didn't quite understand, but he did. It had always been like that. My little brother met me in Athens, and we started our trip of three weeks. Getting lost in the Albanian mountains. Hitchhiking in Montenegro. Scooters in Hungary. We made our way up, zigzagging across Eastern Europe.
On planes, trains, and automobiles, I inched ever closer. We were meeting her in Poland. It was a moment I was excited for. It was also a moment I dreaded. Holding her in my arms again meant something had ended, and that something else was beginning.
By the time we entered Krakow, I was out of excuses.
I was moving to Germany.
……………
The morning that Noah left, I took him to the airport. I hugged him, told him how much the trip had meant to me, and handed him a letter. Something I had written the night before. Stuff about taking chances. I felt it was something a big brother should do. Maybe I was just giving myself advice.
I came back that morning and noticed, for the first time, just how uncomfortable I felt. This wasn't Cairo. No traffic jams. No throngs of people staring at your skin. The most disturbing lack of sound I had ever heard. I was an American from San Francisco, and Egypt was now more comfortable than Germany.
What had happened?
……………
That night, my first night alone in Germany, I picked it up. Dented and faded, but still intact. A symbol of everything I had done. A Coca Cola can.
On my first flight from San Francisco to Dubai, which then took me to Cairo, this was the drink I had chosen. I had understood the writing on the side. Squiggles had become language. I had never been to Egypt at that point, but here I was, three years later, sitting in Germany.
Still intact.
And stronger.
……………
I have no idea what comes next. Three years ago, I hopped on a plane to the Middle East. I told my mother the night before that I wasn't scared. Twenty minutes later, as she went to bed, I cried myself to sleep. I wasn't ready for it. But I was. I really was. And I think we all are. Everything you need is already there.
For some, teaching English abroad is a way to see the world. For others, it's a career they are truly passionate about. For all of us, though, it's completely and utterly life-changing. As I sit in my apartment in Düsseldorf, this gives me solace.
Every day is a new chance to ask yourself what you really want. To take risks, and to dare greatly.
My time is ticking. So is yours.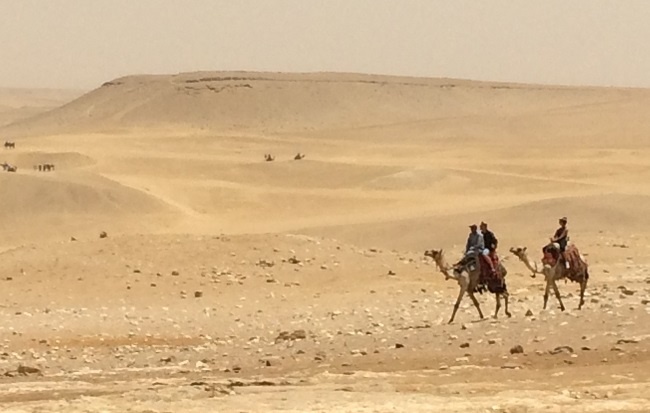 ……………
My name is Eric, and I don't really know what I'm doing with my life. If I told you I knew exactly "what's next," I'd be lying. But I don't. And right now, that's OK. I traded a stable life in Cairo for a void, and a blank space currently looms before me.
The Egypt of 2015 has become the Germany of 2018.
It's terrifying.
It's daunting.
And it's absolutely beautiful.
Eric Schenck is 25 years old with a BA in Political Science. Due to a somewhat unexpected obsession with Arabic after a college course, he spent three years in Cairo, Egypt, teaching English and working with refugees. He now lives in Germany, where he has started studying the (just as confusing) German language.