Tha Bo, Thailand English Teaching Q and A with Emily Robinson
TELL US ABOUT YOURSELF!
What is your citizenship?
United States
What city and state are you from?
Harwich, Massachusetts (Cape Cod)
How old are you?
25
What is your education level and background?
Master's Degree in Education
Have you traveled abroad in the past?
Some international travel with friends, family, business, etc.
If you have traveled abroad in the past, where have you been?
Belize, Mexico, Aruba, and The Dominican Republic.
What sparked your interest in going to teach English abroad?
I had finished up my Master's Degree in Secondary English Teaching, and even with a lot of experience and qualifications, I couldn't find a job at home in the US. I was nannying a lot - which was nice and I loved the kids tons and tons, but I was paid very little for working really long hours. I wanted a change. I had always lived in the Northeast - and I really do love it there, very much - but I was excited by the idea of doing something totally different, and putting my schooling, experience, and abilities to good use in a place where they were really desired.
What were some of your concerns before teaching abroad?
Mostly my concerns were about health precautions - other than that, I didn't really have any idea what kind of questions or concerns to have.
What did your friends and family think about you moving and teaching abroad?
I was nervous to tell my family at first because I knew they would really miss me - but they took it surprisingly well. The most common response I heard from people was "Good for you! Do it while you're young." The support outweighed the concern.
TEFL CLASS INFORMATION
Why did you decide to get TEFL certified and choose International TEFL Academy?
I wanted to be well-prepared and well qualified for the teaching positions I would come across. I chose International TEFL Academy mostly because of the practicum student teaching requirement, and because of how comforting and relatable my advisor (Jeff Penick) was on the phone. I called when I was trying to decide if this was really something I was going to do, even though I had no idea what kinds of questions to ask. He talked enthusiastically and very realistically about the program and teaching abroad.
I didn't feel like he was selling me the program - he was really just interested in helping to paint me a clear picture of what I would be experiencing. I also believe in the importance of the practicum requirement - you can study education intensely and still not ever have a grip on it until you're in the classroom.
Which TEFL certification course did you take?
How did you like the course?
The Online TEFL course was pretty good. Since I studied education in college, a bit of the material was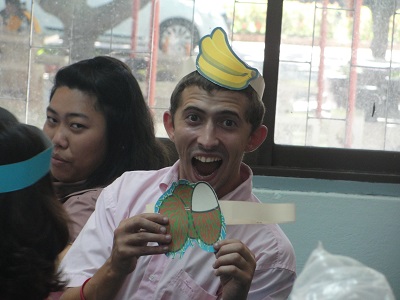 redundant, and I spent a lot of time doing tasks and re-reading things I already had a firm grasp on. But the new information specifically about EFL teaching was good to learn. I think the hardest part for me was simply that I do not prefer online classes, but it made the most sense for me to take the online course at the time.
I prefer to have a teacher and to have relationships with my classmates and teachers. However, my professor Tyler Bradburry did a nice job of being personable and enthusiastic in her messages and online communication.
I also am thrilled about the lifelong job search guidance. It is nice to know that, no matter where I pursue teaching in the future, that I will have some help along the way. It's nice that this TEFL course seems to stay in contact with its students through Facebook, emails and Alumni pages.
How has your TEFL training helped you in your current teaching position?
My Student Affairs contact at ITA helped me find a job! That was really nice. In my current teaching position, I haven't yet discovered exactly how the course has helped me, as I have only been teaching for two weeks. I will gladly contact International TEFL Academy in the future once I have a better idea of what is helping/what would have helped.
TEACHING ABROAD IN THA BO, THAILAND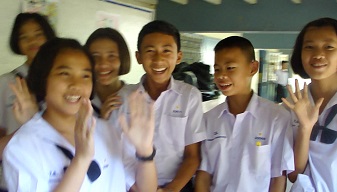 Which city and country did you decide to teach English in and why?
I am teaching English in Tha Bo, (Nong Khai Province), Thailand.
How long have you been in this country and how long do you plan to stay?
I have traveled for 3 months before starting to teach. I plan to stay for 1 year.
How did you secure your English teaching job?
Karen Crone in the Student Affairs department at ITA sent my resume to a new agency, Bangkok Success, and I had a Skype interview with them as I was traveling.
How did you get your work visa? If you didn't get a work visa, please elaborate on working under the table without a work visa.
Oh boy. This was a tricky one. Our agency "got all of the paperwork together" for us and sent us off to Vientiane - but we were missing an important document. We had an invitation letter from our school, but not from the school district. We had to take two trips to Laos and miss a couple days of school in order to get our visas.
Tell us about your English teaching job!
Hours: I work between 40-45 hours per week
Salary: I am paid 30,000 baht per month (just over 1,000 USD)
School/Students: I work for a secondary public school of about 2,500 students, ages 12-18
Vacation: We get a handful of sick days, and we get the whole month of October off in-between semesters, and a 10 day break in July.
My company has us sign 5 month contracts - which is good, because it gives you the option to leave if you don't like it - but it's not so good because then they don't have to pay you for the month of October, which is the vacation month in between semesters.
Classroom: The classrooms are small and crowded and unbelievably hot, usually with over 50 students. This is a challenge, but it's a good one. These are the situations where I think I can be of a bigger help.
How did you find somewhere to live and what is it like? Do you have roommates?
Bangkok Success helped us find a place to live. I live with the other foreign teachers in a big, really nice home with AC, fully furnished, a computer, washer, kitchen, living room, internet, etc. It's not at all what I imagined my living situation to be like, but it's nice.
COUNTRY INFORMATION - FUN!
Please explain the cultural aspects, public transportation, nightlife, social activities, food, expat community, dating scene, travel opportunities, etc. about your country: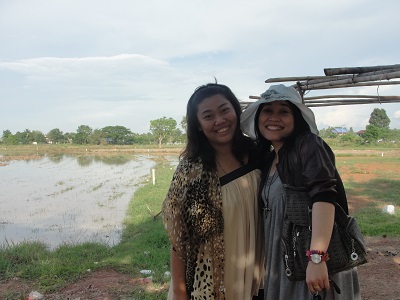 Culture: People are really friendly here! Food is a really big thing here - most small talk starts by people asking you if your food is delicious. They are shocked to see foreigners (because I am in the Northeast of Thailand, where I believe only 4-10 percent of Thailand's tourists visit annually).
Transportation: Everybody rides motorbikes here. Or you can take a local bus to bigger towns nearby. Or Thai teachers offer to bring you where you need to go. Or you can take "tuk-tuks" which are like motorbike taxis that have a cart attached to the back.
Nightlife: Nightlife isn't crazy in the Northeast of Thailand - you kind of make your own fun. However, elsewhere in Thailand, lively nightlife spots are easily found. I haven't really drank or gone out much since traveling here, mostly because I've been on a traveler's budget and I can't really afford to.
Thai teachers invite the foreign teachers to a lot of events, like festivals, dinners, sight-seeing, bike riding, etc. Also, I spend a lot of time exploring with my friends and roommates.
Food: Food is delicious here! And weird! Look for places where there are a lot of Thai locals sitting down to eat, or lined up to order. That's usually a good sign. If you're at a place with a bunch of foreigners...it's probably "safe" but not authentic. Take the time to learn a couple key phrases about how to order and be polite - it goes a really long way, and they love to hear to try to speak Thai in order to place an order or compliment the meal. You'll see a lot of crazy things in your soups and served on the street - be daring and try some of them! But always be smart about it - try new things, but make sure those things haven't been sitting out in the sun since yesterday.
There are close to zero foreigners here besides the foreign teachers hired by my agency. The agency's goal is to place teachers in high-need areas - usually quite rural, non-touristy locations - which was exactly what I was looking for.
Dating Scene: I'm traveling with my boyfriend, so I can't tell you much about the dating scene!
Travel: Traveling in Thailand is easy - and it is quite an experience. You can get buses, trains, and ferries just about anywhere - the amount you pay for your ticket will correlate to your experience. The cheaper the ticket, the crazier the ride.
COUNTRY INFORMATION - MONEY
What are your monthly expenses?
Rent: Rent is about 3,000 baht (just over $100) per month - utilities vary drastically depending on AC and electricity and all of that. We haven't gotten our bill yet
Social Activities: I try to find cheap or free social activities - I don't do a lot of shopping, or night clubbing, or anything like that. I mostly just try to explore and meet people and see things.
Transportation: Gas is cheap here - it costs about $3 to fill our motorbike tank.
Communication: I have a cheap phone i never use. You can put minutes on it at 7/11. Other than that I just use the internet and I skype.
Travel: Traveling costs vary depending on your standards. A local bus can take you over an hour away for $1 - An overnight bus to Bangkok (12 hours) may cost you about $20.
Food: Food is really cheap here. I mostly eat at street stalls where they set up little tables and plastic chairs out along the street. You can get a big bowl of noodle soup, or a big plate of rice and veggies and meat for about a dollar. Then the markets always have snacks and desserts that will cost you anywhere from close to 2 cents to about a dollar. After being here for a couple weeks your standards will change, and paying $2 for a meal will literally seem outrageous.
How would you describe your standard of living?
I live comfortably. It's all relative to your standards. There are bugs and lizards abound, but I'm happy.
In your opinion, how much does someone need to earn in order to live comfortably?
I definitely believe that 1,000 USD per month will have you living comfortably in the Northeast of Thailand. Bangkok and bigger places will require more because rent and food are both more expensive. Also, not drinking much has saved me tons of money.
ADVICE FOR PROSPECTIVE TEACHERS IN THAILAND
What advice would you give someone planning or considering teaching abroad? Would you recommend teaching in your country?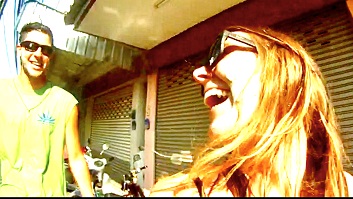 Yes! Come and travel first if you can. I can't imagine coming here and starting to work right away without knowing anything about the country, or seeing your options of where to live and teach.
It was scary coming over without a job or a plan, but I recommend it highly! You can find a job here easily. Know what the vacation times are in Thailand, and come over beforehand so you can travel and begin inquiring about jobs while you do so. Or send out your resume beforehand and go travel to the places you may want to work at first before you settle down.
There's so much to see here and it's worth it to figure out which place you'd really like to be in because each region is so different. See what kind of help your company or school provides with obtaining a worker's visa. Come with an open mind and if you're going to complain about things, make sure to do so inside your head. Standards are different around the world and you have to be mindful of that.
Check out Emily's Blog: once-upon-a-thai.blogspot.com/
Founded in 2010, International TEFL Academy is a world leader in TEFL certification for teaching English abroad & teaching English online. ITA offers accredited TEFL certification classes online & in 25 locations worldwide and has received multiple awards & widespread recognition as one of the best TEFL schools in the world. ITA provides all students and graduates with lifetime job search guidance. ITA has certified more than 25,000 English teachers and our graduates are currently teaching in 80 countries worldwide.
Want to Learn More About Teaching English Abroad?
Request a free brochure or call 773-634-9900 to speak with an expert advisor about all aspects of TEFL certification and teaching English abroad or online, including the hiring process, salaries, visas, TEFL class options, job placement assistance and more.