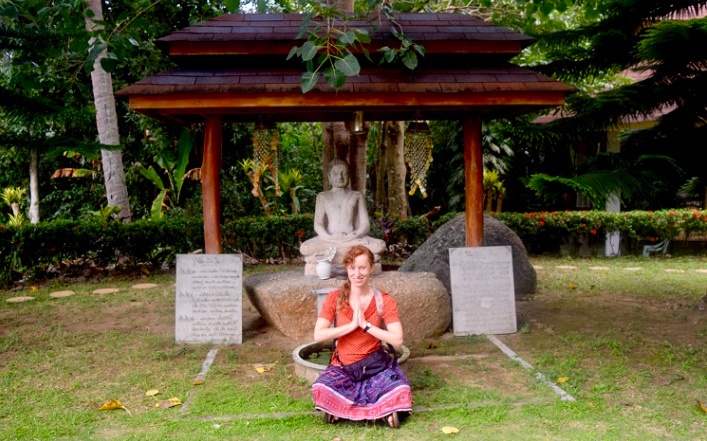 Teaching in Nakhon Si Thammarat, Thailand: Alumni Q & A with Rachel Bernkopf
TELL US ABOUT YOURSELF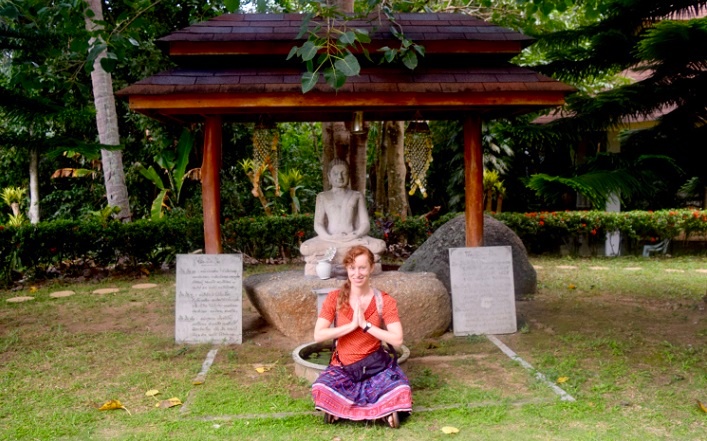 What is your citizenship?

United States

What city and state are you from?

Chicago, Illinois
How old are you?

30

What is your education level and background?

Master's Degree or Higher

Have you traveled abroad in the past?

Some international travel with friends, family, business, etc.

If you have traveled abroad in the past, where have you been?
France, Israel, Canada, India

What sparked your interest in going to teach English abroad?

I had never lived in another country before, so I gave myself the gift of international travel for my 30th birthday. I had been teaching in my hometown of Chicago and wanted a fresh start. During the last two years, I have been studying meditation intensively, so that is how I decided to move to Thailand.

What were some of your concerns before teaching abroad?

Being out of my element in a foreign country, not having the security of family and friends around me

What did your friends and family think about you moving and teaching abroad?

I have many friends from other countries, so all of them were very encouraging. My family has been supportive. They're happy and excited for me.

TEFL CLASS INFORMATION
Why did you decide to get TEFL certified and choose International TEFL Academy?

Although I already had a Masters in Education, I had never taught English as a foreign language before. I wanted a solid grasp of teaching strategies specific to this area. Plus, I wanted to cover my bases because many schools in Thailand require teachers to have a TEFL certificate. I chose International TEFL Academy because of their convenient location in Chicago, the quality of the course, and the option for online learning.

Which TEFL certification course did you take?

Online TEFL Course

How did you like the course?

The course was comprehensive, covering everything from teaching grammar to classroom management.

How has your TEFL training helped you in your current teaching position?

I currently teach 7th and 8th grade math at a private school, but my students are English language learners in addition to being math students. Even though I teach math content, I'm constantly using strategies I learned in my TEFL course. Within the subject of math, my students need to understand math vocabulary. They need to be able to understand what they read in their math books and what I'm telling them in English. They need to explain their reasoning through speaking and writing. Math is a language in itself, and thinking about it that way helps me teach it.

Which city and country did you decide to teach English in and why?

I chose to teach English in Thailand in the city of Nakhon Si Thammarat because I was offered a good job with benefits. I can't complain about living near some of the most beautiful beaches in the world, either!
How long have you been in this country and how long do you plan to stay?

Before accepting this position, I was traveling around Thailand and Southeast Asia for about four months. My stay is open-ended.

What school, company, or program are you working for?

Srithammarat Suksa English Programme

During which months does your school typically hire?

In Thailand, the beginning of the school year is in May, and the second semester starts in November, so March/April and September/October are good times to look for a job.

Did you secure this position in advance of arriving?

I was already living in Thailand, but not in Nakhon Si Thammarat. I applied online and interviewed via Skype.

How did you interview for this position?

Skype/phone interview

What kind of Visa did you enter on?

Tourist visa

Please explain the visa process that you went through.

At first, I had a multiple-entry tourist visa that I applied for in Chicago. I chose this type of visa because I knew I would be traveling a lot. I also knew it would be a few months before I started to look for work. My school has helped me get a Non-Immigrant B visa and a work permit. Unless you plan on getting a 30-day visa on arrival, the visa process in Thailand can be complicated, so make sure you read up on it and give yourself plenty of time to meet the requirements.

What are the qualifications that your school requires for teachers? Please check all that apply

- Bachelor's degree
- TEFL Certification
- Native English speaker

What is the best way to apply?

Apply online
Please include any application resources (website, email, etc.) or other information here:

Recruiter website: http://www.ajarn.com/recruitment/browse_jobs/index.html

Tell us about your English teaching job!

On an average day, I work from 7:30AM-4:10PM. I teach 20 hours per week, so that gives me plenty of time for lesson planning and grading. I make 35,000 baht per month (about $1000) plus a flight reimbursement and possible bonuses. I should be able to save at least $200 per month, even as much as $500 depending on expenses. I work at a private bilingual Christian school (I am not Christian myself). The school serves grades K-12, but I teach only 7th and 8th grade. There are long breaks in March/April and October. We also get a Christmas break. There are many other paid holidays throughout the year.

How did you find somewhere to live and what is it like? Do you have roommates?

I found a condo building online that I thought I would like and messaged them on Facebook. I rent a one-bedroom furnished condo.

On a scale of 1 - 10 please rate your experience with this school.

8
COUNTRY INFORMATION - FUN!
Please explain the cultural aspects, public transportation, nightlife, social activities, food, expat community, dating scene, travel opportunities, etc...

Thailand is a beautiful country that is very welcoming to foreigners. Kindness and politeness are cultural norms. It is easy to get around by train, bus, and shared taxis called songthaews. I finally learned how to ride a motorbike, so that is how I get around now. Nightlife depends on where you live. In Nakhon, there are many restaurants and a few bars that are popular with foreigners. Thai food is delicious! I eat out every day. A plate of noodles or curry costs $2-3. From Nakhon, it's a few hours to Krabi, Ko Samui and the other Gulf Islands, Phuket, and other beach destinations. Khanom is about an hour away, and most foreign tourists haven't heard of it. There are many other small islands nearby, too. Bangkok is about an hour flight.
COUNTRY INFORMATION - MONEY
What are your monthly expenses?

Rent: 7500 baht (about $215)
Utilities: less than 1000 baht (less than $30)
Food: around 3000 baht (about $85)
Activities: depends on whether I'm traveling
Transportation: 2000 baht (about $60) to rent a motorbike, about 300 baht (about $9) for gas
Phone: don't have one
Travel: It really depends, maybe $100-$300.

How would you describe your standard of living?

I could never live this well on so little in Chicago.

In your opinion, how much does someone need to earn in order to live comfortably?

$500-$1000 per month depending on what city you're in


ADVICE FOR PROSPECTIVE ENGLISH TEACHERS
What advice would you give someone planning or considering teaching abroad? Would you recommend teaching in your country?

I would recommend teaching in Thailand. The kids are super nice and respectful. I have the freedom to teach however I want as long as I cover certain topics. I'm not exactly sure why, but many people love to say that to get a teaching job in Thailand, you need to apply in person. I think times are changing. I would encourage people to apply online. That's how I found my job.



For more on Rachel's adventures, check out her blog: https://rachelbernkopf.com/
Founded in 2010, International TEFL Academy is a world leader in TEFL certification for teaching English abroad & teaching English online. ITA offers accredited TEFL certification classes online & in 25 locations worldwide and has received multiple awards & widespread recognition as one of the best TEFL schools in the world. ITA provides all students and graduates with lifetime job search guidance. ITA has certified more than 25,000 English teachers and our graduates are currently teaching in 80 countries worldwide.
Want to Learn More About Teaching English Abroad?
Request a free brochure or call 773-634-9900 to speak with an expert advisor about all aspects of TEFL certification and teaching English abroad or online, including the hiring process, salaries, visas, TEFL class options, job placement assistance and more.