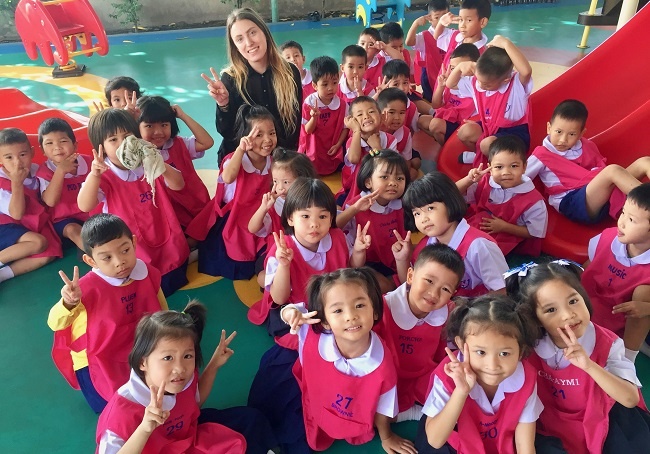 Teaching English in Chachoengsao, Thailand: Alumni Q&A with Courtney Clark
TELL US ABOUT YOURSELF
What is your citizenship?

United States

What city and state are you from?

Bloomingdale, IL

How old are you?

24

What is your education level and background?

Bachelor's degree

Have you traveled abroad in the past?

Some international travel with friends, family, business, etc.

If you have traveled abroad in the past, where have you been?
Italy, Germany, Poland, Greece, Czech Republic, Netherlands, Spain, France, Austria
What sparked your interest in going to teach English abroad?

I became interested in teaching abroad when I was about to graduate college with a Bachelor's in English and started to consider my career options. I thought back to when I met my best friend in high school (she was an exchange student from Poland), and I really enjoyed helping her improve her English. That memory helped me decide to take the TEFL course at ITA to explore my interest in teaching English abroad.

What were some of your concerns before teaching abroad?

I was concerned about spending such a large amount of time away from my home, family, and friends. Previously my travels had only lasted a month at the longest, so I wasn't sure how I'd deal with the separation and really being immersed in a brand new culture and way of life.

What did your friends and family think about you moving and teaching abroad?

My family was confused at first about why I would want to go and do something like live and teach abroad, but once I explained where I'd be living, the job details, and the fact that tons of other people like me get really excited by the possibility of an experience like this, they were very supportive. My friends were all supportive immediately and a lot of them were really jealous!

TEFL CLASS INFORMATION
Why did you decide to get TEFL certified and choose International TEFL Academy?

I decided to get TEFL certified so I would really know what I'm doing as a teacher and be able to do the best job I can. I wanted to make sure I can get through to ESL learners as effectively and respectfully as possible. I chose ITA specifically because I felt like their certification would be accepted by any school/company abroad without question because of their credibility.

Which TEFL certification course did you take?

USA - Chicago
How did you like the course?

The course was brutal, but I couldn't possibly mean that in a more positive way. The course load was extremely heavy, but it taught me how to lesson plan and prepare like a teacher, handle the stress of being a teacher, and helped me to break out of my shell and improve my public speaking skills. After the class, I felt extremely confident that I can handle whatever comes my way in my teaching career. I had the best and most rewarding experiences with the practicums as well. I was very nervous but prepared well (with the help of my instructors of course) and felt like I was already really helping my students improve their English after just a few classes. My instructors were extremely helpful and respectful yet at the same time challenged me to really try my hardest and to do my best. I would definitely recommend this course to anyone thinking about teaching English as a second language.

How has your TEFL training helped you in your current teaching position?

I accepted a position as a kindergarten teacher as my first TEFL role, and I was worried since none of the practicums in the TEFL course involved very young learners. Nevertheless, I find myself all the time using skills I developed in the course. I also reviewed the chapter in the textbook about young learners and found that to be very helpful. The language assessment project in the course really helped me when I first met my class and had to quickly assess their level of English and decide where to go from there with their lessons. Most of all, the course helped me learn to prepare and then also prepare for the worst just in case. Always have backup plans.
Which city and country did you decide to teach English in and why?

I decided to teach English in Thailand in the city of Chachoengsao. I always wanted to go to Thailand, and I had recently traveled through Europe so I thought why not try out somewhere I've always wanted to go in a new continent? The recruiter I found my position through helped me decide on the specific town based on a number of factors including town size, salary, grade level of the students, etc.
How long have you been in this country and how long do you plan to stay?

I have been in this country for three months and am working into my 4th month right now. I am not sure yet if I will stay for six months since I initially planned to only stay one term, or whether I will renew my contract and stay for one year.

What school, company, or program are you working for?

Teachers for Thailand

During which months does your school typically hire?

Terms begin in May and November

Did you secure this position in advance of arriving?

Yes

How did you interview for this position?

Skype/Phone Interview

What kind of Visa did you enter on?

Work Visa

Please explain the visa process that you went through.

I got my Non B immigrant visa before going to Thailand by taking my passport, some extra passport-sized photos of me, the contract I signed with the school, a recent bank statement, a letter from the school, and my CV, to the Thai Embassy in Chicago. It cost $80 that had to be paid in a cashier's check. I dropped off these documents and picked them up along with my visa in one week's time.

What are the qualifications that your school requires for teachers? Please check all that apply

- Bachelor's degree
- Native English speaker

What is the best way to apply?

Email
Tell us about your English teaching job!

Hours: 24 hours per week

Salary: 33,000 baht ($1000 USD)

Ability to save: You may be able to save since a lot of things here are cheap (like food, rent), but it is more likely you will break even and not save a huge amount.

School/Students: I am working for a public school that has grades pre-K through Primary 6. I teach kindergarten.

Vacation time: I began in April teaching a two week summer camp. Afterwards I had two weeks paid off. There are a few three day weekends this term. Otherwise, there is not too much vacation time until October. If you commit to staying 12 months here, you get most of the month of October off as vacation time.

Other: Teaching in Thailand comes with a lot of schedule changes all the time so be prepared for a lot of change and for the unexpected in general. They may add more classes to your schedule at any time as long as they don't go over the amount listed in your contract. Long story short, don't expect things to be run the same way at a job as they are in your country. This school wanted all the teachers to attend an unpaid weekend seminar. I am not sure if this is common or unique to this school in particular.

How did you find somewhere to live and what is it like? Do you have roommates?

The recruiters helped me find an apartment semi-close to the school. They showed me a couple different buildings and gave me the choice of which I preferred. I am very satisfied with the quality and price of the place I chose, and it is mostly single rooms offered around this area. However, there are a few couples that choose to share a room (which is similar to a studio apartment).

COUNTRY INFORMATION - FUN!

Please explain the cultural aspects, public transportation, nightlife, social activities, food, expat community, dating scene, travel opportunities, etc...

Cultural aspects: In Chachoengsao, which is a bit of a smaller town, you will need to learn some Thai. Most locals here do not know any English. You definitely don't need to be anywhere close to fluent but you'll need to learn the basics. You can learn once you get here; basics are easy enough to pick up.

Food: The food is extremely spicy, and a lot of people think they can handle it and quickly learn the spice level is nothing near what we have in the U.S. Also, I don't eat meat and it's pretty hard not to here but it IS possible!

Public transportation: In this town, you need a motorbike. There are motor taxis and tuk tuks, but it is more cost effective to drive. That being said, the rules of the road are much different than anywhere I've been before and are almost nonexistent, so be careful and take your time learning to drive here. In Bangkok, the BTS is extremely convenient so there's no need for a bike there in my opinion.

Social activities: Again, in Chachoengsao, it's a smaller town so there's mostly bars as your only option for activities/things to do. There is one movie theater that plays English movies during a certain week of the month. There is a shopping mall nearby. I prefer to go to Bangkok on the weekends since it is such a huge city with lots to explore.

Expat community: There are about three schools in this town with foreign English teachers, so you all get to know each other. I'd estimate there's around 40 total. I've heard the expat community in Bangkok is huge and intend to attend the ITA meet up in September to meet some of them!

Travel opportunities: There are lots of places you can travel to around here. Air Asia has very cheap flights to other places around and in Thailand. There are many areas you can take buses and water taxis to as well.

COUNTRY INFORMATION - MONEY
What are your monthly expenses?

Rent: 6,500 baht ($200 USD)
Food: ~2,000 baht ($60 USD)
Social: Depends how much you drink (beer is around 70 baht each, and a small bottle of cheap whiskey is 150 baht)
Transportation: Gas for a week's worth of driving a motorbike is ~40 baht whereas taking a motortaxi for a 10 min ride is about 20 baht each time (tuk tuks are even more costly)
Phone: I don't know. I don't pay for internet service. I just use the WiFi wherever I go. Travel: I recently planned a week's trip to Chiang Mai, and the flight there and back was around $60. The hostel was around $10/night, so its very affordable to travel (depending where you go)

How would you describe your standard of living?

The apartment I live in is very nice, new, and clean. It is comparable to something you would find in Chicago, but the rent here is much cheaper.

In your opinion, how much does someone need to earn in order to live comfortably?

You can live comfortably with 33,000 baht/month ($1000 USD) as long as you keep track of your spending and don't buy a lot of overpriced Western food.

ADVICE FOR PROSPECTIVE ENGLISH TEACHERS
What advice would you give someone planning or considering teaching abroad? Would you recommend teaching in your country?

Make sure you're open to change in every way you could possibly imagine. Remember to be flexible. It's going to be really hard and a lot of work, but it is rewarding. I would recommend teaching in Thailand because it'll definitely thrill you, challenge you, and change you for the better.


For more on Courtney's adventure, check out her awesome blog!


Founded in 2010, International TEFL Academy is a world leader in TEFL certification for teaching English abroad & teaching English online. ITA offers accredited TEFL certification classes online & in 25 locations worldwide and has received multiple awards & widespread recognition as one of the best TEFL schools in the world. ITA provides all students and graduates with lifetime job search guidance. ITA has certified more than 25,000 English teachers and our graduates are currently teaching in 80 countries worldwide.
Want to Learn More About Teaching English Abroad?
Request a free brochure or call 773-634-9900 to speak with an expert advisor about all aspects of TEFL certification and teaching English abroad or online, including the hiring process, salaries, visas, TEFL class options, job placement assistance and more.