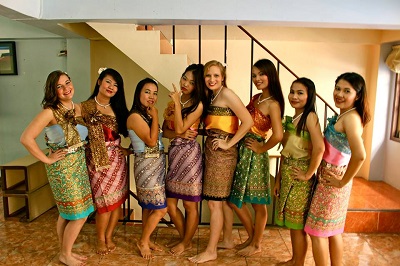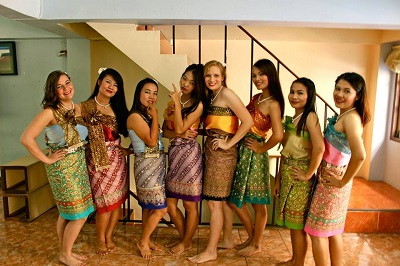 Bangkok, Thailand English Teaching Q and A with Julianna Montgomery
TELL US ABOUT YOURSELF
What is your citizenship?

United States

What city and state are you from?

Jackson, MS

How old are you?

21

What is your education level and background?

In college, will graduate this year.
Have you traveled abroad in the past?
Taught English abroad previously.

If you have traveled abroad in the past, where have you been?

Corozol, Belize; Thailand (multiple cities)
What sparked your interest in going to teach English abroad?

I did an internship about three years ago at a church in Bangkok, Thailand. Part of that internship was teaching English classes in their charity school. I fell in love with teaching and with Thai students during those two months and decided to go back again for longer.

What were some of your concerns before teaching abroad?

Safety, language. I have food allergies, so I thought Thailand would be a challenge.

What did your friends and family think about you moving and teaching abroad?

Supportive, excited, apprehensive, and concerned.
TEFL CLASS INFORMATION
Why did you decide to get TEFL certified and choose International TEFL Academy?

In order to teach in Thailand as a professional and not just at the volunteer level, TEFL certification and a college degree are required. I chose ITA after a good deal of online research of different TEFL certificate programs. This one seemed to fit what I needed the best, and the recruiters were really helpful.
Which TEFL certification course did you take?

Online TEFL Class

How did you like the course?

The course was really straight forward. A lot of it overlapped with a linguistics course that I was taking at the time and psychology (my college major), so I didn't think it was too difficult. I was able to use some volunteer work that I was already doing as my practicum. The International TEFL Academy Student Affairs Department was really easy to work with about using other things besides strict language classroom sessions for practicum.

How has your TEFL training helped you in your current teaching position?

I haven't begun teaching again full-time since the course, but in my tutoring that I do currently, I am just overall more aware of the needs of the students and how to help meet those needs.
TEACHING ABROAD IN BANGKOK, THAILAND
Which city and country did you decide to teach English in and why?

Bangkok, Thailand but moving to Samut Sakhon, Thailand

How long have you been in this country and how long do you plan to stay?
I have stayed 9 months total so far. When I move back in May, I plan to stay permanently.

How did you secure your English teaching job?

The first was through a missions organization with which I had personal connections. For the job I just signed with, I just used online job boards like ajarn.com and Google searches.

What school, company, or program are you working for?

I just signed with Mediakids Academy in Thailand.

How did you get your work visa?

The company I work for provided all the paperwork necessary to get a work visa in the US before arriving in Thailand by submitting it to the embassy with an application that I filled out. The work permit that extends that visa is then obtained in Thailand at the immigration office. There's lots of jumping through hoops, but the embassy website outlines it fairly clearly and it's not very difficult to obtain the visa if you have a job lined up before leaving. If not, you can go on a tourist visa and convert it in Thailand at the immigration office when you find a job.

Tell us about your experience English teaching in Thailand!

In the past, I worked for a private charity. I taught 10 to 15 hours per week as I was doing other jobs as well. The students were there for a variety of reasons but were all Thai, so they all love learning through community. Classes form a little group of friends and are a blessing to be involved in. The students hold a very high level of respect for the teacher, but as I was younger than most of my students, it was easy for them to approach me. Many of them even felt like they should take care of me because I was a foreigner without parents or older relatives nearby and the elders take care of the young people in their culture in return for really high respect. The kids that I had were for the most part fairly well-behaved, and the high school students were a dream! They were very sweet and respectful, the opposite of what teenagers are known for.

How did you find somewhere to live and what is it like?

In both the job I had at the charity and the job I just took with an agency, the apartment was arranged for me. I had a Thai roommate in the past, and loved her dearly. We shared a one-room apartment with A/C and a bathroom upstairs from where we worked. I will not have a roommate the next time, but will live in a similar room in an apartment complex near the school. I would compare these to a college dorm room in America, nothing elaborate but still comfortable enough.
COUNTRY INFORMATION - FUN!
Please explain the cultural aspects, public transportation, nightlife, social activities, food, expat community, dating scene, travel opportunities, etc...

Bangkok is really easy for a foreigner to live in. If you want to completely immerse yourself in Thai culture by eating only Thai food and living in a Thai neighborhood, you can, and you save a lot of money. I recommend doing that, but if you miss home, there are lots of modern conveniences and high end foreign restaurants and stores.

There are lots of parks and historic sites in the city and easily accessible from it. Public transportation is very easy to use. In Bangkok, there are four train lines that I know of that are very fast and inexpensive. If the area you are going isn't near a train station, buses go to all areas of the city. There are also local forms of transportation that you just have to explore yourself: tuk tuks and song taews. Vans and transit buses go to almost every province in Thailand and are relatively inexpensive. The South has beaches; the North has mountains; and there is an expansive countryside filled with rice fields, temples, and waterfalls in between. Also, elephants...

Bangkok is known for its club and party scene, but I didn't take part in any of that. There is plenty to do besides that if you aren't interested. I met my boyfriend (Thai national) through mutual friends, so dating is possible even without the bars and dance clubs.

Thai food is, well, Thai food. It's world renowned for a reason.
COUNTRY INFORMATION - MONEY
What are your monthly expenses?

Rent - approx. 3000Baht/$100 per month
Food- $1.50 per meal in the market/ $10 for good American meals
Social activities - whatever you spend on food (Thais love to eat)
phone(I don't have a smart phone) - $10 per month
wifi -฿500 or $15
travel - $20 per week max

How would you describe your standard of living?

I live with less in Thailand than I do in America, but I have never felt deprived. It's very simple but very comfortable.

In your opinion, how much does someone need to earn in order to live comfortably?

$10,000/year

ADVICE FOR PROSPECTIVE ENGLISH TEACHERS
What advice would you give someone planning or considering teaching abroad? Would you recommend teaching in your country?

It's great for some, but some hate it. You never know until you try. I always say go for it. If it doesn't work out, no harm done, and you'll be a better person for it. Don't let fear or the idea that you don't have time or money keep you from traveling. It's obtainable if you work for it. I highly recommend Thailand. I love it like my own home.

Founded in 2010, International TEFL Academy is a world leader in TEFL certification for teaching English abroad & teaching English online. ITA offers accredited TEFL certification classes online & in 25 locations worldwide and has received multiple awards & widespread recognition as one of the best TEFL schools in the world. ITA provides all students and graduates with lifetime job search guidance. ITA has certified more than 25,000 English teachers and our graduates are currently teaching in 80 countries worldwide.
Want to Learn More About Teaching English Abroad?
Request a free brochure or call 773-634-9900 to speak with an expert advisor about all aspects of TEFL certification and teaching English abroad or online, including the hiring process, salaries, visas, TEFL class options, job placement assistance and more.