Moscow, Russia English Teaching Q and A with Sydney Benson
TELL US ABOUT YOURSELF!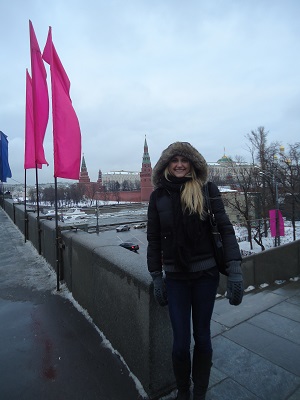 What is your citizenship?
United States
What city and state are you from?
Seattle, Washington
How old are you?
25
What is your education level and background?
Bachelor's Degree
Have you traveled abroad in the past?
Studied abroad
If you have traveled abroad in the past, where have you been?
France, Uganda, England, Spain, Italy, The Netherlands and Canada
If you have studied abroad in the past, where did you study?
Nice, France
What sparked your interest in going to teach English abroad?
Foreign language has always been a passion of mine and I had wanted to live in foreign country for a while. Thus, teaching English as a foreign language gave me the opportunity to learn another language, be immersed in a completely different culture, and essentially have an adventure.
What were some of your concerns before teaching abroad?
The unknowns which included not knowing the language, the geography, the culture and the weather (since Russia has a reputation for being unspeakably frigid). Additionally, I wasn't sure how much I was going to miss my family and friends.
What did your friends and family think about you moving and teaching abroad?
Generally, they were excited for me. However, my mom and my grandma were the ones that were initially pretty taken back and concerned.
TEFL CLASS INFORMATION
Why did you decide to get TEFL certified and choose International TEFL Academy?
I decided to get TEFL certified primarily to obtain more opportunities to travel and give me another career option. Previously, I had thought about becoming a teacher and I saw this program, which was recommended to me by my French professor, as a great opportunity to travel and to get experience in the educational field.
Which TEFL certification course did you take?
How did you like the course?
The main thing that I really appreciated about this online TEFL course was that is was incredibly convenient and flexible with my schedule. I was working at a store where my hours were pretty inconsistent thus it was easy for me to fit this into my schedule. Overall, the tasks and the online practicum provided a ton of useful information, and offered a solid foundation of knowledge and resources, which I ended up applying during my year in Moscow.
How has your TEFL training helped you in your current teaching position?
Besides offering resources and refreshing my own knowledge of grammar, the TEFL training gave me a structure to my own teaching program, style and curriculum which I ended up building on throughout my first year in Moscow.
TEACHING ABROAD IN MOSCOW, RUSSIA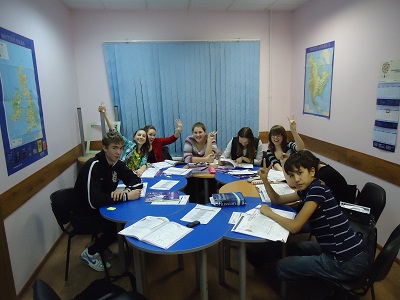 Which city and country did you decide to teach English in and why?
I decided to teach in Moscow, Russia because I had been fascinated by the Russian culture and wanted to learn the language as I had studied a little Russian at University.
How long have you been in this country and how long do you plan to stay?
I was there for nine months (September 2012-May 2013) and I plan on returning in August 2013 to stay there for another year (at least).
How did you secure your English teaching job?
My first English teaching job was acquired online but my new teaching job I found through friends when I was over there.
What school, company, or program are you working for?
Last year, I worked for Language Link Butovo. This year I will be working at a Russian day care called Discovery where they are currently working on completing their web-site.
How did you get your work visa? If you didn't get a work visa, please elaborate on working under the table without a work visa.
My work visa was paid for by my school.
Tell us about your English teaching job!
My teaching hours were 30-35 hours a week with an additional 15-25 hours of prep.
I was paid 33,000 rubles per month, equivalent to a little more than $1,000 per month. However, I also taught students privately apart from work and with that I earned an additional $100-200 per week.
I was able to save especially when I implemented the additional private lessons. Overall I saved around $3,000 dollars which I used to travel Europe afterwards in June with my family.
Language Link is primarily an enterprise business but overall I was treated fairly by my bosses and made long-lasting friendships with some of my colleagues and the staff there.
I taught a diverse demographic of students: I had two classes of 5-6 year olds, four pre-teen to teenage classes, and an adult class with an advanced level.
I had two big vacation breaks (each that were about 14 days), one at the end of December to the end of January and the other in May. However, we also had additional vacation days that were on national holidays.
How did you find somewhere to live and what is it like? Do you have roommates?
My boss had preemptively bought a two-bedroom flat for another TEFL teacher and myself, which was a picture-perfect setup for me because the other teacher and I became fast, close friends. We plan on living together again next year.
COUNTRY INFORMATION - FUN!
Please explain the cultural aspects, public transportation, nightlife, social activities, food, expat community, dating scene, travel opportunities, etc. about your country:

Culture: Russia to the United States have an interesting reputation-the typical stereotypes that I have heard are that everyone drinks vodka like it's water and wears fur hats, bears run rapid on the streets, and the Russian mafia (with no elaboration needed thereafter). Of course, the stereotypes take things way out of proportion but I did observe several cultural differences. For example, Russians generally present themselves in public and to strangers very severely and guardedly, while Americans are initially more friendly and more apt to greeting strangers.
However, once you build friendships and relationships with Russians they are most generous and loyal people group that I know of; they regard family and friends very dearly which I completely respect and have come to adapt in my own lifestyle.
Transportation: The Moscow metro was my main source of transportation which I really liked a lot and made traveling around the city very fast and efficient as I didn't need to worry about parking ever.
Nightlife: Moscow is known world-wide for being the city that never sleeps, thus there is also something fun to do on the weekend but really any night during the week there are fun things to do.
Social Activities: Most of my social activities came from either work rendezvouses or dances from a church called Hillsong that I frequented over there. There I met a lot of my Russian friends and got to practice Russian.
Food: As for food, I loved eating Borscht (борщ), a type of Russian stew, and piroshkis, similar to dumplings with a variety of possible filings like mushrooms, vegetables, beef, творог (Russian cottage cheese), or fruit. Also, I got to savor true Russian vodka as well! :)
Expat Community: The expat community in Moscow is pretty considerable and is growing as the need for native English speakers augments. There are several expat websites to help build community and look for work as well.
Dating Scene: My experience with the dating scene in Russia has been interesting mainly because I've found Russian men to be more decisive and assertive than American men. I've went on a couple dates with guys that I've either met through friends or met randomly on the street (which I did once and wouldn't recommend).
Travel opportunities: I didn't travel as much as I could have while I was over there, although I was able to go to Kiev, Ukraine by train which was a blast!
COUNTRY INFORMATION - MONEY
What are your monthly expenses?
I didn't pay for rent/utilities; the only domestic expenses that I had to pay for were internet and phone. I paid around $35 for internet every three months, and depending on how much I utilized my phone it was around $20-25 every month.
Eating out in Moscow is just as expensive as it is in the U.S., but I would recommend grocery shopping and preparing meals as I was able to spend merely $35 a week on food.
Public transportation is incredibly inexpensive compared to other countries such as London and Paris.
The expense to travel to other European countries especially by plane is cheap; for example, airlines called Easy Jet offered a 30 euro plane ticket from Moscow to London (single-trip) which my colleague ended up buying.
Russian malls such as ГУМ (GUM) are fun to frequent as they are grandiose and such spectacles to see. Otherwise shopping is just like shopping in America only with most of the signs written in Cyrillic.
How would you describe your standard of living?
Compared to other parts of Russia, Moscow is very modern and developed so my standard of living was not a significant change for me. However, I did walk a lot more regularly while I was over there than I did back home.
In your opinion, how much does someone need to earn in order to live comfortably?
Anything above 50,000 rubles, approximately $1,500 USD, (apart from housing expenses) would be the most ideal amount.
ADVICE FOR PROSPECTIVE TEACHERS IN MOSCOW, RUSSIA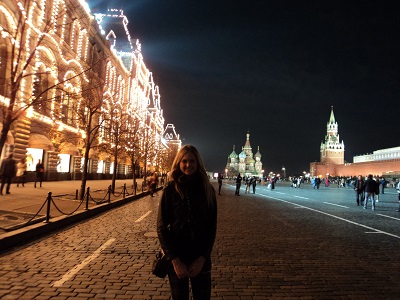 What advice would you give someone planning or considering teaching abroad? Would you recommend teaching in your country?
I would suggest being open and eager to learn and to explore the new culture where you are going to be living. Learning the Russian language and culture and being open to meeting people from a totally different background than my own have truly enhanced my experience there.
I would definitely recommend teaching in Russia as the need for Native English Speakers is incredibly high. I may be biased though!
Founded in 2010, International TEFL Academy is a world leader in TEFL certification for teaching English abroad & teaching English online. ITA offers accredited TEFL certification classes online & in 25 locations worldwide and has received multiple awards & widespread recognition as one of the best TEFL schools in the world. ITA provides all students and graduates with lifetime job search guidance. ITA has certified more than 25,000 English teachers and our graduates are currently teaching in 80 countries worldwide.
Want to Learn More About Teaching English Abroad?
Request a free brochure or call 773-634-9900 to speak with an expert advisor about all aspects of TEFL certification and teaching English abroad or online, including the hiring process, salaries, visas, TEFL class options, job placement assistance and more.