Teaching English Abroad: The Greatest Experience
By: Sarah Ballhaussen
How did it begin?
I've been aching to live abroad since I returned home from studying abroad in Sydney, Australia in 2010. As graduation in 2011 quickly approached, I was left with only a waitressing job. I wasn't in a hurry to find a career, I mean heck I majored in Art History and German, so finding a career (or a "real" job) in those fields was going to be really difficult unless I pursued further education, and I knew that going into my studies. I decided to study what I truly enjoyed and then to figure it out from there, and that's what I did.
I had a couple of friends who moved abroad to teach English, and as soon as I heard of their experiences, I knew that this was something that I needed to pursue. So I graduated, waited tables, and eventually found the perfect company to get my TEFL certification through. I found International TEFL Academy through internet research. As soon as I gave ITA my email and phone number, I quickly received a phone call from Ian Davis. His excitement and knowledge about TEFL certification, only made me more eager to hurry and start this teaching abroad thing. He was so helpful.
I decided to do the online TEFL course, rather than the certification course on site. His reasoning and explanation for the online course was convincing and I am still so glad that I continued working at home while working on my certification process. I spent hours in coffee shops creating lesson plans and reading for the course, and daydreaming about where I would be in six months and what in the world it would be like. Then, I would head to work, still thinking about how happy I was that the whole waitressing thing was temporary and I was about to do something major with my life.
Where in the world?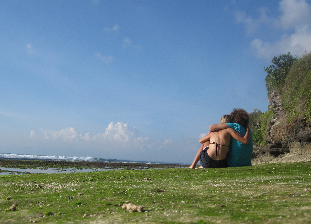 After completing the online course in March 2012, I began searching for teaching jobs, all over the world, but in the back of my mind I knew I wanted to teach in Asia. I lived in Germany with my family for three years in high school and had the opportunity to see so much of Europe (I think this is where my travel bug began), so I was ready to experience a different continent and see what the rest of the world had to offer. After much research, and using the resources from ITA, I decided that Thailand would be the best fit for me. I love the beach and was currently living 5 minutes from one in North Carolina, so I knew Thailand would not disappoint with the beach factor. Also the demand for native English teachers is high and the lifestyle and price of living was just what I was looking for. Narrowing my choice down to Thailand, certainly helped me in finding a job. I found dozens and dozens of job openings for Thailand and began receiving quick responses from different schools and agencies. Before I knew it, I had found a job, sent off my paperwork for my visa, quit my waitressing job, and bought my one way ticket to Thailand. And you know what made this really neat and seem even more perfect, my sweet boyfriend had the same desires to drop his stuff, pack his bags and head out to teach, so we hopped on a plane and began this journey together.
How did everything fall into place?
I must admit, stepping out into the big bad world that is Thailand, was definitely a culture shock at the beginning, but luckily it quickly subsided, and I was ready for adventure and to begin teaching. Unfortunately, the agency that hired me did not follow through with what they had promised so I left the agency, but when things are meant to be, they always find a way to work out the way they should. I was placed at Benjamarachutit High School in Nakhon Si Thammarat (southern Thailand), and because they desperately needed teachers, they decided to hire me directly through them without the agency. So I did not have to deal with a middle man, and I was going to be fully paid through the school. What a relief!
The first day of school quickly approached and I nervously walked into my class room to teach my first class. It was a class full of M4 students (equivalent of American high school sophomores). They greeted me with huge smiles and a bow to show respect. I looked out over the sea of dark hair and blue uniforms and wondered "how in the world will I ever be able to tell them apart and learn their names?" The students all wear uniforms, and the girls must keep their hair cut short to their chin, making them at first seem identical to one another. I began my first lesson, one that I used for all five of my different classes on that first day. Slowly, my nerves were disappearing, and my excitement was getting the best of me. And now, this excitement has turned into a love for teaching and a love for these students who seemed SO foreign at first, but are now so familiar to me. Now I know my students' names (their nicknames at least) and there is a sense of calmness that washes over me when I step into the classroom. It is hard to believe how nervous I was those first days of school.
What has teaching taught me?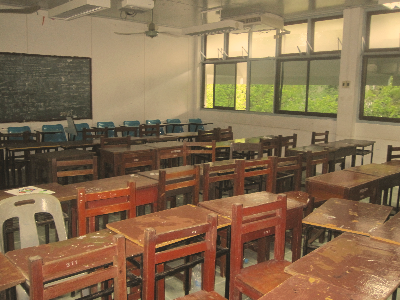 I have learned that you must stand in front of your students confidently and be patient with them. Patience is key when teaching English. Something that seems so simple to us, can be the most complicated thing for another. When you are patient, and also encouraging, the students will try their hardest to learn. Teaching has been a learning process for not only my students but for myself. I have never taught before, so each and every new lesson I teach, I am learning how to manage the students and what the best way is to present the material. It truly has been such a learning and rewarding process.
What's so great about teaching abroad?
Teaching English abroad is a hidden opportunity that not very many people seem to know about or understand that anyone can do it! It seems so far-fetched to some people and I wish I could tell everyone about this opportunity. Most people are struggling to find decent jobs in this day and age, especially in the U.S. Very few people know that if you just take a few steps, you can live abroad, immerse yourself in culture and travel the world, all while getting paid! I live the most comfortable lifestyle and never struggle with money. In fact, I have been able to travel through much of Thailand, Singapore, Malaysia and Indonesia, all on my teaching budget. I have even been able to save money. I have experienced, seen and lived so much more in this past year than I have in my entire life and I know that this is only the beginning.

One thing that I love about living abroad is that you are not only traveling and learning about new places and people, but you are also living in a completely new place and a brand new culture, where learning and experiencing something new happens almost every day. I believe that teaching English abroad is an opportunity that helps people to no longer be a stranger of this world, but to step out of their comfort zone and truly discover the beauty of their surroundings. At least, that is how it has helped me and I am so excited to continue on this journey of exploring and discovering more of this majestic world.
Sarah Ballhaussen is an aspiring traveler and teacher, originally from a small town in North Carolina. She graduated with degrees in Art History and German from the University of North Carolina at Wilmington. She is currently living and teaching English abroad in southern Thailand, where first time experiences and traveling adventures bring her much joy and excitement.
Also check out her Q&A: Nakhon Si Thammarat, Thailand Q&A with Sarah Ballhaussen
Founded in 2010, International TEFL Academy is a world leader in TEFL certification for teaching English abroad & teaching English online. ITA offers accredited TEFL certification classes online & in 25 locations worldwide and has received multiple awards & widespread recognition as one of the best TEFL schools in the world. ITA provides all students and graduates with lifetime job search guidance. ITA has certified more than 25,000 English teachers and our graduates are currently teaching in 80 countries worldwide.
Want to Learn More About Teaching English Abroad?
Request a free brochure or call 773-634-9900 to speak with an expert advisor about all aspects of TEFL certification and teaching English abroad or online, including the hiring process, salaries, visas, TEFL class options, job placement assistance and more.