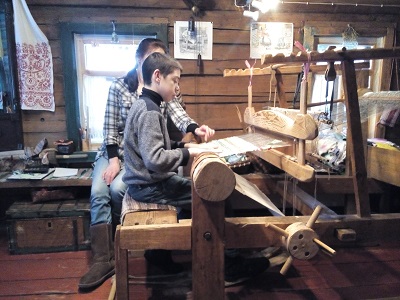 Experiencing the Life of a Traditional Russian Village while Teaching English in St. Petersburg
By: Joshua Schiefelbein
When the snow starts melting and the ice begins disappearing, Russians celebrate the imminent arrival of spring and sun with a week-long festival known as Maslenitsa. During this period, Russians visit their friends and family and eat blins (crepes) with one another. In a way, my school, Gorchakov Memorial School, where I teach English in Russia, continues the week-long celebration in its own unique fashion.
Each year in the beginning of March, students, staff and alumni of the school travel to the shores of Lake Ladoga. There, located off the massive still-frozen lake, is a traditional Russian village called "Mandrogi." Owned by the Gutsait Group, the same group that is responsible for Gorchakov Memorial School and runs several restaurants in the Saint Petersburg/Pushkin/Pavlovsk area, Mandrogi is an ideal location to spend a couple days to relax and learn about some aspects of old Russian culture.
However, this trip was anything but relaxing for me as students, staff and alumni were divided into six teams which competed in a massive game that took place over the course of our stay in Mandrogi. One team was completely made up of teachers, another was just alumni and the students were separated into four different teams. The team with the most points would win the game and the "Gorchakov Cup." In order to earn points, teams would compete in different mini-games that depended on their physical and mental abilities.
Our schedule over the three days remained fairly constant. In the morning, I explored what Mandrogi had to offer by participating in different master classes with sixth graders. Then, after lunch, everyone would return to the main building where we competed in mini-games, and in the evenings, we would play "Strategy," a table-top game that combines the luck of Risk with the general board layout and tactics of Stratego.
The most interesting part of our visit was the master classes, which were small tutorials on how to make something considered common in traditional Russian villages. For example, last year, the students learned to prepare peroshki (pastries) as one of their master classes. While this year didn't have peroshki baking, the classes offered were still fairly interesting.
This year's master classes included: making horseshoes at the blacksmith's, weaving bags or rugs, making ceramic bowls from clay, crafting wooden birds or flowers and painting pieces of wood. We could also make color prints using a printing press. My print was a simple golden sun with the words "Hakuna Matata." One of the students jokingly said my print lacked imagination but let's be honest, I'm probably the world's worst artist! Still, it was fairly enjoyable despite being outdone by that same student who made a print based on Lord of the Rings… much cooler than mine.
| | |
| --- | --- |
| | |
Instead of working in my traditional role as a TEFL teacher, I was more of a medium for practicing English conversational skills. While I do have some skills in speaking Russian, my Russian comprehension is oftentimes far worse than my students' English comprehension. Consequently, the students have to act as translators so that I could understand what the master class instructors were saying. By facilitating this communication, the students helped the instructors teach me how to split wood and craft a wooden 'bird of happiness,' work with metal in order to make a horseshoe and shape clay into a ceramic bowl. Without the aid of the translation skills my students employed, I might have easily been hopelessly lost.
After lunch, we would resume our big game by playing mini-games, of which my favorite was a paper airplane making contest to see who could make the plane that could fly the farthest. I showed some students how I used to make paper airplanes as a student, and three teams used my airplane design. They might not have won but I'm happy that my design performed respectably well. It consistently scored second-highest of the designs that were used. That being said, there were moments when my plane's design got caught by the wind and turned right back at us for a score of zero. Alas…
During our limited free time, I played billiards or ping pong with students. If the pool table and ping pong table were busy, I would find a ball and a couple paddles and play ping pong off the ground. In some ways, ping pong off the ground is harder to play and it's impossible to really keep score, which just makes it more fun than normal table tennis.
In the end, the alumni team emerged victorious. We celebrated the finale with a small fireworks celebration, which went pretty well until the box fell over. Fortunately, the box was pointing away as it fired its last two shots into the snow. It was an event we all found it pretty funny and laughed a lot about.
I feel incredibly grateful to the school for allowing me to travel to Mandrogi with the students, and to the International TEFL Academy and the online TEFL class for helping to prepare me for this experience, as well as my career as a TEFL instructor.
Suffice to say, I can't wait until next year to see what we do next. From what I've heard, the activities change in some way each year. Personally, I hope the peroshki making master class returns next year!
Joshua Schiefelbein is 23 from Seattle, Washington with a BA in Russian Area Studies from Dartmouth College in 2014. He worked as a journalist and public policy research assistant before he moved to Russia to teach English. You can learn more about his adventures in St. Petersburg, Russia English Teaching Q and A with Joshua Schiefelbein and Think Before You Speak - An American Teaching British English.
Founded in 2010, International TEFL Academy is a world leader in TEFL certification for teaching English abroad & teaching English online. ITA offers accredited TEFL certification classes online & in 25 locations worldwide and has received multiple awards & widespread recognition as one of the best TEFL schools in the world. ITA provides all students and graduates with lifetime job search guidance. ITA has certified more than 25,000 English teachers and our graduates are currently teaching in 80 countries worldwide.
Want to Learn More About Teaching English Abroad?
Request a free brochure or call 773-634-9900 to speak with an expert advisor about all aspects of TEFL certification and teaching English abroad or online, including the hiring process, salaries, visas, TEFL class options, job placement assistance and more.