Discover the City of Angels While Teaching English in Bangkok, Thailand
Perhaps no city in the world is more of a study in contrasts than Bangkok, a dazzling metropolis of 10 million that serves as the capital of Thailand. Here soaring glass skyscrapers overlook centuries-old palaces and pagodas while monumental shopping malls stand blocks away from traditional floating markets. This is a city where clean-shaven Buddhist monks rub shoulders with Armani-clad businessmen and zippy little "tuk tuks" (motorized rickshaws that serve as Bangkok's favorite taxis) weave around sparkling Mercedes on traffic-choked thoroughfares that run alongside serene parks and ancient temples. Bangkok is the city where you can eat a sumptuous world class meal in a five-star restaurant for hundreds of dollars, or dine on mind-blowing curry or soul-soothing noodle soup prepared street side for a dollar or less
Bangkok is Thailand's spiritual, political, cultural, artistic, culinary, commercial and educational center. Its vast array of fantastic shopping, world class cuisine and killer nightlife rival anything found in Tokyo, London or New York, making Bangkok one of the most cosmopolitan cities in the world!

Bangkok's status as a major international center of commerce, education and tourism has translated into a huge demand for English teachers. The city is home to hundreds of schools and language institutes that hire thousands of foreign English teachers each year. A major key to getting hired to teach English in Bangkok is earning a TEFL certification. Also, be aware that there is a high preference for schools in Bangkok, and Thailand generally, to hire native English speakers with a college degree. Those who teach English in Bangkok, or other parts of Thailand can expect to make a good salary and based on the low cost of living, many teachers can save the equivalent of $200 - $300 a month, or even more in some cases.
To learn more, read this country profile for teaching English in Thailand.
In the meantime, here are some top highlights you can look forward to during your adventure teaching English in Bangkok...
The Grand Temple of Dawn: "Wat Arun"
Without a doubt, this is my favorite place in Bangkok! There are 31,200 Buddhist temples (known as "wat" in Thai) in Thailand and none is more famous or breathtaking as Wat Arun: the Grand Temple of Dawn. Built to resemble Mount Meru - the center of the universe in Buddhist cosmology - it towers nearly 80 meters (262 feet) above the mighty Chao Phraya River in the heart of the city. Beautifully decorated with pieces of colorful glass and Chinese porcelain, the temple brings together people from all walks of life who come to pray, meditate and make wishes. A definite highlight is climbing to the top where you can enjoy magnificent panoramic views of the city and enjoy a moment or two of refuge from the hustle and bustle of ground-level Bangkok. Dusk, in particular, is a fantastic time to admire the beauty of the temple as well as the views.
Floating Markets
For vibrant local color, not to mention great fresh food and all kinds of exotic souvenirs, you have to pay a visit to Bangkok's legendary Floating Markets. Here you can haggle with locals over live seafood, exotic fruit and fantastic flowers, while getting a taste of traditional Thailand! Bangkok is known as the "Venice of the East" for the city's endless maze of canals that have served as major arteries of commerce and transportation for generations. A great way to explore these thoroughfares is naturally by boat. Just join one of the many tours that are available, or better yet, catch a ride with the locals on a water taxi…this is just a charming experience you can't miss!
Grand Palace and Wat Prakeaw
The Grand Palace and Wat Prakeaw are sacred grounds, so don't be surprised if you are required to cover your legs in case you are wearing shorts. Built in 1782, the complex was the official residence of the Thai Kings and the Royal court for generations. Today it remains one of the most famous and impressive landmarks in Thailand.
Curries & Noodles
Chances are you have a favorite Thai restaurant in your neighborhood that you hit up regularly for pad thai and tom yum soup, but those yummy dishes are just a hint of what you will discover at the street-side stalls and markets of Bangkok. Combining influences ranging from Burma to China, Thai cuisine encompasses a broad array of styles and ingredients from tangy coconut-based curries and light, spicy soups to fried noodles and fresh herb-laden salads. Dishes are typically flavored with pungent aromatics like shallots, ginger, peppers and galangal, as well as fresh herbs like cilantro, mint and Thai basil. Favorite meats include pork, fowl (both duck and chicken) and especially fish and seafood, but Thailand is a paradise for vegetarians as well. Fresh produce and exotic fruits are available in abundance, and due in part to the nation's Buddhist heritage, vegetarian dishes form an integral part of the Thai diet.
Great Shopping
Bangkok is a shopper's paradise. From exquisite handicrafts, rare jewels and fine silks to high-tech gadgets and knock-off designer goods, you can get it all here. Better yet, it's typically dirt cheap, especially if you avoid tourist traps and are willing to bargain.
The Warmth of the Thai People
There's a reason why Thailand is known as the "Land of Smiles" and the warmth, generosity and good humor of the Thai people are all major reasons why so many people fall in love with Thailand. Primarily Buddhist, the Thais are generally conservative, but tolerant and fun-loving, and their laid-back approach to many aspects of life run contrary to many of the stereotypes held by westerners about people of East Asia.
Getting Away From It All
Bangkok is one of the most exhilarating and stimulating cities in the world, but like New York, Cairo or Tokyo, it's one of those fantastically intense cities that is sometimes necessary to escape from. Luckily, while teaching English in Bangkok, you have all of Thailand at your doorstep, from the sun-drenched beaches of the tropical southern coast and Andaman Sea to the lush highlands of the north. The seashore is a quick bus ride away, and flights both within Thailand, and to other Southeast Asian nations like Malaysia, Cambodia and Vietnam are convenient and inexpensive.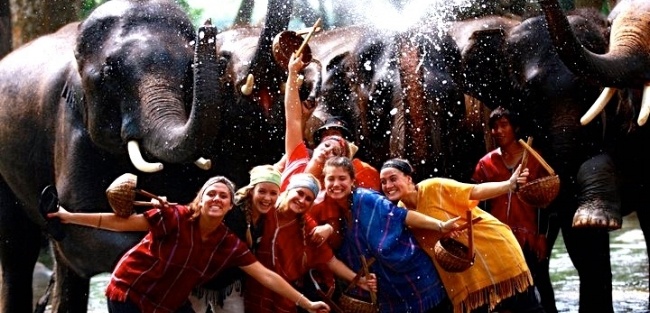 Want to Learn More about Teaching English in Thailand & Around the World?
Request a free brochure or call 773-634-9900 to speak with an expert advisor about all aspects of teaching English in Thailand and around the world, including TEFL certification, the hiring process, salaries, visas and more.
Related Articles:
Founded in 2010, International TEFL Academy is a world leader in TEFL certification for teaching English abroad & teaching English online. ITA offers accredited TEFL certification classes online & in 25 locations worldwide and has received multiple awards & widespread recognition as one of the best TEFL schools in the world. ITA provides all students and graduates with lifetime job search guidance. ITA has certified more than 25,000 English teachers and our graduates are currently teaching in 80 countries worldwide.
Want to Learn More About Teaching English Abroad?
Request a free brochure or call 773-634-9900 to speak with an expert advisor about all aspects of TEFL certification and teaching English abroad or online, including the hiring process, salaries, visas, TEFL class options, job placement assistance and more.