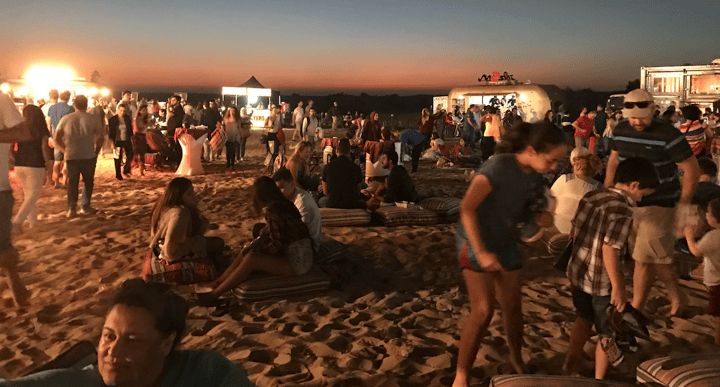 By Katie Ayers
When you come to the UAE, you'll know.
You'll TASTE cardamom in all local coffee. You'll also taste mint, it's a popular drink flavor, including in tea and lemon and mint juice. You'll eat za'atar, olive oil, olives and bread. You'll also taste a lot of middle eastern food, shawarma, falafel, grape leaves, mixed grill and baklava.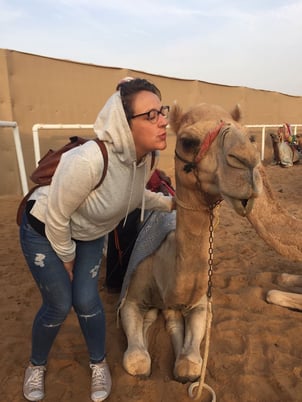 You'll HEAR the call to prayer five times per day. The call to prayer involves the Imam announcing the prayer time (I believe it's a 5-minute warning). Then you'll hear the Imam reciting the prayer. You'll also hear many languages beyond Arabic and English.
You'll TOUCH your food. You'll eat with your hands a lot more than you're used to. If you're lucky you'll touch a camel and take a selfie with one (try to do it in a natural place not just on the safari).
You'll SMELL oud and incense. You'll find that many of the people of the UAE all have a strong cologne/perfume smell, it's called Oud. People burn incense everywhere, in the mall, at home, at work and in the school.
You'll SEE white and black. Emirati women and many muslim women from other countries wear abayas. These are the black gowns that are usually accompanied by a shayla, the black head scarf.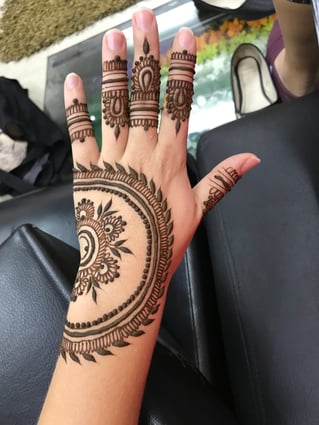 Some women will be wearing a niqab which means you will only be able to see their eyes. It's a woman's choice in Islam to cover their hair and to cover their face. Sometimes you'll see women with a full black scarf over their face, most of these women are engaged to get married. The men will be wearing white kandoras. Men cover their head with a ghutra. The ghutra is typically red or white. Most Emirati men where the red ghutra in the winter, it's a heavier fabric and the white ghutra in summer. A lot of adult men will also have an igal, this is the rope that is placed on top of the ghutra. The different ways of wearing the head covering is all based on style and personal choice.
You'll SEE a lot of seriously nice cars. A lot of Nissan Patrol and Lexus cars among others. License plates have 5 digits, the less digits the more the license plate cost. You'll also see flashing lights. When you're driving too slow, or cut someone off they won't honk at you they'll flash their lights, that means move.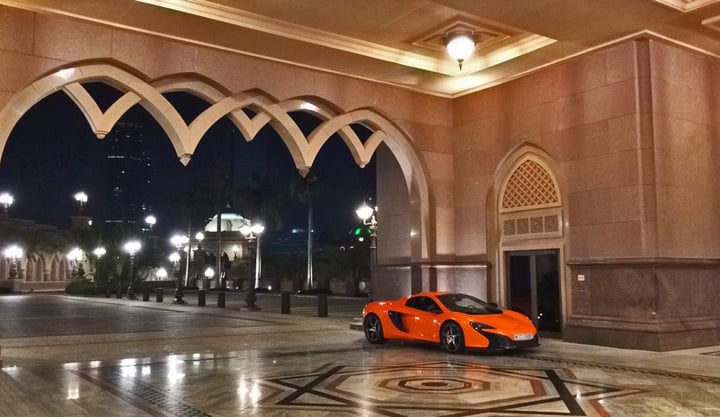 You'll SEE sand for days. I've always loved the open ocean but there's something equally peaceful and beautiful about an open area of sand. If you're in Ras Al Khaimah or Fujairah (another Emirate) you'll see Mountains. From all Emirates you'll see the Gulf.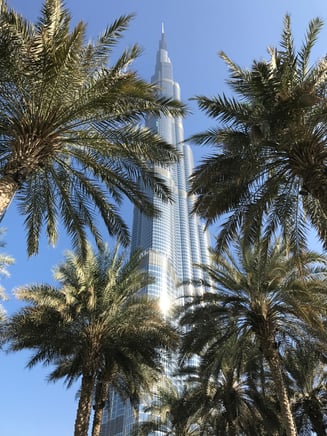 You'll DO a lot of once in a lifetime things. You'll visit the tallest building in the world and see a bustling metropolis that was built in 40 years. You'll shop in souqs, which are traditional markets. You can buy souvenirs, spices, gold and snacks. You can go on safari, where you'll bash around in a SUV, watch some traditional entertainment and get henna. You'll visit a lot of malls and shop in luxury stores. You'll play with penguins, monkeys and camels in one day. You'll ski on water or snow and skydive after you climb a mountain. You'll visit man made islands and extravagant beaches. You can rent a Maserati. You can smoke shisha and drink tea with the locals as you watch a beautiful sunset.
I like to refer to life in the UAE as a world record life. It's something you'd have to experience to fully appreciate all of the wonders of the desert.

A Chicago gal at heart and one of ITA's Alumni Ambassadors, Katie gained the travel bug in high school when she took a trip to Rome. Since then she's been finding her way abroad whenever she can, two years ago she got that wish and she isn't turning back anytime soon!
---
Want to Learn More about Teaching English Abroad?
If you are excited about teaching English from either the comfort of your own home or anywhere in the world, contact us about TEFL certification options and get ready for a great adventure!
Related Resources: