By: Carey Bibb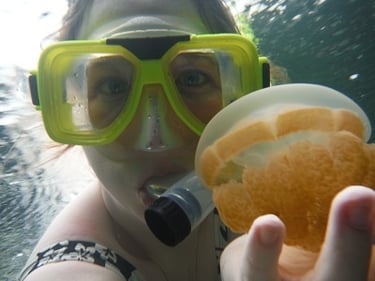 Usually, people who teach English in Japan are able to save a lot of money while doing so, especially if they live in a small city like the one in which I currently reside. When I accepted the job on the JET Program, I knew that my salary would be quite nice and that I would have the opportunity to save money if I wanted to. However, more than saving money, what I really wanted to do was travel around Asia -- a part of the world that I had never visited before.
In university, I studied abroad for six months in Brighton, England, at Sussex University, and during my one month long spring vacation there, I was able to visit nine European countries. Countries in Europe are smaller and easier and cheaper to travel to than countries in Asia, but I have still been able to visit over 10 countries in Asia since I began the JET Programme four years ago. Since summer 2012, I have been to: Japan, Vietnam, Cambodia, Thailand, Palau, Malaysia, Indonesia, Singapore, Myanmar, the Philippines,and Taiwan with a ticket already purchased to visit Hong Kong in August of this year. I have learned a lot about the world and about myself through my travels.


For those of you who are thinking about traveling to Asia, I have some tips that I wish I had known before traveling around.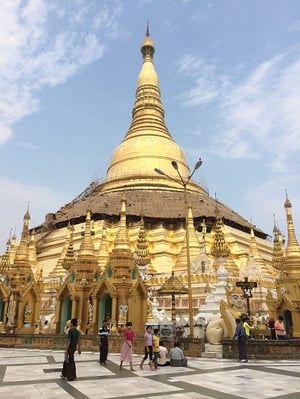 1) If you are nervous about traveling alone, search for tours around the areas that you want to explore. Half of the trips that I took around Asia, I went through either a direct tour company or a company that would arrange for travel around the country, but would allow my friends and I to do what we wanted to in the different cities we went to. I never had a bad experience, and I always did a lot of research so that the tour was tailored to what I wanted to do, but without costing too much money.



2) Try to learn a little bit of the language before you go there. Obviously, this is not just a tip for Asia, but anywhere you go. But in Asia, this also goes for the written language -- if you go to Japan or China where they use 'kanji', especially when it comes to bathrooms. I have had friends come visit me in Japan and not be able to figure out the fancy 'space toilets' for a couple of minutes, causing some awkward situations.


3) There are many amazing temples and shrines all around Asia, especially if you go to a Buddhist country, or a country with a history of Buddhism. If you are in one of these countries, don't look at the same kinds of sights every day, take some days as 'temple vacation days' and go see something completely different. As amazing as the temples are, it is possible to get fed up with seeing them over and over again, so take breaks so that the temples stay interesting!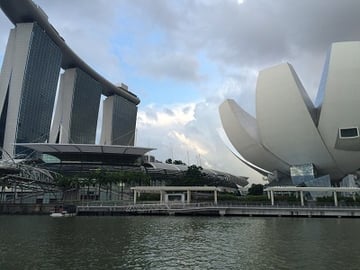 4) Don't get offended if people, especially older people, treat you poorly because you are a Westerner. There is a lot of bad history between certain countries in Asia and in the rest of the world. I was shocked when I went to Vietnam (my second Asian country after Japan) and went to a museum with an "Aggressions and Atrocities" wing, depicting pictures from the Vietnam War and very biased against Americans. As a former history teacher I know that propaganda and bias exist everywhere and can negatively impact people's opinions, but it can still be shocking. I would advise people to not take this to heart. More people will be impressed that you are a foreigner and will be really excited to talk to you than will be bitter and insulted by your presence. In most cases, you will seem like a movie star, so enjoy the positive attention you will receive and pay no mind to the occasional negative attention!


5) When you are looking into teaching jobs in Asia, many countries require that you have received a TEFL certificate from a verified company. I was lucky enough to not require one for my job in Japan, but when I started doing research on jobs in other countries, I learned that to get a decent wage at a good school, you need a TEFL certification. That is why I decided to take the online TEFL class through International TEFL Academy before leaving Japan, so I can have all of my ducks in a row before attempting to find a new job. I'm probably going to move somewhere in Asia and I will definitely take advantage of ITA's job search assistance to find the best fit for me.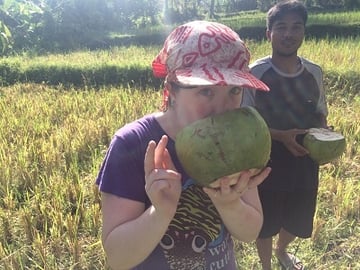 I still have a year and a couple of months before my contract through the JET Programme expires, and I will continue to travel during that time. Next year I would like to visit South Korea and Laos, and I still need to visit Hiroshima before I leave Japan. While I may not have as much saved as I would like, I have no regrets. I have seen things like Angkor Wat in Cambodia and the Taroko Gorge in Taiwan that I will never forget. I have gone zip lining in front of Mt. Mayon and swimming with whale sharks in the Philippines. I will be able to show my own children and my future students countless pictures of me traveling and experiencing different cultures in Asia that will hopefully inspire them to travel abroad and follow their dreams, no matter where they might lead. Even if I leave Japan with only enough money to start life in the next place I move to, I am happy with the experiences I have had and will continue to have during my time as an ALT in Japan.
Carey Bibb is originally from a small city in Maryland, an hour and a half south of Baltimore, but has lived in another small city in Japan for the past (almost) four years. She studied history and psychology in university, but is now a TEFL certified (through International TEFL Academy) English teacher. Her two passions are traveling and teaching, and now she is lucky enough to have combined the two!
To learn more about Carey's adventures in Japan, read her article Experiencing the "Inaka" Life while Teaching English in Japan & Teaching English in Odate, Japan: Alumni Q&A with Carey Bibb.