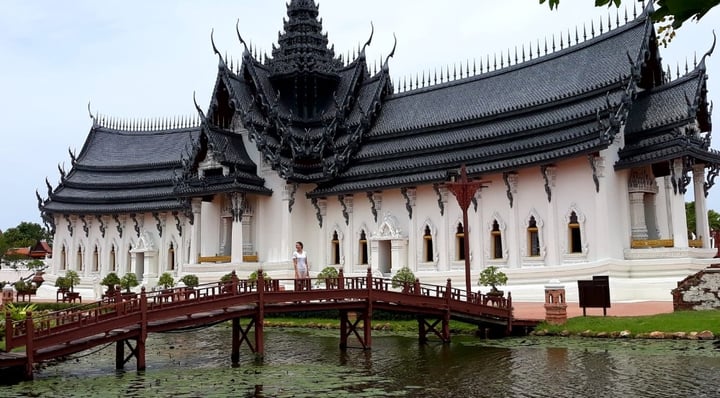 By Nicola Rae
I arrived in Bangkok with a serious case of jet lag and a patience worn thin thanks to the screaming toddler sitting beside me for 20 hours. Thankfully, Bangkok, Thailand is so awesome that I quickly forgot about all that. After a month of exploring this city, I still feel like there is so much to see and do. Bangkok, unsurprisingly as it is one of the biggest cities in South East Asia, has something for everyone.
Because there are so many fabulous things to do in BKK, I'm breaking this post into two parts: Daytime and Nighttime. I hope you're an early riser, because you've got a big day ahead of you!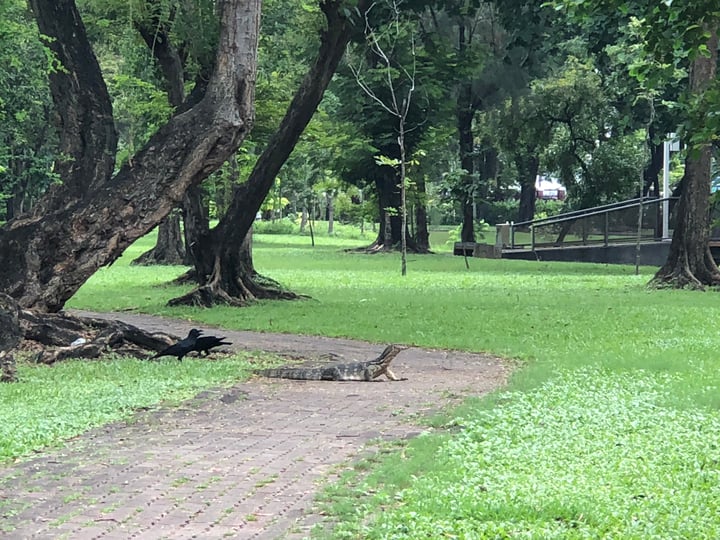 Things to do in the Daytime
1. Grand Palace
This gorgeous palace complex is one of the most popular things to see in Bangkok and it's definitely worth a visit. The cost is 500 TBH or about $13 USD and it closes at 3:30pm, so make sure you go early so you have time to see everything. When you visit, make sure you are wearing long pants (I know it's hot, but there's no getting around it) and a shirt that covers your shoulders. If you aren't in dress code, you will have to but appropriate clothing from the vendors who are conveniently located right outside the palace walls. The best way to get to the Grand Palace and avoid traffic is to take the Chaophraya Express Boat to the Chang Pier and follow the crowds.
2. The National Museum
This museum is huge and diverse, filled with gorgeous temples, historical artifacts, and even the royal chariots. They offer free walking tours every day that start at 9:30am which I highly recommend. The cost for the museum is 200 TBH (or about $5 USD) and it is open Wednesday - Sunday.
3. Lumpini Park
Who doesn't love a little greenery in a big city? Lumpini park is located in the Business District of Bangkok but you would never know once you're inside. It is so quiet and peaceful in the park. There are lakes where you can rent paddle boats, running and cycling paths, and even a full outdoor gym that is free for anyone to use if you want to get your workout on (I wouldn't know anything about this since my daily workout usually consists of walking to the nearest pad Thai food cart). But the best part about Lumpini isn't the serene beauty, or the opportunities to work off all that mango sticky rice, or even the beautiful little temples that dot the running paths. No, the best part about Lumpini is the Lizards. Giant Monitor Lizards. Everywhere. Sunbathing, swimming, barbarically eating whole fish. They are fascinating to watch and if you're a reptile enthusiast (I am), you will walk through Lumpini with a huge stupid grin on your face.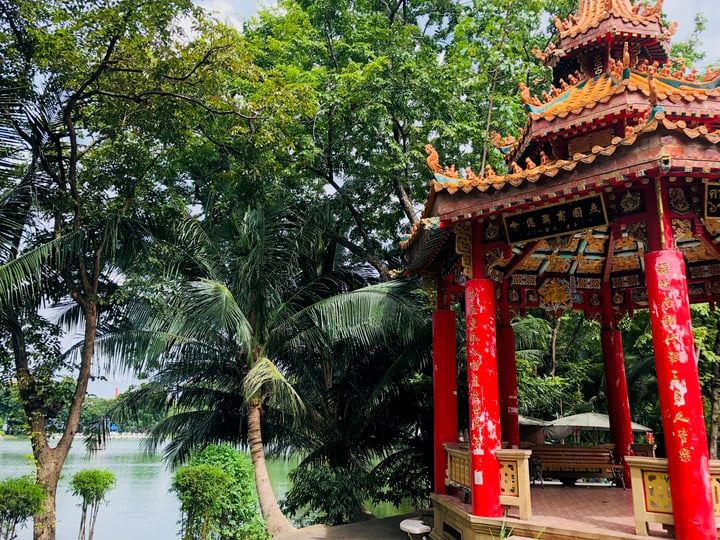 4. Chinatown
If you need anything while in Bangkok, anything at all, you can probably find it in Chinatown. This is shopping to the next level. The streets are tight and crowded so claustrophobics maybe skip this one, but it is definitely a spectacle to behold. There is also delicious street food in this part of town.
5. Jim Thompson House
Architecture and mystery buffs, this way! The Jim Thompson house is the beautifully preserved home of an American architect who fell in love with Thai culture. He build this house in the traditional style and collected beautiful Thai art pieces to fill it. The gardens are fabulous as well. On a trip to Malaysia many years ago, the owner went for a walk and was never seen again. His disappearance remains a mystery. Spooky!
6. Explore the Malls
I know it sounds silly to go to a mall while you're abroad. You want history! You want culture! You want gold-gilded temples! I get it. At some point, though, you'll probably also want air conditioning. And one of Bangkok's many malls is where you'll find that. These malls aren't just regular malls. Some of them are fancy beyond belief, like Siam Paragon which has Aston Martin, Rolls Royce, and Lamborghini showrooms inside. They also have some of the coolest movie theaters in these malls. At some movie theaters, you can watch a film in a recliner with butler service.
7. Get your Instagram on at the Unicorn Cafe
You heard me right. There's a unicorn cafe and it's exactly what you're thinking. This glittery, rainbow filled cafe is the perfect place to channel your inner fairy princess, complete with rainbow desserts and adult-sized unicorn costumes available to rent. This Unicorn Cafe even got its own post on my blog! Take the BTS to Chong Nonsi to get in on the magic.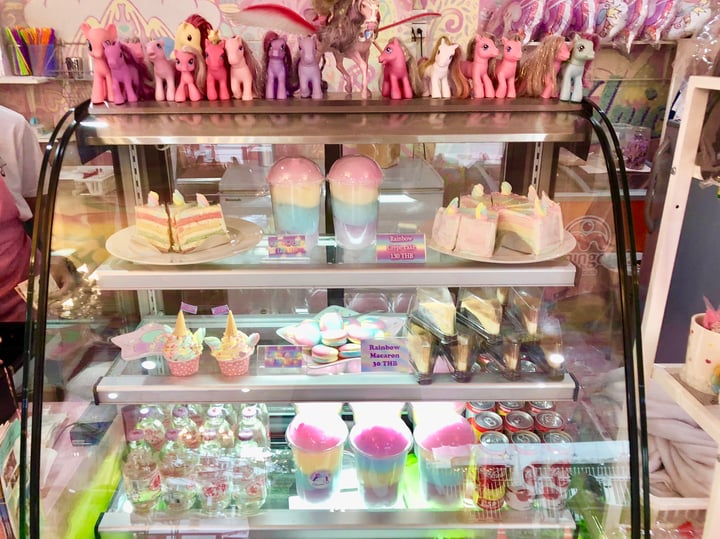 8. Chatuchak Weekend Market
As the name implies, this market is only open on the weekends, but it is definitely worth a visit. It is huge, with thousands of stalls selling clothing, gadgets, and delicious foods. To get to this market, take the BTS to Mo Chit and follow the crowds.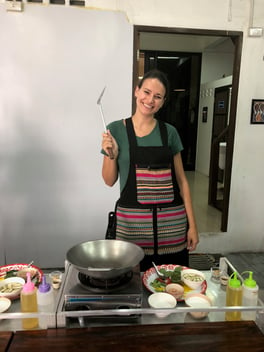 9. Thai Cooking Class
The cooking class I took at Pink Chili Cooking School was one of my favorite things ever! This cooking class started in the morning at the local market. Our instructor showed us how to pick out the right ingredients and explained the history of Thai cuisine. Then, we walked to the cute (and air-conditioned) cooking school to cook Pad Thai, Green Curry, Coconut Chicken Soup, and Mango Sticky Rice. The food was excellent and since the menu changes each day of the week, you can learn to make tons of different Thai dishes.
10. The Ancient City
The Ancient City is a bit far from central Bangkok so visiting will probably take the better part of the day. Still, it is worth every moment to see the fantastic restorations and recreations of famous Thai monuments. This park is huge - you need to rent a bike or golf cart to explore the whole thing - and beautifully maintained. Inside, historians and artists have lovingly recreated some of Thailand's most important pieces of architecture to educate people about Thai history. There is a detailed and entertaining audio guide that tells you what you're looking at and the whole park just feels so peaceful. You can read more about the Ancient City here.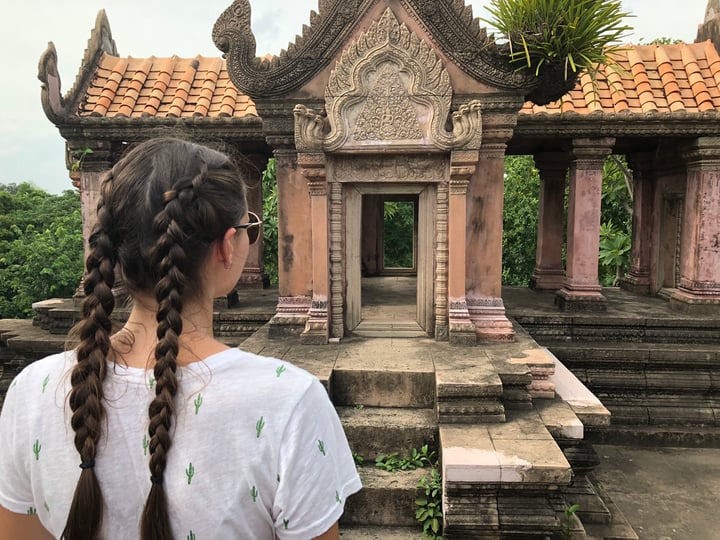 If you aren't too exhausted from your day in Bangkok, check out the next post in this series about what to do after dark!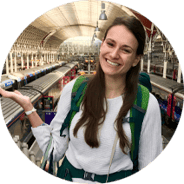 Nicola is an Atlanta native who loves teaching, budget travel, and guacamole. She holds BA's in Anthropology and Sociology from the University of Georgia and a Masters in Education from Francis Marion University. She is currently teaching English online while house sitting. Whens he's not busy teaching or drinking coffee in cozy cafes, Nicola enjoys writing about her travels on her blog seenicwander.com.
---
Want to Learn More about Teaching English Abroad?
If you are excited about teaching English from either the comfort of your own home or anywhere in the world, contact us about TEFL certification options and get ready for a great adventure!
Related Resources: