TEFL TESOL Certification Course
Istanbul, Turkey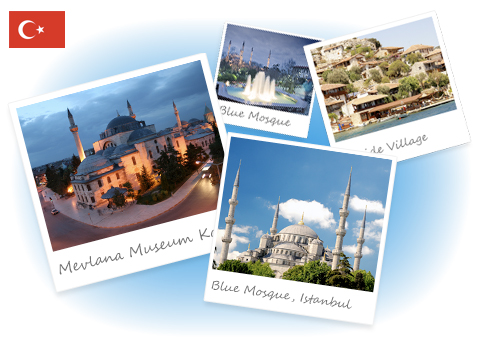 Length of training: 4 weeks
Tuition: Approximately $ 1,545 ($ 500 Deposit, 975 Euro balance)
(housing costs are not included)
More information on TEFL Course Dates

Note: This is a partner course of International TEFL Academy. All students receive the full benefits of ITA students and alumni, including lifetime Job Search Guidance.
Istanbul Turkey TEFL Class
Istanbul, a world metropolis, has developed into the 9th largest city on Earth largely due to its geopolitical location. It is spread over 7,500 km2 of land and is home to an estimated 12-15 million inhabitants. The only city worldwide to have developed on two continents, Istanbul consists of, on the European side, the Historical Peninsula to the south of the Golden Horn with the Galata District to the north and, on the Asian side, is the New City. The European side of the city is the trade and business center, whereas the residential side is located on the Asian side.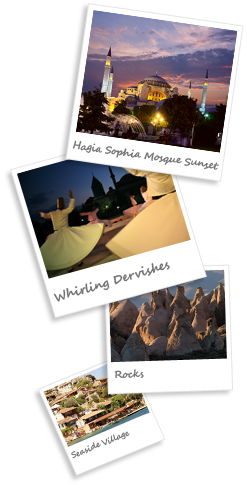 Istanbul has a long and interesting history: Byzantium was the city's original name; it was changed to Constantinople during the height of the Holy Roman Empire. Today, the city is still a political and commercial center for the Balkan and Middle Eastern countries, as well as the Turkish Republics of Central Asia. As the city is the crossroads of East and West, the cultural, religious, and architectural synthesis is unlike any other city. Often compared with Rome, both having been the capitals of Byzantine and Ottoman Empires, for its many similarities including the numerous and imposing religious and civil structures, Istanbul is a mecca for tourism and an interesting place to visit for anyone.
The natural beauty of the Golden Horn is reason enough to visit this part of the world. The moderate climate, active nightlife, diverse population, and excellent Turkish cuisine are other factors, which make Istanbul attractive for foreigners.
As Istanbul is an ever-growing city with its population increasing around 5 % per annum, the teaching opportunities here are plentiful. There are numerous language schools catering to every level from primary schools to businesses; any graduate should be able to find a niche in Istanbul. Due to the high demand for teachers here, it seems a likely choice to attend a TEFL course.
A transcontinental nation straddling both Asia and Europe, Turkey is a democratic and strongly secular country with one of the most fascinating histories. The once-Ottoman Empire stretched to over three continents and controlled a majority of Southeastern Europe, the Middle East and North Africa - spanning from the Strait of Gibraltar in the west to the Caspian Sea and Persian Gulf in the east from the edge of Austria, Slovakia and parts of the Ukraine in the north to the Sudan, Eritrea, Somalia and Yemen in the south. Considered the epicenter of communications and relations between what we know as the Eastern and Western world for some six centuries, present day Turkey is an amazing example of influences coming together to form one of the most spectacular countries on earth. With Byzantine, Roman and Ottoman monuments seeable in just about all parts of the country, Turkey's past and present can be the perfect educational background for the TEFL student looking to begin a future abroad.
The TEFL TESOL School in Istanbul Turkey
Earn your TEFL certification in Istanbul - a university city boasting some of the most reputable educational institutions, Istanbul is an ideal setting for students looking to further their educational horizons. The center is based in a premier English language school, which was founded in 1988 and is specialized in teaching English as a foreign language. This schools is a member of Ozdilder, the representative body of private language schools in Turkey and is accredited by the Turkish Ministry of National Education.
How much work is involved with the course?
The course is very intensive and requires a strong commitment by the student. One can expect to be in class for about eight hours a day along with a few hours of work at home. International TEFL Academy recommends that trainees have no other personal or professional commitments outside the course during those four weeks of training.
Who are the practice students?
The students are normally Turkish speakers that attend these free classes of English with complete awareness that they will be taught by novice teachers.
Tuition fee covers:
Tuition does not cover:
Personal Expenses

International Flights

Visa, Insurance,

Airport Pick up

Housing fees are paid upon arrival, direct to school in Istanbul, Turkey
Accommodation:
Accommodation is provided in fully furnished shared apartments within walking distance from the school. Home stays provide a unique opportunity to experience the way of life of local people of an area along with traditional cultures. Home stays also provide an opportunity for visitors to experience a place in an authentic, comfortable and homely setting. Individual apartments can also be provided upon request.
Excursions and Cultural Highlights:
At the International TEFL Academy in Istanbul, we would like to make your stay as enjoyable as possible. Turkey is full of wonders and Istanbul has many interesting things to offer to its visitors. Turks are also well known for their hospitality and friendly character. For these reasons, to help you get to know the city and to help you relax after a hard week studying TEFL, International TEFL Academy Istanbul offers a social program to its trainees.
Some example activities from our social program are:
Bosphorus Tour
A traditional excursion by boat along the waterway, which separates Europe from Asia. The shore is lined with old wooden villas, palaces of marble, fortresses, and small fishing villages. During the excursion you will pass the magnificent Dolmabahce Palace, and further along, the parks and imperial pavilions of Yildiz Palace. On the coastal edge of this park, is Ciragan Palace, 300 meters of is marble facade faces the shore. At Ortakoy a great variety of artists gather every Sunday to display their work along the street. Ortakoy is a symbol of tolerance with a church, a mosque and a synagogue existing side by side for centuries.
Whirling Dervish Night
The whirling dervish is known as a Semazen. Dervish itself means doorway to god or enlightenment. Sufism is derived from the word for a rough, woolen cloak, its material designed to diminish the superficial pleasures of worldly existence. Mevlevis are the order of Sufis that perform the whirling dervish dance, refered to as the Sema. The leader of the group is called the Sheikh; he often stands in the middle of the room, representing the sun, while the other members dance around him in imitation of the cycles of the planets. The repetition of god's name is the Zikr.
Day trip to Þile (Black sea coastal resort )
Picnic in Belgrade Forest
The activities in the social program are not included in the course fees. These activities are optional and require a minimum number of participants in order to take place.
Food and Clothing: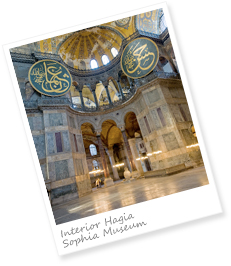 Dishes native to the Marmara region reflect characteristics of Mediterranean cuisine and are often rich in vegetables, herbs and fish. Commonly-used ingredients in Turkish dishes include: meat, eggplant, green peppers, onions, garlic, lentils, beans, tomatoes, nuts (namely pistachios, pine nits, almonds, hazelnuts and walnuts) with spices such as parsley, cumin, black pepper, paprika, mint, oregano and thyme found in just about every dish - albeit a pastry for desert or lamb for the entrée. Soups (i.e. lentil, yogurt or wheat) of various makes are present in traditional Turkish meals. Also: shish kabobs are common dishes through all of Turkey.
Climate:
The climate of Istanbul has a climate classified as temperate-continental - with hot and humid summers and cold, rainy and often snowy winters. With a somewhat high humidity exacerbating the warm, summertime temperatures, the heat often feels more intense than indicated. Snowfall often occurs over the course of one or two weeks with some intensity (usually between the month of December and March). The daytime temperature between the months of June and September averages 74° Fahrenheit (23.3° Celsius).
Istanbul is a significantly windy city with an average wind speed of 11 mph (17/km/h). In summer, the weather in Istanbul is hot and humid, the temperature between June and September averaging 82°F (28°C). Summers are relatively dry, but rain does occur all year round. During winter it is cold, wet and often snowy. Snowfalls tend to be heavy, but temperatures rarely drop as low as freezing point. Istanbul also tends to be a windy city.
The Importance of English in Turkey:
As to why the Turkish people want to learn English, the reasons are numerous and varied. But there are a few common threads. Perhaps the single most important reason the Turkish people are signing up for English language courses is a very practical one: English has become the de facto international language of business, education and diplomacy. Even if you are doing business with a European, German or Japanese person, chances are that your common language will be English. And as is true in a large and growing number of countries, the Turkish people are exposed to English at an early age.
Most Turkish primary schools provide a basic English language course or courses as part of their curriculum. This is even truer at the university level, where most students are either required to do a year's worth of preparatory English coursework or where a sizable percentage of courses, typically around 30 percent, are taught in English.
Teaching English Jobs in Turkey: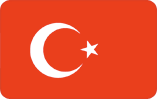 There are numerous English schools in Istanbul that cater to adult students, and these are definitely easier to find a job in than the primary schools. This means that you will likely work evenings and weekends, but this leaves your day free to explore this diverse city. There are language schools in other cities, such as the capital, Ankara, but Istanbul is the cultural, historical and social center of the country.
There are numerous English schools in Istanbul that cater to adult students, and these are definitely easier to find a job in than the primary schools. This means that you will likely work evenings and weekends, but this leaves your day free to explore this diverse city. The salaries are reasonable, and the cost of living is very low, but you aren't likely to leave with a huge savings account. Any extra money is usually spent on exploring Istanbul, trips around the country, or maybe on a Turkish carpet!
6 Great Reasons to Teach English in Istanbul, Turkey
To learn more about teaching abroad and TEFL Certification go to our form to request a brochure.