170-Hour Online TEFL Course:
Dates & Tuition
Tuition- $1,399 USD (150-Hour Class & 20-Hour Practicum)
SAVE $300 - Biggest Discount of the Year!
Tuition is reduced from $1,399 to $1,099
For any student who enrolls by December 2, 2019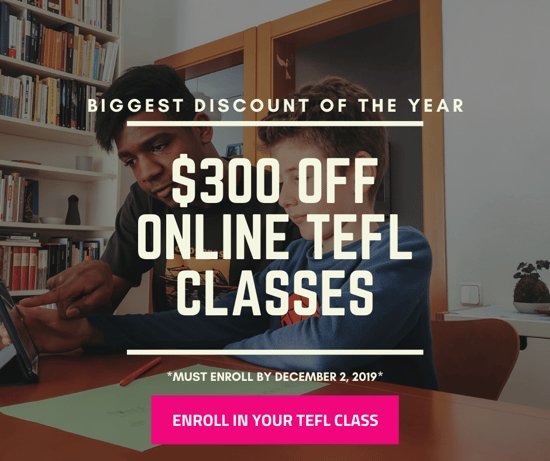 This discount can be applied to any future Online TEFL Class*
Enroll Here

Course Dates 2019 :

November 18, 2019 – January 31, 2020 (Call to be on the waitlist)

December 2, 2019 – February 14, 2020 (Limited Availability)

December 16, 2019 – February 28, 2020 (Limited Availability)

December 30, 2019 – March 13, 2020
January 13, 2020 - March 27, 2020
January 27, 2020 - April 10, 2020
February 10, 2020 - April 24, 2020
February 24, 2020 - May 8, 2020
March 9, 2020 - May 22, 2020
March 23, 2020 - June 5, 2020
April 6, 2020 - June 19, 2020
April 20, 2020 - July 3, 2020
May 4, 2020 - July 17, 2020
May 18, 2020 - July 31, 2020
June 1, 2020 - August 14, 2020
June 15, 2020 - August 28, 2020
June 29, 2020 - September 11, 2020
July 13, 2020 - September 25, 2020
July 27, 2020 - October 9, 2020
August 10, 2020 - October 23, 2020
August 24, 2020 - November 6, 2020
September 7, 2020 - November 20, 2020
September 21, 2020 - December 4, 2020
October 5, 2020 - December 18, 2020
October 19, 2020 - January 1, 2021
November 2, 2020 - January 15, 2021
November 16, 2020 - January 29, 2021
November 30, 2020 - February 12, 2021
December 14, 2020 - February 26, 2021
December 28, 2020 - March 12, 2021
*Classes typically fill 1-2 weeks in advance. Online classes are limited to 20 students per course section.
Looking to enroll and pay for a class?

3. Please call to check on availability if less than 30 days as there may be a class opening due to transfer. We try to list classes that are full more than 30 days in advance on this list.
Enrollment Information for
170-Hour Online TEFL Class
IMPORTANT! Before enrolling for any International TEFL Academy TEFL Course, it is imperative that any prospective student speak to an Admissions Advisor. Your Advisor will answer your questions & assist you with matters such as your eligibility & enrollment; course costs & logistics (like practicum); and your options for employment as an English teacher once you complete your TEFL certification. You can call 773-634-9900 to speak with an advisor & receive more information.
All tuition is listed as US dollars unless otherwise stated.

All ITA students & graduates have the option to enhance their skills and credentials by taking additional TEFL Specialty classes in the fields of Teaching English Online, Teaching Business English, and Teaching English to Young Learners. Check out the TEFL Specialty Class Index for more information.
NOTE: You can save $25 on your tuition for any specialty TEFL class by enrolling at the same time you enroll in your 170-Hour Online TEFL Class.
Our website uses cookies to understand what content is most relevant to your research on teaching English abroad. See our privacy policy for more.
Got it!