English Teaching in
Israel
Teaching English Jobs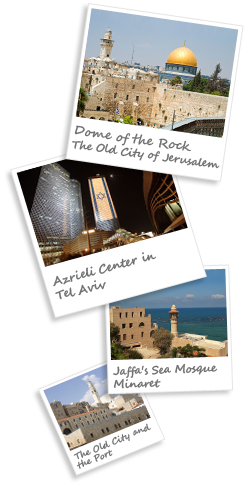 As a dynamic and cosmopolitan nation that engages in extensive interaction with the global community economically and culturally, Israel has a strong demand for English language. However, because of its small size and the large number of local English speakers, Israel represents a competitive job market for foreign English teachers.
Most first-time English teachers will gain employment by interviewing in person once they arrive in Israel, and they will also be responsible for their airfare, as well as housing. Wages typically enable English teachers to live comfortably. Most teachers live in apartments recently vacated by previous teachers, and many share accommodations with their coworkers. Schools typically offer around 20-25 hours per week of work, leaving you plenty of opportunity to travel and explore. Giving private lessons is a popular way to make extra money.
English teaching jobs in Israel are concentrated in Tel Aviv, Jerusalem, Haifa, Rishon LeZion and other major cities.
English Teaching Requirements in Israel



Typical hiring process: face-to-face in Israel
Average teaching hours per week: 20–25 hours of classroom plus extra prep time
Types of students: business professionals, children in public schools and private language schools
Average Monthly Cost of Living: $900 - 1,300 USD

(3,970 - 5,150 ILS)
Average monthly pay:

$530 - 1,000 USD (2,060 - 4,100 ILS)
Start-up cost: $1,000 - 1,500 USD (3,800 - 5,700 ILS)
Potential to save or break even: Potential to save $100-200 USD (350-700 ILS) per month
Accommodation/housing benefits paid: No, will assist in finding housing

Interesting Facts About Life in Israel
Boasting more than 3,000 years of history since its founding by King David, Jerusalem is holy to the world's three Abrahamic religions of Judaism, Christianity and Islam. By contrast, Israel's second city of Tel Aviv – just an hour from Jerusalem by car – only just celebrated its centennial in 2009.
At 423 meters (1,388 ft) below sea level, the shores of the Dead Sea represent the lowest land elevation in the world. The Dead Sea is also one of the world's saltiest bodies of water and salt from its waters are used in the production of highly prized cosmetics and soaps.
Israel has one of the highest percentages in the world of home computers per capita and is home to more high-tech start-ups than Silicon Valley.
Considered the third holiest site in Islam, the Dome of the Rock by the Caliph Abd al-Malik was constructed between 689 and 691 above the Temple Mount in Old Jerusalem and is best recognized by its magnificent Byzantine-style dome.
Living in Israel Teaching English...
Few places on earth exude such as a palpable sense of history and time as Israel. Sacred to billions, its lands are overflowing with biblical sites and ancient ruins, from the Temple Mount in Old Jerusalem to Christ's birthplace in Bethlehem. However, Israel is far more than a giant museum or religious shrine. The country is one of the most technologically innovative in the world and cities like Tel Aviv are humming with commerce and culture while offering an enticing array of cutting edge cuisine and nightlife. For diversions, on any given weekend, you might find yourself taking a salt bath in the Dead Sea, skin diving in the Red Sea off the shores of Eilat, clubbing in Tel Aviv or ascending the heights of Masada.