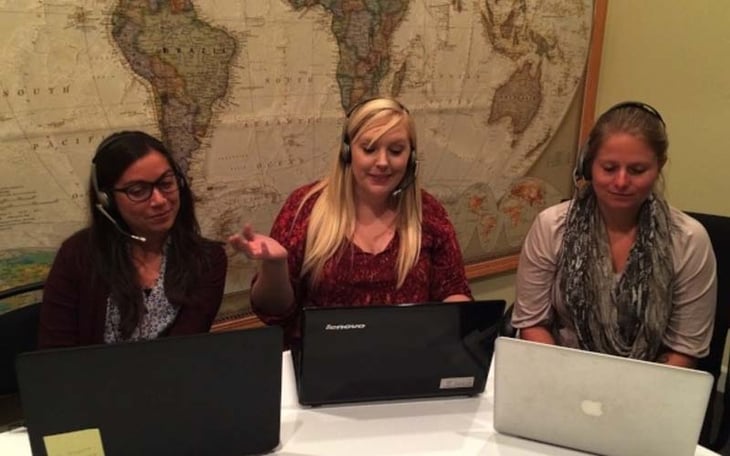 What is a TEFL Webcast for Teaching English Abroad?
Technically, a webcast - also known as a "webinar" - is an event that is broadcast live (or on demand) over the Internet. International TEFL Academy hosts frequent webcasts, giving YOU the opportunity to get to know us and learn all about teaching English abroad. Working all week? Busy school schedule? Not located near our headquarters in Chicago? Our webcast let's you tune in live, and get up-to-date information on international job markets, TEFL certification options, and there is even time to ask experts in the field any lingering questions.
Do you have questions about where you can teach English abroad? Hiring requirements? TEFL Certification? Great! Attend a webcast and you will get a solid overview of all the basics! Our webcasts are hosted by ITA staff that have all lived abroad, taught abroad, and/or traveled extensively.
Our hosts will not only cover the ins and outs of the teaching abroad process, but also share their own stories of life abroad. They want you to enjoy your experience just as much as they did.
If you can't attend a webcast live, here is a recorded version you can watch on your own time!
The webcast is an hour-long overview that goes in depth on TEFL certification options, regional job markets, and the steps you need to take to achieve your goal of becoming a world-traveling-global-ambassador-with-all-the-right-tools. Hosts will discuss citizenship and degree requirements, visas, contracts, hiring procedures, and financially planning for your trip. By the end of the webcast, you should have a good idea of where to start and what happens next!
Also, the webcast is interactive. Attendees are able to type questions to the hosts throughout the presentation, so no need to waste anymore time searching the web endlessly. You'll be joined by other like-minded attendees from all over the world, all logging in to see what the buzz is about when it comes to teaching ESL overseas. Attendees will also see pictures of alumni around the globe, teaching in the classroom, climbing mountain peaks, and crossing destinations off of their bucket lists.
If you're asking yourself "how does this work?" ITA's webcast is for you. So register for the next webcast! Grab a notebook, a beverage, and your questions. It all starts here!
A native of Valparaiso, Indiana, Cassie had traveled abroad only once prior to leaving her job as a television producer and heading to South Korea to teach English in 2009. Now a passionate traveler, Cassie's recent international exploits include camping on the beaches of Vietnam, hiking through the Andes to Machu Picchu and smoking water pipes and drinking tea with the locals in the cafes of Cairo. With more than 10 years of professional experience in the field of teaching English, Cassie is one of our most senior advisors. She has also produced many of the videos on the ITA website.
Want to Learn More About Teaching English Abroad?
Request a free brochure or call 773-634-9900 to speak with an expert advisor about all aspects of TEFL certification and teaching English abroad or online, including the hiring process, salaries, visas, TEFL class options, job placement assistance and more.