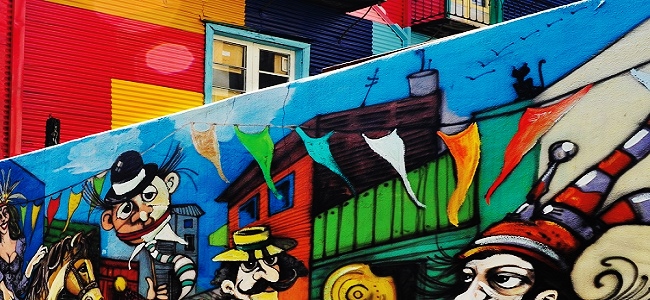 Teach English in Buenos Aires & Discover the "Paris of South America"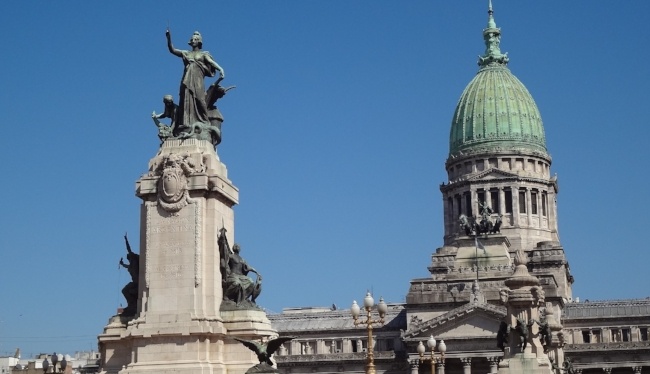 Known as the "Paris of Latin America" and the "City of Fair Winds" (a literal translation from the city's Spanish name), the capital of Argentina, Buenos Aires, captures Latin America's passion for life perhaps more than any other city on the continent. From Tango, wine and amazing food, to exquisite Art Deco architecture and fútbol, Buenos Aires offers it all. This colorful city is the second largest metropolitan area in South America and it is located at the western shore of Rio de la Plata just across from Uruguay on the southeastern part of the continent.
In addition to enjoying a status as one of the largest, most beautiful and cultured cities in South America, Buenos Aires, Argentina is one of the largest job markets for teaching English in Latin America! This means that if you want to live, work and in South America, and you earn a TEFL certification, Buenos Aires offers thousands of opportunities every year to work and live in this fantastic city by teaching English.

Learn about TEFL Certification Courses in Buenos Aires.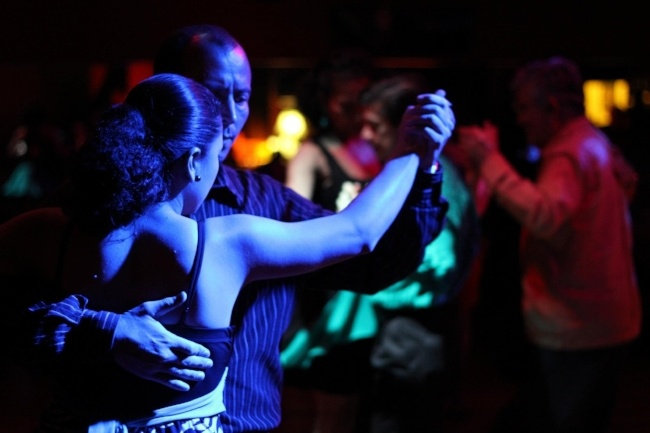 5. Live like a Tango star in one of South America's most glamorous cities!
Well, living like a "Tango star" may be overstating it a tad, but the cost of living in Buenos Aires is low enough that on the salary of an English teacher, you can enjoy a great quality of life that will at least make you feel like a Tango star! Compared to American urban centers like Chicago, New York, or San Francisco, or major European cities like London, Paris or Rome, Buenos Aires is one of the most affordable major cities in the world. You can live in a classic Art Deco apartment (fully furnished) or even a house with a roommate in a historic neighborhood like San Telmo and pay only the equivalent of $150 - $300 a month each. Want to enjoy a world class steak dinner with a great bottle of Malbec wine? Expect to pay $15 a person or less. A ride on the metro? That will set you back about 30 cents U.S.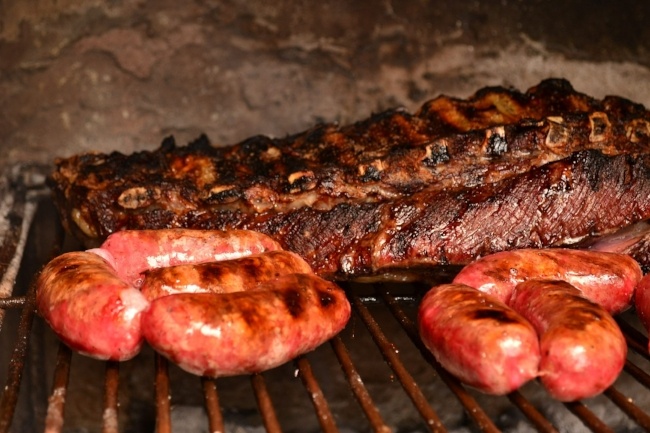 4. Great Food - Asado, Wine & More!
If you love steak & barbecue, you will love Buenos Aires and all of Argentina! Locals - and many steak aficionados around the globe - claim that Argentina produces the tastiest beef in the world and teaching English in Buenos Aires will provide you with an opportunity to decide for yourself! Argentinians boast their own style of barbecue and grilling known as Asado, which entails flame brilling large cuts of beef and sausage over large open flames. Very often the meat is served with a a variety of relishes and dips, the most famous of which is chimichurri, a tangy blend of chopped herbs, garlic and vinegar. Of course, you will want to wash down you asado steak with a glass (or bottle!) of world class Argentinian red wine, such as Malbec.
But eating in Buenos Aires is more than just steak. The city is home to large immigrant populations from great eating countries like Italy, Germany and Lebanon and that means that Buenos Aires offers a broad array of dining options from great pasta to shawarma and even first-rate Asian cuisine.

3. Exquisite Architecture
Buenos Aires is renowned for its fantastic array of Art Deco, Art Nouveau and neoclassical buildings, as well as its grand European-style boulevards and parks. Like many South American cities, it boasts fantastic Spanish colonial architecture, but is also home to many French and Italian style buildings that equal anything found in Paris or Rome. Highlights include the Italian-style Teatro Colón, the city's magnificent opera house built in 1908, which is widely considered to boast some of the finest acoustics of any opera house in the world, and the Palacio de Aguas Corrientes, a 19th-century French renaissance-style palace that takes an entire city block and is covered with more than 300,000 glazed tiles.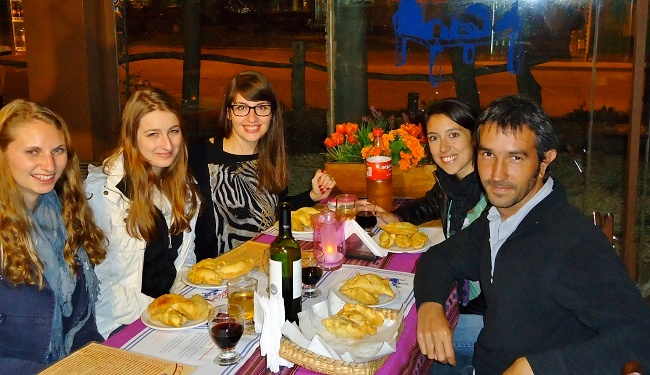 2. Learn Spanish
If you are looking to learn a foreign language, it's hard to beat Spanish and you won't find a better place to learn it that Buenos Aires! Ranked as the second largest native language in the world after Mandarin Chinese, and considered the third most widely used language after English and Mandarin, Spanish is great language to learn. There are more than 20 countries in the world that speak Spanish and Spanish speaking populations are increasing in nations like the U.S. Canada. In fact, according to the US 2010 Census, more than 37 million US residents speak Spanish at home, which means that learning Spanish can qualify your for all kinds of professional opportunities. In Argentina, you will be immersed in Spanish throughout your daily life and will enjoy access to low-cost classes and tutors, making it ideal for learning the language.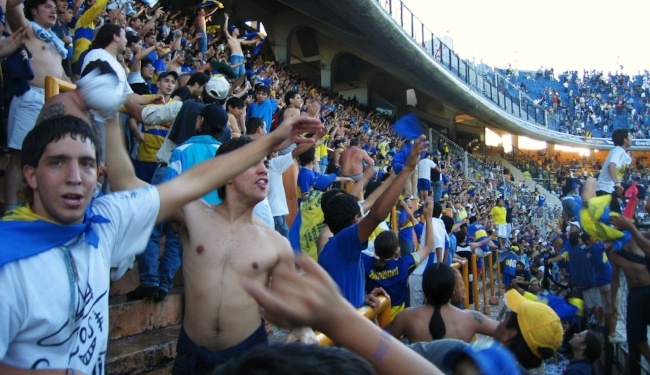 1. Tango, fútbol and more…
From turn-of-the century Tango bars and frenzied soccer matches to classic jazz clubs, open-air concerts and elegant cafes, there is always a place to go and always something to do in Buenos Aires, a city known for its rich culture and love of life. In Argentina, soccer, known locally as fútbol is a passion, that often defines one identity. Will you support River Plate or Boca Juniors, the teams of Diega Maradona, Argentina's greatest player and national hero?! And if you teach English in Buenos Aires in 2014 you will have the opportunity to join some of the world's most passionate soccer fans as they follow their team's exploits in the 2014 FIFA World Cup.
And if you love live music, Buenos Aires is a dream city. The Teatro Colon is widely considered one of the most beautiful opera houses in the world with some of the finest accoustics anywhere, and whether you love pop, electronica, jazz or heavy metal, the city is littered with great bars and clubs. In addition, whether it's Shakira or the Rolling Stones, major international acts regularly make stops in Buenos Aires, which is also a major hot spot for Latin pop music.
Want to Learn More about Teaching English in Argentina and Around the World?
Request a free brochure or call 773-634-9900 to speak with an expert advisor about all aspects of teaching English in Argentina and around the world, including TEFL certification, the hiring process, salaries, visas and more.
More articles about life teaching English: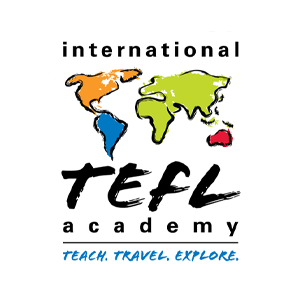 Founded in 2010, International TEFL Academy is a world leader in TEFL certification for teaching English abroad & teaching English online. ITA offers accredited TEFL certification classes online & in 25 locations worldwide and has received multiple awards & widespread recognition as one of the best TEFL schools in the world. ITA provides all students and graduates with lifetime job search guidance. ITA has certified more than 25,000 English teachers and our graduates are currently teaching in 80 countries worldwide.
Want to Learn More About Teaching English Abroad?
Request a free brochure or call 773-634-9900 to speak with an expert advisor about all aspects of TEFL certification and teaching English abroad or online, including the hiring process, salaries, visas, TEFL class options, job placement assistance and more.