International TEFL Academy is proud to offer a world-class 4-week Chicago TEFL class at our international headquarters in the heart of Chicago's North Side. Employing a state-of-the-art curriculum and taught by expert university-level instructors, this course is designed to provide you with the skills & qualification you need to succeed in teaching English abroad. This course is fun and you will learn a ton, but it is also very demanding and requires that you be prepared to meet the full-time demands of a rigorous university-level course.
To help you prepare for this course, we've compiled the most common and most important questions raised by our students in addition to advice & tips from actual graduates of the course.
1. How many hours will I be spending in class and on course work during the course? Will I have a lot of free time to see Chicago?
Class Hours: Students should plan on spending 50 - 55 hours per week (at minimum) on the course. Class hours are from 9:30 a.m. to 5:30 p.m. with breaks throughout the day and a one-hour break for lunch.
From 5:30 p.m. - 6:00 p.m. students will receive their feedback from their practicum instructor regarding their previous night's teaching practice. Because of the intense nature of the schedule, you should plan to do any sightseeing either before or after the class ends.
Student teaching is from 6:30 p.m. - 8:00 p.m. Each student will be required to be here a minimum of 8 nights until 8:00 p.m. either student teaching or working on their Learner Profile. You will receive your practicum schedule on the first day of class.
Class Assignments: There are approximately 85 assignments due throughout the 4-week course.
These include lesson plans, reflections, essays, quizzes, written assignments, etc. Plan on spending an extra 2 to 3 hours every night on homework.
ALUMNI TIP: "My advice to new students would be to realize that this is equivalent to 9 credit hours (3 classes / 1 semester) of graduate-level TESL/TEFL coursework crammed into four weeks. This is not going to be a piece of cake by any stretch of the imagination. It takes a lot of work to make it through this class. Every day you will have projects, presentations, and lesson plans that you will be required to do."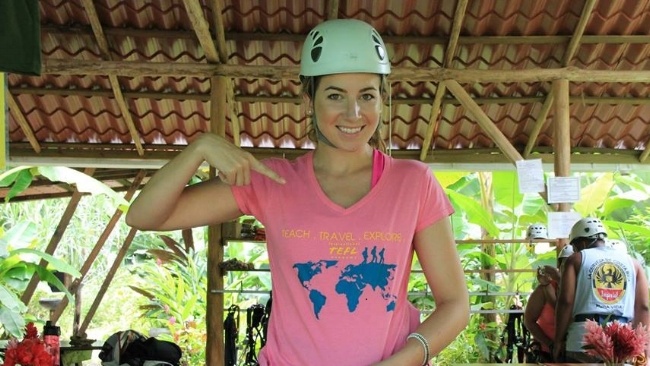 2. Will grammar be taught during the course? Are there additional grammar resources in the course materials?
Yes, grammar is taught during the course, however, students are required to review main grammar points before starting the course. More time is spent in class on how to teach grammar than going over grammar points with TEFL students.
TEFL students are highly recommended to complete the Grammar Module before the first day of class but should also do their own further review of grammar.
Students have the option to purchase International TEFL Academy's grammar book, Grammar Fundamentals for Teaching English as a Foreign Language: A Teacher's Reference, but it is not required.
ALUMNI TIP: "Prioritize all of your work. Don't just do assignments as they come in. Do important things first, lesson plans and task-based Moodle assignments have to come first. Ask as many questions as you can. Pay close attention in class and take notes during all of the lectures. You'll remember more if you take notes and you'll value them later when you get behind on Moodle reflections. Godspeed and have fun!"
3. Can I buy the textbook at International TEFL Academy?
No, students are required to purchase one of the following versions of the textbook at least one month in advance of starting the TEFL class.
Read the following page for more information on which textbook to buy - The Fundamentals of Teaching English as a Foreign Language.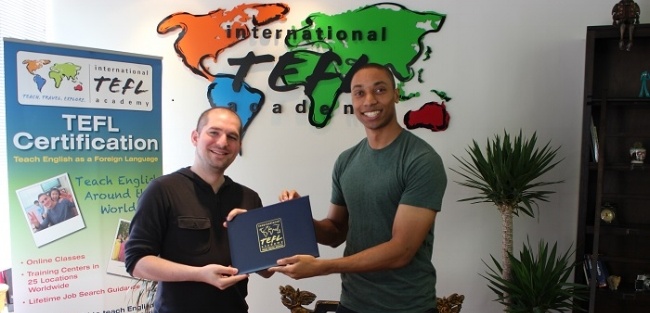 4. What kind of ESL students will I be teaching during the practicum?
International TEFL Academy offers free ESL classes to non-native English speakers that live in Chicago. Our students are adult learners and are of varying levels and cultural backgrounds.
ALUMNI TIP: "Understand how hard and intense this course really is. Way harder than any college or grad. school I did."
5. Are there any specific technology requirements for the course?
Laptop - Students are required to bring a laptop with a long battery life (at least 4 hours).
Tablets, Chromebooks, and mobile devices cannot be used in place of a computer.
Flash Drive - Students will need a flash drive that is compatible with his or her computer.
Word Processing Software - Students should have a
reliable word processing system on their computer such as Microsoft Word.
Adobe Acrobat - Students will be required to submit assignments as PDFs. Most computers already have the capability of saving documents as such.
Google Drive - Students will need to know how to use the basics of Google drive. If you are unfamiliar with Google Drive, check out this quick tutorial. Many others can be found on YouTube.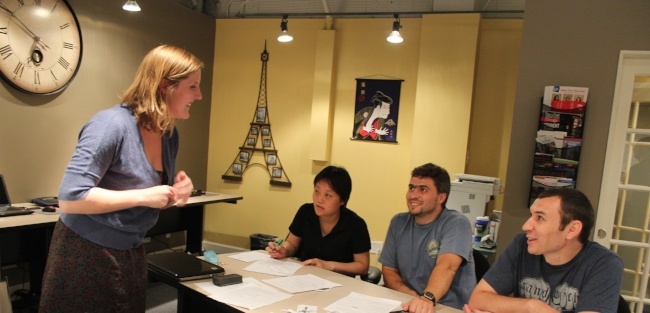 6. How can I prepare for the course? Can I begin working on my assignments prior to the course?
Students should plan on reviewing grammar prior to the start of the course. See question 2 for more information on reviewing grammar.
Purchase the TEFL Course book (see question 3).
Due to the requirements of the assignments, we do not recommend that our TEFL students attempt to complete any assignments prior to the course start date.
ALUMNI TIP: "Organize, Organize, Organize! Keeping everything written down saved me multiple times. Falling behind in this course is not an option; but if you do, go to your instructors immediately."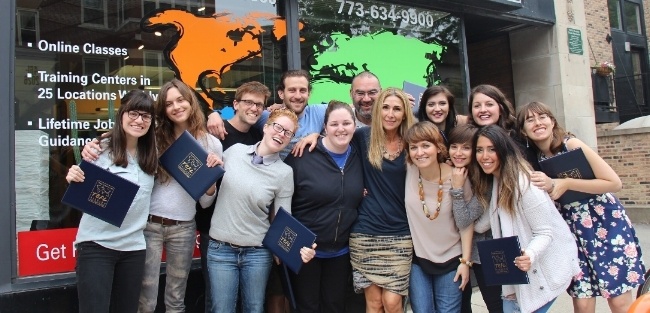 7. My commute is over an hour away. Will that be okay?
Because of the intense nature of the course, we recommend staying closer to International TEFL Academy. ITA has several housing recommendations that are conveniently located to the course. Students will receive access to this information after enrolling and paying in full for the TEFL course. The school is 1 block from the Brown Line train stop and a block from a major bus line.
8. Does ITA recommend housing or arrange it?
Yes ITA has a list of recommendations on hostels and where students find shared apartments. ITA can advise on where in the city that is convenient (such as by a train or bus stop) but we do not arrange the housing for you. Chicago has many options and it's easy to choose the a good place to live for a month.
ALUMNI TIP: "To future TEFL students, please disconnect from the world during the certification. Also, know that your classmates will be the reason you get through if you all use your minds collectively."
9. What do I need to bring on the first day of class?
Arrival Time: Students should arrive at 916 W. Diversey Pkwy between 9:00 and 9:30 a.m.
Items to Bring: Students should plan on bringing with them the following items on the first day of class:
Monthly Planner
TEFL Course Book
Picture ID
Pre-Course Tasks
Notebook
Laptop
Pen
Flash Drive
Lunch: ITA will order lunch for the first day of class. Vegetarian options will be available, but please let ITA know of any other dietary restrictions.
ALUMNI TIP: "DO NOT GIVE UP. You will make it through if you put forth the effort by participating in class and doing the prescribed work. It's completely worth it in the end!"
10. Who should I contact if I have more questions about the International TEFL Academy Chicago TEFL Class?
If you are a prospective student, please contact an Admissions Advisor by calling (773) 634-9900.
If you are an enrolled student, please contact the Student Affairs Department.

Our experienced Student Affairs Department is dedicated to helping our students prepare for their TEFL class & to succeed in achieving their goal of teaching English abroad. All members of our team have lived, worked & taught English abroad and they all possess years of experience in the field of TEFL.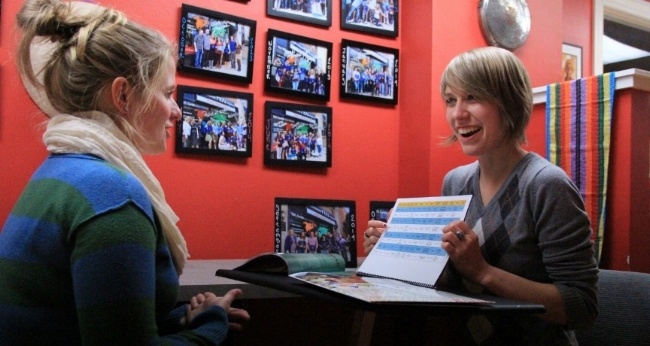 ---
Watch the video below and see what's it's like to take our Chicago TEFL Course thanks to ITA student Mike Verdi!
---
Want to Learn More about TEFL Certification for Teaching English Abroad?
Your first step is to speak with expert advisor who will cover all of your options & questions. Contact International TEFL Academy now for a free brochure and to speak with an admissions advisor. You can also call us directly at 773-634-9900.
Related Resources: