Are you working with students who are participating in study abroad, international internships, English teaching programs or volunteering?

Do you want your English teachers to receive state-of-the-art TEFL training?

Would you be interested in an additional service that fits perfectly with your customer base or website visitors?
A World leader in TEFL certification training for teaching English abroad International TEFL Academy may be a perfect partner for you. Fill out the form or call our US office at 773-634-9900 to learn more about partnership opportunities, including:
Affiliate & Reseller Options: Earn commission by marketing & reselling ITA TEFL classes;
Accredited TEFL Certification Training for English Teachers: Learn more about our internationally accredited TEFL certification courses for your teaching staff;
Hire Qualified English Teachers for Your School: We certify more than 5,000 native English-speaker ESL teachers each year who seek to teach abroad. We can list your jobs to our graduates;
Market Your Services to an Audience of Millenial Travelers & Expatriates: Our alumni base comprises 20,000 TEFL certified English teachers living & traveling around the globe;


Licensing Opportunities:

Learn about options to own & operate an ITA TEFL class location;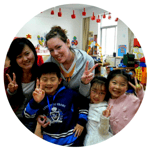 Learn more About Us!
International TEFL Academy is one of the world's largest TEFL certification schools to become professionally trained as an English teacher. ITA trains more than 5,000 English teachers annually and offers internationally accredited TEFL-TESOL certification courses online and in 25 locations around the world. All students and graduates receive lifetime job search guidance and graduates are currently employed as teachers in more than 80 nations. All of our classes meet or exceed the international standards for a professional TEFL course & we enjoy an A+ rating from the Better Business Bureau.
Fill out a request form or call us now at 773-634-9900 to learn more!