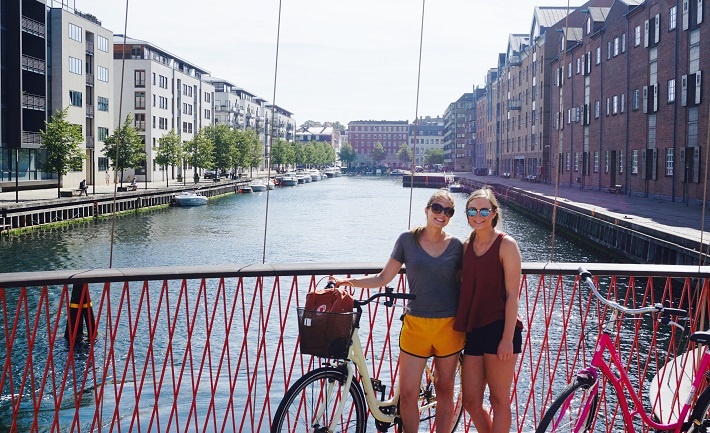 Preparing for Your Teaching English Abroad Adventure
By: Lauren Manderfeld
For most people, moving abroad is a major life change, and while some people can fly by the seat of their pants, I cannot. I am an extreme planner. Six months before I even left the US to teach English overseas, I had a color-coded binder with folders and notes for every possible topic about my new life abroad. I was extremely nervous for this semi-impulsive decision—to pack up my life and move overseas, but having everything organized and ready to go seemed to help calm my nerves.
One of the best things I did was get organized. I made a binder that outlined all the major topics about my move (job, travel, where to live, etc.) Then I did research on one topic at a time and took notes. Here are some important matters to focus on as you examine your options and plan for your adventure!
Visa
What type of visa do you need?

What papers & documents do you need for your visa? (Birth certificate, diploma, transcripts)

Can you get a visa from your employer?

What does it cost?

Should I hire someone or can I do it alone?
City info
What currency is the country on?

Does the city have a good expat community?

What is the culture like in the city?

Common misconceptions about the city/culture?
Bank account
Where you are going to put your money?

Do you need a certain amount of money to open an account?
Working & Finding a Job
What is the average salary for a teacher? Is one job enough?

What area do you want to work in?

Adults or children? (Different requirements for each?)

How much do you need to make?

Are positions year round or are there particular hiring seasons?

Do you have to sign a minimum contract? (1 or 2 years?)

Do you teach in the summer?

Getting around
How will you get around the city? Do I need a car? (tram/ bus/ metro passes - the vast majority of English teachers abroad do not have or need a car)
Travel
Is that currency strong enough for you to travel on?

If your main purpose is the travel, is it easy & affordable to travel from the country/city you choose?

Where can you travel within the country that you live?

Do you want to teach English in a country where you can save extra money for extended travel?

Where to live & how to find an apartment
Where are the good areas to live in the city?

How do you get a flat?

Finding a flat close to your work.

Furnished or unfurnished?


What English language resources are available to help you find a place to live?

Do you want to teach in a country where the school will provide free housing?
Another piece of advice is to use the resources that are available to you! International TEFL Academy does an AMAZING job of offering resources to help with your transition.
They have country profiles for every country, offer Alumni Facebook pages, and not to mention their Admissions Advisors & Student Affairs Team (who work with enrolled students & graduates) are very knowledgeable and will spend hours on the phone answering questions to make sure that you feel comfortable.
Once you have narrowed down where you want to live, sign up for the alumni page immediately. That is where I found the most useful information. This Facebook page gives you access to those that are already living in the country! I was able to ask questions as they came up and get up to date answers right away! I didn't have to spend hours researching one question; instead I could type up a message with a few questions and have the answers within hours. I was nervous to begin writing people that I had never met, and I felt as if I was bothering them. But I soon found out how happy they were to help. They were once in the same situation and will do whatever they can to help.
Another positive to reaching out ahead of time is that you will already have a friend when you arrive! I met one person online that offered to show me around when I arrived, and without her I couldn't imagine how much more time things would have taken to get settled. The first few months can be mentally exhausting because everything you experience is new, and if you already come over with a friend or two, it will help provide some comfort.
Doing all of these things before I moved to Europe was the best decision I ever made. By the time I got here, I was ready to set up my new life. I knew exactly what to do and in what order. I didn't feel like I was drowning in all this new information. I was educated, and I felt confident that I could get to work as soon as I arrived. I am not saying that you will be ready for every situation that is thrown at you, because you won't. At times you will be extremely stressed out no matter how much research you have done, but by being prepared and having a few friends to support you when you arrive can go a LONG way!
About the Author: Lauren Manderfeld is 24 from New Ulm, MN with a BA in Elementary Education from Minnesota State University, Mankato. She enrolled in the TEFL course immediately after graduation and then set off to Prague, Czech Republic.
To learn more about her experiences, check out her article: The Who, What, Where & Why - Teaching English in the Czech Republic.
Founded in 2010, International TEFL Academy is a world leader in TEFL certification for teaching English abroad & teaching English online. ITA offers accredited TEFL certification classes online & in 25 locations worldwide and has received multiple awards & widespread recognition as one of the best TEFL schools in the world. ITA provides all students and graduates with lifetime job search guidance. ITA has certified more than 25,000 English teachers and our graduates are currently teaching in 80 countries worldwide.
Want to Learn More About Teaching English Abroad?
Request a free brochure or call 773-634-9900 to speak with an expert advisor about all aspects of TEFL certification and teaching English abroad or online, including the hiring process, salaries, visas, TEFL class options, job placement assistance and more.