English Teaching in
Singapore
Teaching English Jobs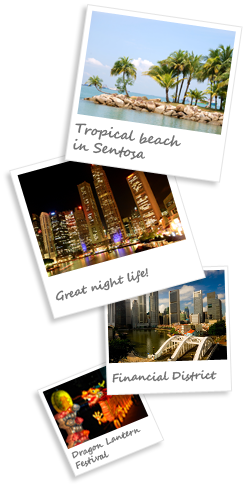 English teachers in Singapore can expect to find jobs throughout the year, as this is a wealthy nation with a high need for qualified native English speaking teachers. Interviews here are conducted well in advance, both over the phone and via e-mail. Instructors are responsible for airfare and housing expenses. Most teachers live in apartments recently vacated by previous teachers, and many room with coworkers.
A solid hourly wage affords English teachers a comfortable lifestyle, with the possibility to save up to 500 USD per month above the cost of living. English language schools in Singapore typically offer around 20 to 25 hours of work per week, leaving plenty of time for you to take advantage of your location and explore. English teachers need to have a bachelor's degree to teach in Singapore, and TEFL certification is required.
Singapore, officially the Republic of Singapore, is an island country off the southern tip of the Malay Peninsula, (85 mi) north of the equator, in Southeast Asia. It is separated from Malaysia by the Straits of Johor to its north and from Indonesia's Riau Islands by the Singapore Strait to its south. Singapore is the world's fourth leading financial center and a cosmopolitan world city, playing a key role in international trade and finance. The port of Singapore is one of the five busiest ports in the world.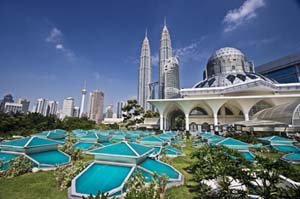 Singapore has a long history of immigration. It has a diverse population of close to 5 million, comprised of Chinese, Malays, Indians, Asians of various descents, and Caucasians. 42% of the population in Singapore are foreigners who work and study there. Foreign workers make up 50% of the service sector. The country is the second most densely populated in the world after Monaco. A.T. Kearney named Singapore the most globalised country in the world in 2006 in its Globalization Index.
English Teaching Requirements in Singapore



Education: BA/BS is required; TEFL TESOL Certification is required and students can obtain certification in any of our Worldwide TEFL locations or by taking the Online TEFL Class.



Citizenship Requirements: USA, Canada, UK, Ireland, Australia, New Zealand, South Africa.


Typical hiring process: via phone in advance


Average teaching hours per week: 20–25 hours of classroom plus extra prep time


Type of students: Business professionals, children in public schools and private language schools

Cost of living per month: $2,100 - 2,500 USD


(2,800 - 3,400 SGD)




Average monthly pay: $2,400 - 3,000 USD (3,250 - 4,000 SGD)
Can save $300 - 500 USD/Mo

Start-up cost: $2,100 - 3,000 USD (2,620 - 4,070SGD)

Potential to save or break even:

Save 300 - 500 USD/month
Accommodation/housing benefits paid:

no, employer will assist to find




Vacation: Paid 2 weeks


Flight reimbursement: no


Interesting Facts About Life in Singapore
Singapore is the world's fourth wealthiest country per capita.


Singapore consists of 63 islands.


Singapore boasts a very high literacy rate: according to the 2000 census, 92.5% of the country's population could read.


English is 1 of 4 national languages recognized by the Singapore government; the others are Chinese (Mandarin), Tamil, and Malay.
Living in Singapore Teaching English...
Having risen from a backwater fishing village to become a prosperous, modern city in little more than a century, Singapore represents one of the greatest national transformations of all times. While the glossy shopping malls and towering office buildings are impressive, the defining characteristic of Singapore is its strikingly cosmopolitain culture. A true melting pot, Singapore is both financially and culturally rich. The city is home to Chinese, Malays, Indians, and Europeans, along with their languages and religions, with more than 40% of its residents holding passports from other countries. Dining on national specialties like chili crab, Hainanese chicken, and fish-head curry is considered by many to be Singapore's national pastime, so make sure to bring your appetite as you journey to one of the most captivating countries in the world.

Contact International TEFL Academy today to speak with an advisor to find out about our online course, multiple on-site TEFL classes or request a brochure to learn about TEFL training courses and a comparison of the most popular countries to teach English.