170 Hour Online TEFL / TESOL Certification Course
Length of Training: 11 Weeks
- Online TEFL Class: 150 Hours
- Student Teaching: 20 Hours

Total TEFL TESOL Certification: 170 hours
Optional two-week bonus chapters (available at no extra cost):
-Young Learners and Business Professionals: 30 hours
Total TEFL TESOL Certification Available: 200 hours
Tuition: $1,395
(Check out the current discount in TEFL Class Dates & Tuition)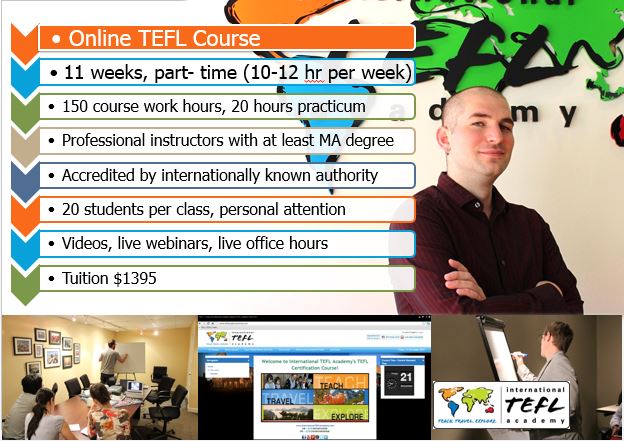 The International TEFL Academy Online TEFL certification course is a fully interactive course taught by a seasoned university level professor. It is the same curriculum, homework, Practicum and professional certification and accreditations used in our 4 week international on location courses.
The online TEFL / TESOL certification course is designed for students who are looking to Teach English as a Foreign Language (TEFL) internationally in a professional environment. The ability to earn a TEFL/TESOL certification on a part-time schedule appeals to those students who wish to continue working while completing their training. Aside from being able to continue with work, the Online TEFL/TESOL course is very economical, allowing the student to afford the highest quality of TEFL/TESOL training at the professional certification level.


Requirements:
150 hours averages to 12-15 hours

of coursework

per week (11-week period).

20 hours of student teaching (Practicum)



170 Hour TEFL TESOL Certification awarded
Optional Add-On:
30-hour additional course add-on chapters:




Business Professionals & Young Learners (2 extra weeks at no additional cost)
200 Hour TEFL TESOL Certification awarded

Articles:
Article (and video): How will I complete my practice teaching for my online TEFL course?

Overview:

One of the biggest advantages of the ITA online TEFL certification course is that you have access to the coursework 24 hours per day. Within the course, students will find comprehensive methodologies for Teaching English as a Foreign Language as well as insight on second language acquisition. You will correspond with your professor on every task, who will provide guidance on the subjects being covered in the entire class.
Class sizes are limited to 20 students to ensure maximum professor/student correspondence. Small class sizes also instill a sense of camaraderie amongst the students and opens up more opportunities for class interaction and discussion. Students must complete all the reading material, tasks, and the final Thematic Unit to pass the TEFL course.
In addition to the work listed above, students must also join a weekly discussion called Peer Participation. A topic related to ESL teaching will be posted each week by your course instructor and each student is expected to post a thought or comment in the Peer Participation forum. This is a great way to communicate with your peers and join an online discussion.

TEFL TESOL Course Components
ITA courses comprise of 3 main components that ensure the student's success as a professional English language teacher. Teaching Methodology, Language Acquisition, Student Teaching (Practicum).
1) Teaching Methodology:
These are the skills that are essential to each teacher, and include:
Classroom management

Personality and language assessments

Curriculum development

Lesson planning
2) Language Acquisition:
The components of language learning will be covered:
Reading

Writing

Speaking

Listening

Grammar

Phonetics and linguistic analogy are also thoroughly covered in the course.
3) Practicum:
20 hours of student teaching/observation/tutoring within a local ESL classroom
To successfully complete an online TEFL / TESOL certification course, International TEFL Academy requires that each student complete 20 hours of practicum. The practicum is comprised of live practice teaching and observation; at least 6 hours must be spent teaching or tutoring actual ESL students. These practicum hours allow each student to gain first-hand experience working with real ESL students, whether it is in a live classroom setting, or by tutoring a non-native speaker privately.
International TEFL Academy encourages our students to complete these hours while they are still enrolled in the course. For these reasons, completing the practicum hours during the course allows the student to immediately practice what they are learning in the online class. We do, however, automatically allow an additional 60 days after the course is finished to complete the practicum hours.
Article (and video): How will I complete my practice teaching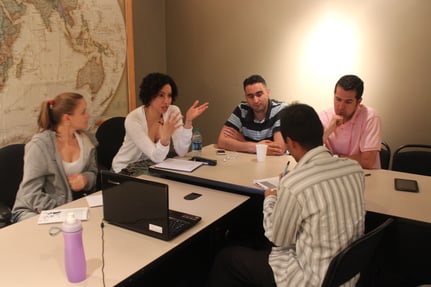 Practicum Locations:
Opportunities to complete your practicum can typically be arranged in your community in these types of venues:
Community centers

Community colleges

Language schools

Faith-based groups that offer ESL classes

Libraries
Once the practicum hours have been completed, the student provides a detailed journal and time sheet to the International TEFL Academy Student Affairs Department. After we have received the practicum documentation, along with notification of the completed coursework, you will be issued your TEFL / TESOL certificate via postal mail. You will now be qualified to teach English to millions of students in thousands of schools worldwide; and with our lifetime job search guidance, you will be abroad in no time!
Online TEFL Class Overview
The International TEFL Academy online TEFL course is a fully interactive, collegiate level course, taught by a university level professor. From day one, students will be fully engaged in discourse not only with your professor, but also with all of the other students in the course. This interaction will remain constant throughout the duration of the course, and the instructor will offer you feedback on your tasks and is always available to answer questions.
Through a series of course readings, tasks, peer participation, essays, and a final thematic unit, students will develop all the skills necessary to be a confident, well-resourced, professional teacher, whatever your background.
Instructors
International TEFL Academy Online TEFL Class professors are of the highest caliber, with a graduate level degree or Ph D. in TESOL or a related field, and extensive international teaching experience.
VIDEO: Meet Sam Bandy, an International TEFL Academy Online TEFL Course Professor
Students
Students who enroll in International TEFL Academy course come from all walks of life. The age of a student can range from 17-77, and International TEFL Academy trains students from every continent on Earth (well, maybe not Antarctica).

Read our students Online TEFL Class Testimonials and see why they chose our class and learn about their experiences in their 11-week course.
Online Virtual Classroom
The International TEFL Academy online TEFL course is conducted in a virtual online learning environment, hosted by Moodle.com, one of the
worldwide leaders of online distance learning. There is no software to download, and as long as you have an Internet connection, your entire course content is accessible. The course itself is very user friendly and easy to navigate. Students do not need to be a computer expert to take the course; they just need a very basic knowledge of web browsing.
Class Content
The following is the content found within the International TEFL Academy online TEFL course:
Pre-Course Grammar Chapter


Basic Principles of Teaching

Grammar

Resources

Reading

Listening

Writing

Speaking

Classroom Management

Lesson Planning

Error Correction

Visual Aids
Bonus TEFL Units:
Teaching Young Learners

Teaching Business Professionals
Course Tasks and Assignments

Graded:
Tasks: Each chapter contains its own set of tasks or assignments. Tasks will be completed by taking an online quiz (Q) or by uploading to a forum (F). Please see the course syllabus for an outline of tasks due for each chapter and how many points each task is worth.
Peer Participation: Each week your course instructor will post a discussion topic in the forum labeled Peer Participation. Students are required to participate in the discussion each week by posting at least one thought or comment in the forum regarding the posted topic.

Evaluations: Students are expected to complete a Mid-Course Evaluation and a Final Course Evaluation providing feedback on various aspects of the TEFL/TESOL course.

Thematic Unit: In order to pass the TEFL certification course, students must complete the final project, the Thematic Unit. The Thematic Unit will cover three days of lesson planning that you will create.

Ungraded:
Practicum: Practicum is an essential component to a teacher's training process, as it provides valuable insight and experience prior to obtaining independent teaching positions. International TEFL Academy requires that all students accumulate a minimum of 20 hours for TEFL / TESOL certification. These hours can be achieved through observation, tutoring, student teaching or a combination. Practicum hours must be achieved in a setting in which non-native speakers are learning new English language skills.



Grades
Final grades assigned for this course will be based on the sum of the total points earned and are assigned as shown in the chart below. Students must receive 560 or more points to pass the class.
Check the Grade book throughout your course to view your current total points and feedback from your instructor.
| | | |
| --- | --- | --- |
| LETTER GRADE | POINTS | PERCENTAGE |
| A | 720 – 800 | 90 – 100% |
| B | 640 – 719 | 80 – 89 % |
| C | 560 – 639 | 70-79% |
| D | 480 – 559 | 60 – 69% |
| F | 0 - 479 | 0 – 59% |
Certification Awarded
The award of the certificate for International TEFL Academy courses is strictly for those who successfully complete all tasks, peer participation, thematic unit, practicum etc. Your TEFL TESOL certification will include your final grade, a listing of the total class hours and practicum hours along with our accreditations. This will be mailed to your home.
Advantages of the ITA Online TEFL TESOL Course:

* Affordability
Fees are designed to make teaching abroad within your reach and budget!
* Credibility
This is a university-level course, taught by university-level professors. International TEFL Academy represents the gold standard in international TEFL / TESOL certification! There is also an additional 20 hours of volunteer observation and tutoring in a live ESL classroom in your community to give you the practical classroom experience needed. The course is an accredited 170-hour certification, exceeding international standards by 50 hours. There is also the option to take the 30-hour Young Learner and Business Professional TEFL / TESOL chapters. You'll be prepared to teach around the world!
* Flexibility
Study on your own daily schedule, over an 11-week period. The program is ideal for people that wish to have a flexible daily schedule as there is no "live" classroom time. It also allows you to work ahead of the scheduled task dates but you must submit tasks and peer participation by their assigned due dates.
* Interactive and Hands-On
Daily interaction with your professor and classmates via email and discussion boards allows the coursework to come alive. You will learn via written tasks and peer participation - all completed on a weekly schedule to keep you and the class together and interactive. The class structure adheres to your daily schedule so there is no need for "live time".
* Video
1) Live Webcast: Your professor will host live webcast lectures that you can participate in. Each lecture will be taped and can be viewed at any time if you are not able to attend.
2) Video demonstrations: Each chapter will have corresponding video segments to compliment the reading materials.
3) Video Tutorials: Enrolled students will be provided with video tutorials on how to navigate different aspects of the course.
* Live office hours
Weekly "live chat" functions with your professor and other classmates to discuss topics and questions.

* Support
There is continuous International TEFL Academy support, materials, and advice throughout your certification. International TEFL Academy also provides lifetime job search guidance.
*Qualified Instructors
The International TEFL Academy training course is moderated by highly qualified trainers with at least a Master's Degree or PhD in the field and extensive professional teaching experience.
International TEFL Academy is externally accredited and incorporates the same content as our 4-week in person classes.

Learn more about our Accreditation.

* User-Friendly
The course is hosted on the most popular online university platform, Moodle. It's simple to use and a great learning tool.
Class Materials:
International TEFL Academy provides all the materials needed for your certificate course. All materials are available online, No textbooks are needed to complete the course. However, students who wish to purchase the course textbook may do so in a paperback or PDF format.
Order Course Text Book (Print)
Course Text Book (PDF)

Materials include:
All course training units

Resource Pack consisting of examples of ESOL exercises and lessons

Comprehensive back to basics grammar

Games pack - tried and tested games for all levels complete with teacher and student materials

Lessons Pack - tried and tested lessons at various levels complete with teacher and student materials

Certification on successful completion

Links to online teaching resources

VIDEO: Watch International TEFL Academy graduate, Tommy Joiner, discuss his experience taking the Online TEFL course.
ITA TEFL / TESOL Course Curriculum
Pre-Course Grammar Module
A thorough overview of grammar from adjectives to compound verbs to gerunds, and more. The Pre-Course Grammar Module is sent to students upon registration to begin reviewing important grammar points.
Chapter 1: Role of the Teacher
Reading and tasks on various contexts in which teaching occurs; expectations for teachers on their first day of class; identifying ideas for balancing work ideas and leisure; recognizing traits of an effective teacher; ways to build community in your classroom; examples of how to be a good role model; strategies for maintaining professional relationships during your teaching career; terminology and abbreviations used in the TEFL profession; and effective and ineffective teaching practices.
Chapter 2: Creating a Student-Centered Classroom
Reading and tasks on the student-centered approach and teacher's roles; autonomous learning, the roles of collaboration and cooperative learning; understanding the Learning Pyramid; experiential learning and examples of useful EFL activities; VARK learning preferences; and activities used for each type of intelligence in Multiple Intelligences.
Chapter 3: Cultural Sensitivity
Reading and tasks on culture and cultural sensitivity,

surface

and deep culture; the five barriers to cross-cultural communication; four main cultural dimensions and their implications for the EFL classroom; and culture shock and its stages.
Chapter 4: Methods and Approaches
Reading and tasks on the differences between approach, method, and technique; contemporary and traditional teaching methods; communicative language teaching (CLT); characteristics of the community language learning approach; general procedures used in a silent way classroom; the pillars of Suggestopedia; using Total Physical Response and Total Physical Response Storytelling in a classroom; principles of content-based instruction; and ways to implement cooperative learning, task-based learning, project-based learning, and differentiation.
Chapter 5: Lesson Planning and Assessment
Reading and tasks on the importance of lesson planning and how it relates to instruction; characteristics of an effective lesson plan; producing an effective lesson plan; the foundation behind effective assessment methods; assessment formats and assessment question types; and incorporating the most appropriate type of assessment for all four language skills.
Chapter 6: Grammar and Lexis
Reading and tasks on defining word root, prefix and suffix; categorizing words into parts of speech within the context of a sentence; content words and function words; common phrasal verbs and collocations; phonological, morphological, syntactic, semantic, and pragmatic understanding; selecting vocabulary words to teach in the ESL/EFL classroom; effective methods of vocabulary instruction; challenges and approaches to teaching idiomatic expressions; simple, complex, compound, and complex-compound sentence types; proper usage of the tense-aspect system and conditionals in English; declarative, interrogative, imperative, and exclamatory sentences; challenges that EFL students face with word order; effective methods of grammar instruction; and methods for assessing vocabulary and grammar.
Chapter 7: Listening and Reading
Reading and tasks on how the brain processes listening output; types of listening input; types of listening materials and how to choose them for the classroom; how to tailor listening activities to student level and mental method of processing; ways to set up activities within a listening lesson and sequence of lessons; how the MINUS Approach can be used to structure effective listening; specific techniques for teaching listening skills; how the schema theory impacts ESL/EFL reading activities; common reading strategies that can be taught to ESL/EFL learners; selecting reading materials; intensive and extensive reading skills; types of pre-reading, while reading, and post-reading activities; and ways to assess reading both formally and informally.
Chapter 8: Speaking and Writing
Reading and tasks on the foundation needed for ESL/EFL students to improve their oral and written language production; commonly used classroom speaking activities; the sounds and most common pronunciation rules for English pronunciation and when to incorporate effective pronunciation techniques into ESL/EFL lessons; structuring ESL/EFL writing activities and lessons; and recommended outside resources to improve and expand teacher knowledge, methods, and materials of ESL/EFL speaking and writing.
Chapter 9: Visual Aids and Technology
Reading and tasks on the several benefits of using low-tech visual aids with English language learners; low-tech visual aids and how they can be applied to the ESL/EFL classroom; ways to use the Internet effectively with ESL/EFL students; precautions to consider when assigning Internet-related activities; how blogs and wikis might be used to enhance students' communication skills; recommendations for effectively integrating video into the ESL/EFL classroom; ways to use songs as a teaching and learning tool; appropriate visual aids for each language skill (reading, writing, listening and speaking); and general criteria to follow when choosing a visual aid.
Chapter 10: Classroom Management
Reading and tasks on the basic concepts and best practices of classroom management; the most common ways to physically arrange a classroom and their implications; ways to establish a presence as a teacher; how to create a successful community of student learners; suggestions for structuring daily lessons; and other student and classroom issues that may arise, and how to approach them.
Additional Bonus Chapters (Optional)
Business English
- Business English in relation to EFL/ESOL
- How to carry out a Needs Analysis
- Matching course content to target group
- Creating materials for Business English
- How to write a Business English syllabus
Young Learners
- Differences between the ways in which adults and children learn
- Features in the stages of development of young learners
- Classroom management strategies for use in the Young Learners classroom
- Teaching techniques for use with Young Learners
To learn more about teaching abroad and TEFL Certification go to our form to request a brochure and free guest login to evaluate our online course.