Teaching English in Ecuador...
Teaching English in Ecuador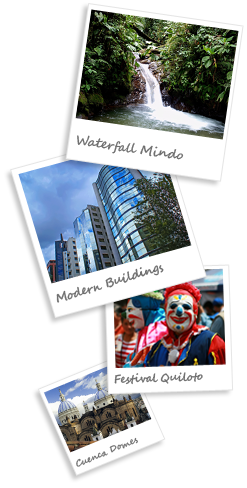 Ecuador is a small country filled to the brim with natural splendor. From a lowland coastline, mountainous highlands, and a tropical rainforest to the east, along with the world famous Galapagos Islands, Ecuador contains a striking array of geographical diversity. Furthermore, the people are known for their warm hospitality and generosity, and with a culture that places great importance on family, you will immediately feel at home in this beautiful South American country.
Hiring for English teachers in Ecuador is typically conducted in February-March and again in July and August. English teachers should expect to interview in person and are responsible for airfare and housing costs. Most EFL teachers live in apartments recently vacated by previous teachers, and many room with other English teachers.
A solid hourly wage and a low cost of living enable English teachers to live modestly, but comfortably. Schools typically offer around 20-25 hours per week of work, leaving you plenty of opportunity to travel and explore. English teachers do not need to have a BA to teach in Ecuador, but it is preferred. A TEFL certification is absolutely necessary. Major cities for English teaching jobs are Cuenca, Quito, and Guayaquil.


ITA Staff Article:
Teach English in the Middle of the World: Ecuador

Alumni groups:
Want to see the ITA Alumni Facebook group in Ecuador?
Check their discussions, sharing of tips and information.
Feedback from our TEFL class alumni who are now teaching in Ecudor:

Q&As:
Ambato, Ecuador Q&A with Shannon Etling
Cayambe, Ecuador Q&A with Jamie Belisle
Cuenca, Ecuador Q&A with Lynsey Schwab
Article:
One Story of Teaching English in Cayambe, Ecuador - Jamie Belisle
Lessons I've Learned - Shannon Etling

Blogs:
Lynsey Schwab: http://southofamerica.weebly.com/index.html
Blog: Jamie Belisle: http://lamitaddelmundo26.blogspot.com


Guidelines for Teaching English in Ecuador

Peak hiring months: February–March; July–August
Types of jobs: English language schools and adults
Typical hiring process: in-person interview
Average teaching hours per week: 20–25 hours of classroom plus extra prep time
Types of students: business professionals
Cost of living per month: 500–700 USD
Average monthly pay: 500–700 USD
Start-up cost: $750 - 1,050 USD
Potential to save or break even: break even

Interesting Facts About Life in Ecuador
The first evidence of human culture in Ecuador dates back to 3500 BC.
The largest national export is crude oil
Ecuador has had 9 presidents since 1997
The official currency in Ecuador is the US Dollar