Teaching English
in Costa Rica
Jobs - Teaching English in Costa Rica
Known for its idyllic tropical climate, stunning natural landscapes, and the warm hospitality of its people, Costa Rica is a top work destination for TEFL TESOL certified English teachers. Instructors typically find work in January and again in June and July.
While there are some opportunities to interview for jobs in advance over the phone and via e-mail, most English teachers are expected to interview in person in Costa Rica and are responsible for airfare and housing expenses. Most teachers live in apartments recently vacated by previous teachers or in flats or houses with their coworkers.
A solid hourly wage affords English teachers a comfortable lifestyle. Schools offer approximately 20 to 25 hours of work per week, leaving plenty of time to travel,
explore, and pursue other interests.
English teachers do not need to have a bachelor's degree to teach in Costa Rica, but it is preferred. TEFL TESOL certification is required. Most English teaching opportunities are found at English language schools in the larger cities of San Jose and Santo Domingo.
Related articles:
Alumni groups:
Want to see the ITA Alumni Facebook group in Costa Rica?
Check their discussions, sharing of tips and information.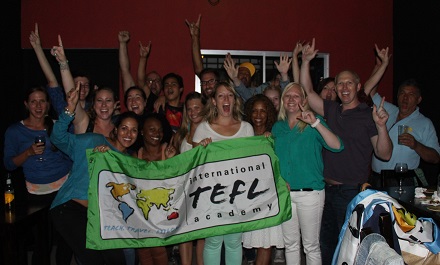 International TEFL Academy Alumni gather at a meet-up in Costa Rica.
Will you be joining them this year?
Alumni feedback:
Articles:
Blog:
Ashley Strong:
http://www.ashleystrongphotography.com/mi-vida-en-costa-rica.html
Chrystal Smith:
https://chrystaladventures.wordpress.com/
More Alumni Blogs about Teaching English in Costa Rica

Watch International TEFL Academy graduate, Kristin Kalpowski, discusses taking her TEFL class in Chicago and moving to Costa Rica to teach English!
Requirements to Teach English in Costa Rica



Peak hiring months: All year round


Types of jobs: English language schools


Typical hiring process: in-person interview in Costa Rica; some e-mail/phone in advance


Average teaching hours per week: 20–25 hours of classroom plus extra prep time


Types of students: business professionals


Cost of living per month: $700 - 900 USD (375,000 - 480,000 CRC)


Average monthly pay: $700 - 900 USD (375,000 - 480,000 CRC)


Start-up cost: $1050 - 1,200 USD


Potential to save or break even: break even


Accommodation/housing benefits paid: no


Flight reimbursement: no

Interesting Facts About Life in Costa Rica
In 2007, the Costa Rican government announced its plans to be the first carbon-neutral country by 2021. Costa Rica is considered one of the "greenest" countries in the world and boasts a long history of eco-friendly policies.


Costa Rica's three largest cash crops are bananas, pineapples, and coffee.


Nearly 25% of the country is made up of protected areas such as national parks.


Costa Rica's literacy rate is approximately 97%—one of the highest in Latin America.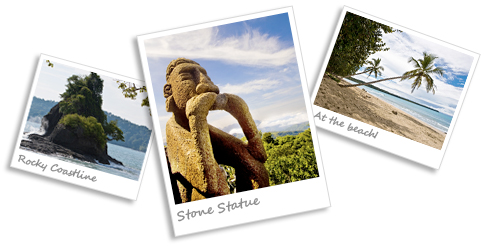 Why Teach English in Costa Rica?
Known for its gorgeous beaches and laidback culture, Costa Rica embodies the notion of paradise. Rainforests, waterfalls, and exotic animals are all found in this small Latin American country, whose people are known for their friendly and engaging nature. Whether you are catching a wave on a surfboard, soaring through the jungle on a zip line, or just relaxing in a hammock, you will quickly find yourself at home in this beautiful country.