My Colombian Job Search: From Mochilera to Residente
By: Caroline Cassard

I graduated from college in December, the same time that I wrapped up my TEFL certificate with International TEFL Academy's online TEFL course. I wanted to backpack through the northern part of South America, and land in Peru, Ecuador, or Colombia to stay and teach. A shockingly cheap ticket to Lima made the decision for me: I'd begin there, explore Peru for a month, and gradually make my way north toward Medellin, Colombia, where I would begin my job search. With only a departure date and an end goal, the destinations in the middle were planned on-the-go.
When I arrived in Medellin at the end of March, I realized I had some work to do. My advisors helped prepare me with advice for the "on-the-ground" application process. I'd carried my trusty copy of Practical English Usage in the bottom of my backpack, throughout Peru and Ecuador. But before I could walk into schools with my resume, I needed a bit of a makeover.


Colombians have a reputation for being friendly, welcoming, and relaxed. (After all, their country recognizes more festivos—national holidays—than any other nation on the planet. But these customs don't necessarily apply to interview attire (and my jean cut-offs and stained tank tops weren't going to cut it). I was lucky enough to meet a shopping accomplice.
As with most encounters while traveling, I spoke with another girl in a hostel for about five minutes, and we became best friends for the weekend. She accompanied me on a shopping trip, my first in a few months. Pants that neither categorized as jeans nor exercise leggings; a blazer; closed-toed shoes, and a much-needed hair cut topped the to-do list. We tracked down a printer, made copies of my international resume with my new local phone number, stored them in a shiny new plastic portfolio, and then went in search of some street food to counteract all the career-focused tasks.

I applied to a few language institutes before arriving to Medellin. But without a clear idea of when I would be in the city, let alone prepared to both interview and embark on an apartment search, I hesitated to make any promises about my initial availability. Also, contrary to my advisors' recommendations to arrive during peak hiring in January and February, I arrived in late March, medio semestre. Nevertheless, I had to kick myself into action to make the transition from messy backpacker to polished professional, willing myself not to sweat through my black blazer in Medellin's afternoon sun. I'd wear my flip-flops on the metro, and in the street, change my shoes, let my hair down from its elastic, and prepare my best answers to common questions in Spanish.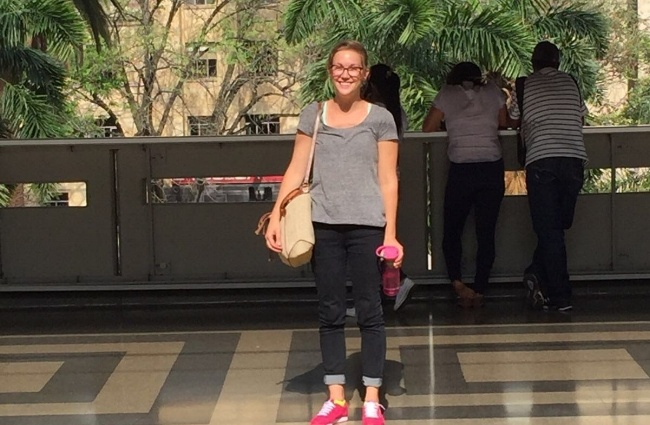 Whereas many institutes hadn't responded to my e-mails in advance, I received phone calls only a day after dropping off my resume in person, with institute directors eager to schedule interviews.
Ultimately, I decided to accept a part-time job at a private institute, where they would pay me in cash. I hesitated to grasp hold of any yearlong, contract-binding agreements that would prevent me from working outside of the school, and that would restrict private classes. Taking a part-time job and organizing my own private class schedule allowed me to form a routine that worked better for me. I still managed free time to explore Medellin, connect with locals, and make new friends. And I found more freedom and satisfaction in planning one-on-one classes.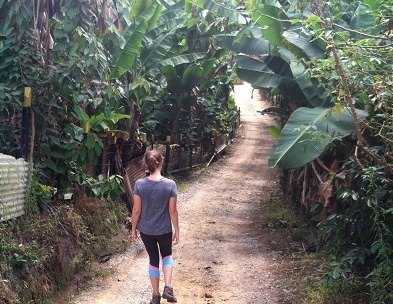 The transition from backpacker to teacher has been an adventure. If I had locked down a job before arriving, my move abroad would have been smoother, to say the least. But I'm glad I tackled this job search more sporadically. I learned the city's geography by interviewing: running from one school to another, north and south, on the metro, and by taxi during an unforeseen downpour.
After only a few months here, I feel completely confident when navigating the city. I've explored the expansive Parque Arvi up in the mountains, cozy neighbouring pueblos outside of the city, and salsa clubs and language exchanges across town. While I hope to do more backpacking in the future, it feels comforting to stop, stay, and teach for a while, making a temporary home and permanent friends.
Caroline Cassard is a travel and food-enthused English language teacher from the U.S. After graduating from college and completing her TEFL certification, Caroline backpacked through Peru and Ecuador and arrived in Colombia to start her teaching career.
Founded in 2010, International TEFL Academy is a world leader in TEFL certification for teaching English abroad & teaching English online. ITA offers accredited TEFL certification classes online & in 25 locations worldwide and has received multiple awards & widespread recognition as one of the best TEFL schools in the world. ITA provides all students and graduates with lifetime job search guidance. ITA has certified more than 25,000 English teachers and our graduates are currently teaching in 80 countries worldwide.
Want to Learn More About Teaching English Abroad?
Request a free brochure or call 773-634-9900 to speak with an expert advisor about all aspects of TEFL certification and teaching English abroad or online, including the hiring process, salaries, visas, TEFL class options, job placement assistance and more.