Each year more than 5,000 people from all backgrounds take International TEFL Academy's 170-hour Online TEFL Course and gain employment teaching English in 80 countries worldwide.

Topics include:

Free Guest Access to the Online Course Website

Course Structure & Format

Video Tutorials

Online TEFL Class Syllabus & Content

University Professors & International Accreditation


Webinars & Interactive Elements

Live Practice Teaching (Practicum)
Job Placement Assistance & Alumni Services
In addition, you will receive our Guide to Teaching Abroad & our World Country Chart that compares salaries, start-up costs, living costs, and the ability to save money teaching English in more than 50 countries around the world. You will also be provided with expert advice from an experienced advisor who is available to answer your questions.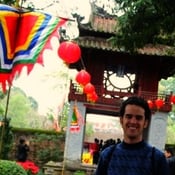 "The Online Course gave me the tools I was looking for to teach in a classroom and I got to put them in action with the practicum, an invaluable part of the course. After tutoring students at the local university who knew almost no English, I knew I was ready to teach English abroad."
Austen Bartenstein - ITA Graduate, Teaching English in Taiwan
Fill out the form to receive your
Online TEFL Course Demo & Guide!