Fill out the form to receive:
Free Downloadable Brochure: 30 Pages detailing the world of Teaching English Abroad & TEFL Certification;
TEFL Certification Options: Get detailed information about accredited Online & In-Person TEFL classes in 25 locations worldwide;
Country Chart: Compare salaries, hiring requirements, start-up costs and more for teaching English in more than 50 countries;
Comprehensive Resources: Access hundreds of articles, FAQ's, alumni stories, videos, and testimonials;
Expert Guidance: Get all your questions answered by experienced advisors, all of whom have lived and worked abroad;
Job Search Guidance: Learn about the job placement assistance that our students and

graduates receive

to gain employment teaching English in 80 countries in Europe, Asia, Latin America & the Middle East.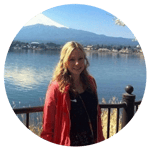 "The TEFL training really made me feel comfortable in the classroom setting. Because I had the experience from the practicum, I had confidence when I first began teaching."
Michelle Goble - Teaching English in Japan