International TEFL Academy & Marshall University Appalachians Abroad Teach In China Program have teamed up!
As part of your Teach in China Program you are required to obtain a TEFL-TESOL certificate if you don't already have a teaching license or degree in education.
With our partnership with Marshall University's Appalachians Abroad Teach in China Program, International TEFL Academy will offer our online TEFL course all year around to applicants who have completed their application with Appalachians Abroad Teach in China program at a discounted tuition of $750 (normally $1,395) for the 11-week online TEFL course. (You must complete your application with Appalachians Abroad Teach in China program to receive this exclusive tuition discount.)
Request Your Free Online TEFL Course Guest Access
Get an in-depth look at International TEFL Academy's internationally accredited 170-Hour Online TEFL Course
Each year more than 3,500 from all backgrounds get TEFL trained with International TEFL Academy and gain employment teaching English in 80 countries worldwide from China and Spain to Costa Rica and Thailand. To learn more about this state-of-the-art online TEFL certification class, fill out the form and you will receive your 18-page ebook, which includes:
Free Guest Access to the Course Website: View how the course is set-up and how it works, including assignments, tasks, video tutorials and more;


Video Tutorials: to guide you through the course website and various aspects of the class;


TEFL Class Syllabus: Gain an in-depth view of course content and grading;


Live webinars & interactive elements: Learn about lectures, webinars, discussions and other interactive elements of the course;

Accreditation:

Get the inside scoop on how this course meets or exceeds international standards for professional-level TEFL certification;

Job Search Guidance & Alumni Services: Learn about the job placement assistance that our students and graduates have received to gain employment teaching English in 80 countries in Europe, Asia, Latin America & the Middle East.


Length of Training: 11 Weeks

- Online TEFL Class: 150 Hours
- Student Teaching: 20 Hours


Total TEFL TESOL Certification: 170 hours

Optional two-week bonus chapters (FREE):
-Young Learners and Business Professionals: 30 hours

Total TEFL TESOL Certification Available: 200 hours
Based in Chicago, IL, International TEFL Academy is a world leader in TEFL certification offering internationally accredited TEFL classes online & in 25 locations worldwide. All ITA students & graduates receive lifetime job search guidance for gaining employment teaching English in more than 80 countries worldwide. International TEFL Academy enjoys an A+ rating from the Better Business Bureau.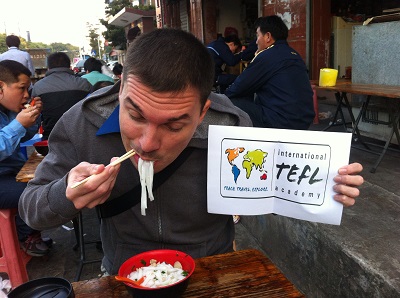 The teaching training that I received at the International TEFL academy was invaluable in my preparation as an ESL teacher. Honestly, I don't think I would've been able to teach currently had I not taken the class itself.

- Armand Diab of Chicago, teaching English in Shenzen, China.
Want to chat with an expert advisor?

Fill out the form and call (773) 634-9897