Want to get paid to live abroad in Europe, Asia, Latin America or the Middle East? Join 15,000 International TEFL Academy alumni who made the move to get their TEFL certification & are now living the international adventure of a lifetime teaching English abroad.
Fill out the form to receive:
Free Downloadable Brochure: 30 Pages detailing the world of Teaching English Abroad;
Country Chart: Compare salaries, hiring requirements, start-up costs and more for teaching English in more than 50 countries;
Comprehensive Resources: Access hundreds of articles, FAQ's, alumni stories, videos, and testimonials;
Expert Guidance: Get all your questions answered by experienced advisors, all of whom have lived and worked abroad;
TEFL Certification Options: Accredited Online & In-Person TEFL classes in 25 locations worldwide;
Job Search Guidance: Learn about the job placement assistance that our students and

graduates receive

to gain employment teaching English in 80 countries in Europe, Asia, Latin America & the Middle East.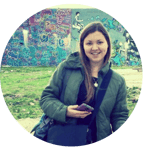 "I wanted a new experience. I needed a break from the 9-5 world.I never expected to fall in love and make a home in this magical foreign land. But that's exactly what I've done, and I don't regret it for a second."
Lauren O'Rourke, from Chicago - Teaching English in Barcelona, Spain
FILL OUT THE FORM TO RECEIVE YOUR BROCHURE NOW!