Want to get paid to live abroad & teach English in Europe, Asia, Latin America or the Middle East? Join 15,000 International TEFL Academy alumni who made the move to get their TEFL certification & are now making a difference & living the international adventure of a lifetime teaching English abroad.

Fill out the form to receive:
Teaching Abroad Country Chart

Free Downloadable Guide to Teaching English Abroad


Access to hundreds of articles, FAQ's, alumni stories, videos, and testimonials

Pre-Enrollment Advice from an Expert Advisor


Comprehensive Overviews of TEFL Certification Options & Job Search Guidance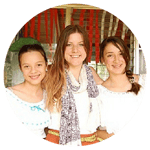 "

I chose International TEFL Academy after much research because the team there was helpful, accessible and professional. ITA offered a program that provided excellent resources, convenient schedules and an in-class practicum that I feel is vital to preparation as a teacher.

"

Natalie Price - Teaching English in Costa Rica
Fill out the form to receive your Country Chart now!