ASU and ITA have teamed up. Mention or use code "SUNDEVILS" and receive a merit based $100 scholarship towards your Online TEFL Certification training!

Fill out the form to receive this comprehensive guide, which includes answers to the following questions (& much more!):
What's the difference between TEFL, TESOL & CELTA?
Why is Accreditation for TEFL Certification important?
How can you use your TEFL Certification & where can you teach?
How quickly can you get TEFL Certified & begin teaching English abroad?
What are the first steps you need to take to realize your dream of living & teaching abroad?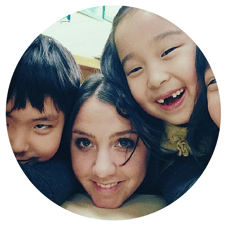 "As soon as I walked into ITA, I immediately felt like I was making the right decision. Everyone was incredibly helpful and informative, and I knew I was going to be making a worthwhile and life changing investment by enrolling with International TEFL Academy."

- Laura Nalin, 25 from Pittsburgh - Teaching English in South Korea
Fill out the form to receive your ABCs TEFL Guide now!