Each year more than 4,500 people from all backgrounds earn their TEFL certification from International TEFL Academy and gain employment teaching English in 80 countries worldwide from Spain and Thailand to Costa Rica and Japan.

Fill out the form to receive this comprehensive guide, which includes answers to the following questions (& much more!):


What type of TEFL Certification do you need to get a job teaching English overseas?
What's the difference between TEFL, TESOL & CELTA?
Why is Accreditation for TEFL Certification important?
How can you use your TEFL Certification & where can you teach?
How quickly can you get TEFL Certified & begin teaching English abroad?
What are the first steps you need to take to realize your dream of living & teaching abroad?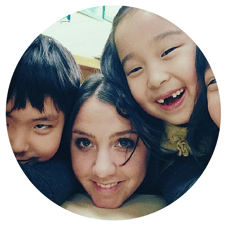 "As soon as I walked into ITA, I immediately felt like I was making the right decision. Everyone was incredibly helpful and informative, and I knew I was going to be making a worthwhile and life changing investment by enrolling with International TEFL Academy."

- Laura Nalin, 25 from Pittsburgh - Teaching English in South Korea
Fill out the form to receive your ABCs TEFL Guide now!