Each year more than 5,000 people from all backgrounds earn their TEFL certification from International TEFL Academy and gain employment teaching English in 80 countries in Asia, Europe, Latin America & the Middle East. Fill out the form to receive:
Teaching Abroad Country Chart

Free Downloadable Guide to Teaching English Abroad


Access to hundreds of articles, FAQ's, alumni stories, videos, and testimonials

Pre-Enrollment Advice from an Expert Advisor


Comprehensive Overviews of TEFL Certification Options & Job Search Guidance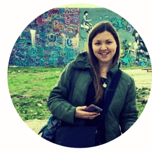 "I wanted a new experience. I wanted to learn Spanish. I needed a break from the grueling 9-5 world.I never expected to fall in love and make a home in this magical foreign land. But that's exactly what I've done, and I don't regret it for a second."
Lauren O'Rourke, from Chicago - Teaching English in Barcelona, Spain
Fill out the form to receive your Country Chart now!