Fill Out the Form to Receive:
Personalized Guidance: Work one-on-one with your Admissions Advisor, Chelsea Hendrickx, to plan your adventure.
Free Downloadable Brochure: Everything you need to know about teaching English abroad;
Country Comparison Chart: Compare salaries, hiring requirements, start-up costs, & more in 50 countries worldwide;
TEFL Certification Options: Accredited Online & In-Person TEFL classes in 25 locations worldwide;
Job Search Guidance: Every ITA graduate has access to extensive job search resources and personalized Student Affairs Advisors to help you.
MEET YOUR ADVISOR, CHELSEA HENDRICKX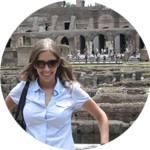 I grew up in South Florida and attended the University of Florida, where I studied English and Business with an aim to go into publishing. The study abroad office at my school is what opened my eyes to travel. Luckily it was located right next to Chick-fil-A or I might have never wandered by--can't resist those chicken nuggets.
STEP 1: FILL OUT THE FORM TO RECEIVE YOUR BROCHURE & I'LL BE IN TOUCH!