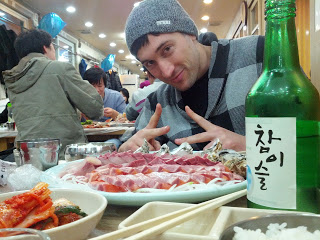 What will I eat when I teach English abroad in Korea?
(And will I be able to find American/Western-style food?)
One of the great perks of going abroad to teach English is the opportunity to try new types of food and drink, and certainly Korea offers a wide array of culinary treats for you to sample. As in many Asian cultures, Korean meals typically incorporate rice, noodles, a soup or stew, meat or fish, and an assortment of great vegetarian side-dishes. These vegetarian dishes, known as banchan, often feature vegetables that have been pickled or marinated in a variety of seasonings and sauces – some mild and sweet, others pungent and savory. The most famous is the legendary pickled cabbage known as kimchi, which comes in hundreds of varieties and is so highly venerated as to be the subject of its own national festivals.
Meat and barbecue lovers will delight in such classic Korean bbq dishes as kalbi (grilled beef short ribs) and bulgogi (thinly sliced beef tenderloin that is grilled). Korean barbecue, which is quickly catching on the U.S. and Europe, will also feature pork (often pork belly) and chicken, often marinated and accompanied by a variety sauces and dips. Very often it is grilled tableside using small charcoal or electric grills.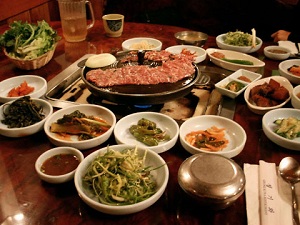 Other favored meats include beef, pork and chicken (Koreans are mad about fried chicken) that are stewed or stir-fried, and the Korean national obsession with fresh seafood can resemble religious fanaticism.
Common spices and sauces used in Korean cuisine include sesame oil, chili pepper, soybean paste (daenjang), soy sauce, garlic, ginger, and scallions. As a result, much of Korean cuisine is intensely flavored, savory, and bold.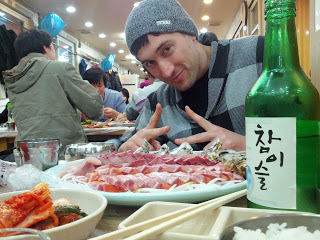 More adventurous eaters will thrill to the opportunity to try some of Korea's more exotic offerings, including San nak ji (live octopus dipped in sesame oil), Soondae (Korean blood sausage encased in pig intestines) and Gaebul (raw sea worms). And when you go to movies, how about some crunchy dried squid instead of popcorn?!
Certainly not every foreign English teacher in Korea will have a taste for such delicacies, and even the most adventurous eater will come down with cravings for a good old fashioned hamburger, pizza or a big bowl of macs-n-cheese, all of which begs the question…..
Will I be able to find American and other western food while teaching English in Korea?
Yes! Got a hankering for a Bic Mac, a Bloomin' Onion, a slice of Domino's or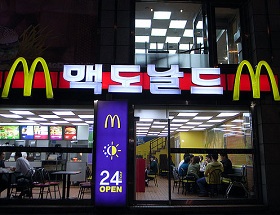 perhaps a bucket of the Colonel's original recipe? It's all available in South Korea, particularly in major cities like Seoul and Busan. Bennigans, Outback Steakhouse, Burger King, and nearly every other major restaurant chain that you would find in St. Louis, Denver or Rochester can be found in Korea. In addition, Italian cuisine, Chinese, French, sushi, and even Indian and Lebanese fare can also be found in major metropolitan areas. There are also bars and supermarkets that cater to Americans and other westerners, though some particular items – marshmellows and peanut butter, for example - may still be hard to find.
For the latest on the dining scene in Seoul, check out http://groovekorea.com/food and www.seouleats.com/
The websites http://koreanfood.about.com/ and http://english.visitkorea.or.kr/enu/FO/FO_EN_6_3_1.jsp both provide nice overviews of Korean cuisine.

Check out the following articles to learn more about teaching English in Korea: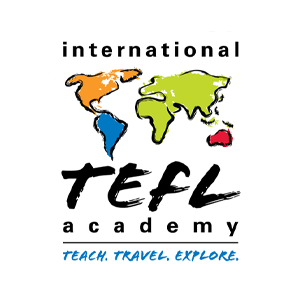 Founded in 2010, International TEFL Academy is a world leader in TEFL certification for teaching English abroad & teaching English online. ITA offers accredited TEFL certification classes online & in 25 locations worldwide and has received multiple awards & widespread recognition as one of the best TEFL schools in the world. ITA provides all students and graduates with lifetime job search guidance. ITA has certified more than 25,000 English teachers and our graduates are currently teaching in 80 countries worldwide.
Want to Learn More About Teaching English Abroad?
Request a free brochure or call 773-634-9900 to speak with an expert advisor about all aspects of TEFL certification and teaching English abroad or online, including the hiring process, salaries, visas, TEFL class options, job placement assistance and more.