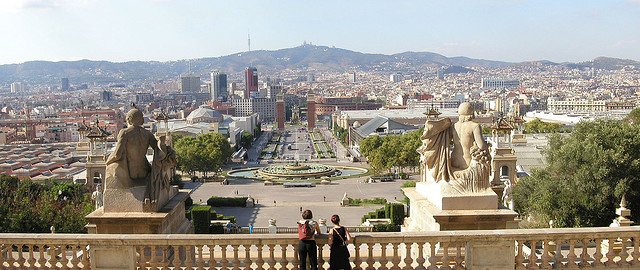 **Please note that as of December 2019, the visa process for Spain has changed. Speak to your Admissions Advisor at International TEFL Academy for the most up-to-date information**
Are you an American looking to live & teach English in Barcelona, Spain? Do you want to take ITA's internationally accredited Barcelona TEFL Class?
At International TEFL Academy, we certify over 5,000 people a year to teach English abroad & Barcelona represents one of the most popular teaching destinations for our graduates, including Americans. That said, if you are an American interested in teaching English in Barcelona, Spain there are certainly realities when it comes to matters like visas & the job market that you must prepare for and be willing to accept if you want to realize your goal of living & teaching in this beautiful city.
1. You should expect to live & teach English in Barcelona "under the table" on a tourist visa.
2. You should expect to work as a freelance private instructor & not as a full-time employee at a language school.
3. For a detailed overview of what it takes to get a job teaching English in Spain, please read What You Need to Know Before Moving to Spain to Teach English [The Ultimate Super Cheat Sheet]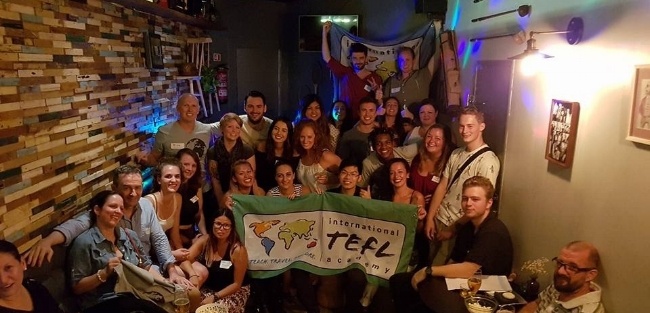 1. Visas: The Majority of Americans in Barcelona Teach English "Under the Table" on a Tourist Visa
It is important to note the vast majority of non-EU citizens, including Americans & Canadians enter and teach English in Spain on a tourist visa. While not legal, it is the common practice. To learn more, please speak to an ITA advisor at 773-634-9900 & read the following article: Teaching English abroad "Under the Table" Without a Work Visa - What Does it Mean?
What does this mean for me?
You don't have official permission to work in Spain.
You are officially working illegally.
You will enter Spain on a tourist visa (a simple stamp in your passport that you will get upon your arrival at your port of entry) that allows you to travel and stay in the country for 90 days.
If you stay to teach longer than three months, your visa will lapse and expire & you will work on an expired tourist visa.
NOTE: Canadians and citizens of some other nations may be eligible for a working holiday visa that enables them to work legally in Spain. Unfortunately, this option is not presently available to U.S. citizens.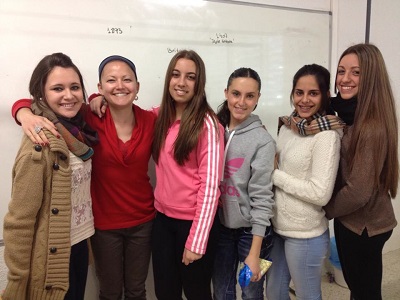 Can I Get in Trouble for This?
According to the letter of the law, those overstaying a tourist visa may be subject to deportation and/or fines. Also, Spanish officials may flag you upon departure from Spain, in which case, they may ban you from re-entering the country for a period of up to five years.
Does this happen often to American English teachers who teach English in Barcelona on an expired tourist visa?
No. It is extremely rare that American English teachers in Spain receive any penalty for teaching on an expired tourist visa. Frankly, Spanish authorities rarely notice or pay any attention to Americans teaching English in Spain, or Americans departing the country on an expired Visa.

That said, there is possible risk & it is up to you whether you accept this risk.
2. Can You Actually Work & Make a Living in Barcelona as an American on a Tourist Visa? Yes - As a Freelance Private Tutor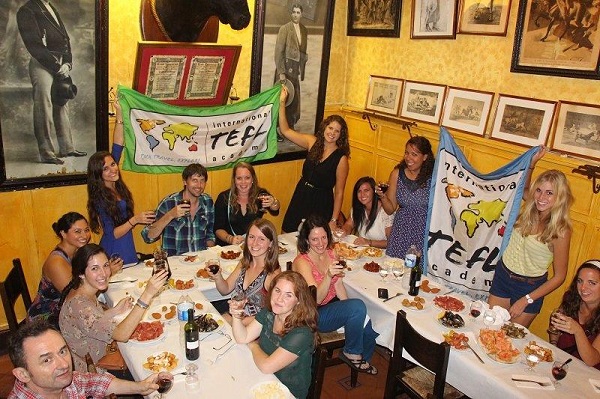 ITA alumni gather for a meet-up recently in Barcelona, Spain
It is important to note that the vast majority of Americans & non-EU citizens who work in Barcelona do so as independent contractors & private tutors and do not typically work in an actual language school. By law, schools have to hire EU-teachers over non-EU teachers, and because there are so many English teachers from other EU countries (United Kingdom & Ireland) in Barcelona, they do not typically employ teachers from outside the EU. However the job market for private lessons is very robust & virtually all ITA graduates who go to teach in Barcelona "under the table" are able to gain employment as private tutors. This is different than other cities in Spain like Madrid & Bilbao, where some language schools do often employ Americans as full-time or part-time teachers without a work visa.
The key is to use the resources & guidance that you receive as an ITA student & even more importantly to take the initiative and aggressively market yourself & your services in the local community. Getting a job as American in Barcelona is not for the faint of heart, but if you're willing put in the time & effort, you will be successful & there are ample opportunities.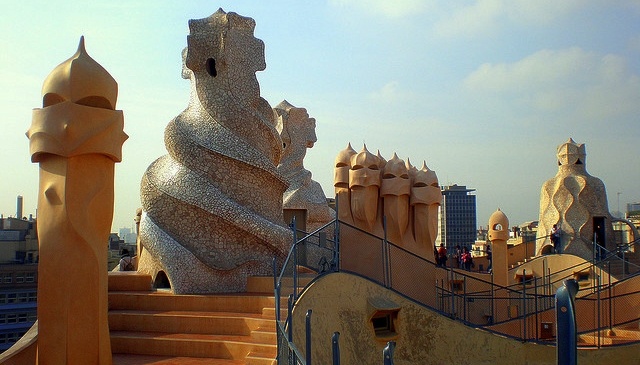 Getting Tutoring Jobs in Barcelona - The Way Americans Work
As an American, language schools in Barcelona will not hire you under the table, so you will be work as a freelance private tutor. Here's a quick overview of how it will work.
You will need to get a local phone number, print up fliers & business cards in Spanish & Catalan, & ask everybody you can for referrals (friends, students, the local bartender, etc.).
Be aggressive in marketing yourself to local individuals & businesses.
Network within the local ESL teaching community by tapping into resources like the Facebook Group Barcelona TEFL Teachers Association. Other good online resources to advertise your services & connect with potential students include "Tus Clases Particulares" & LingoBongo.
To learn more about the ins-and-outs of getting a job as an American private English tutor in Barcelona, check out this article from ITA graduate, Lauren O'Rourke, who taught in Barcelona for more than 2 years: Finding Private Teaching Work in Barcelona. Also, review this article more tips about how to set up your business as a private English tutor in Barcelona: Can I Make Money as Private Tutor Teaching English Abroad? ITA will also provide guidance and resources, including websites where you can post your services.
Check out our Spain Country Profile to stay up-to-date with the lastest on jobs, visas & alumni stories about teaching English in Spain.
Other details to be aware of:
You will be paid cash "under the table." (You and the company or individual you do business with will not file taxes.)
You won't sign a legal, binding contract with an employer. However, it is recommended that you draw up a terms & conditions contract that your students will sign that clearly outlines your mutual agreement with regards to hours, payment, and a cancellation policy.
Using a pay-in-advance or deposit policy will reduce cancellations & lost hours.
You won't receive benefits like national medical insurance.
So, do people actually go do this?
Yes. Many Americans who take ITA TEFL courses teach English in Barcelona & literally thousands of people are teaching English throughout Spain on a tourist visa at any given time. To learn more about what it's actually like and whether you can actually teach English in Barcelona yourself, check out these firsthand accounts from ITA alumni teaching English in Barcelona and throughout Spain:
Watch Lauren O'Rourke discuss her experiences teaching English in Spain, including working on a tourist visa.
Are there options for Americans to teach English in Spain legally with a work or student visa?
Yes — International TEFL Academy does offer a Student Visa Program in both Madrid and Barcelona.
The Madrid Student Visa Program is for ITA students & graduates and enables participants to enroll in a year-long program of part-time Spanish language & culture classes and to teach English legally on a Student Visa.
Barcelona Student Visa Options are available to ITA students & graduates and enables participants to enroll in a year-long program of Spanish language (other languages available) & culture classes and to teach English legally on a Student Visa.
These programs are only available in Madrid and Barcelona & require enrollment at least 3 months in advance as you will need to make an appointment with a Spanish consulate (after your are accepted in program) to get your student visa processed.
In addition the Spanish Government sponsors a teaching assistantship program that recruits Americans to work as assistant English teachers in public schools.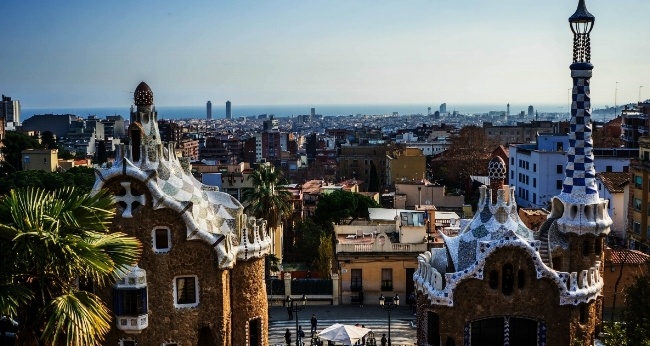 Got Questions about Your Options for Teaching English in Spain?
Request a free guide or call 773-634-9900 to speak with an expert advisor about all aspects of teaching English in Barcelona & around the world, including TEFL certification, the hiring process, salaries, visas and more!
Related Resources: