Traveling Abroad – The Advice You Didn't Know You Needed
---
By: Cassie Wells
It's good for you. It changes your life. It expands your horizons. It fills your heart. I could be talking about a multitude of things here… broccoli, puberty, math, or puppies. However, I'm talking about travel. Some consider travel a luxury while others consider it a necessity. Personally, I think it's a little bit of both. I went from having never left the country in my mid 20's to having traveled to about 20 countries in my early 30's (notice how I said early 30's… really hanging on here!).
I have learned a lot about how to pack just the right amount, how to ask for help in a few different languages, and how to turn strangers into friends. I've also learned that travel isn't always what it seems. I'm not just talking about glossy Instagram pictures, either. Let me explain. Travel can be some of the best experiences of your life and sometimes the most challenging. There are many highs and lows. Travel makes you fall in love and breaks your heart all in a single day. I wanted to share some travel truths for those looking for an honest advice...
Been There, Done That.
Let me start with this. Whether your passport is crowded with stamps or in it's newborn stages, we can all learn from each other's experiences. When I first started traveling, I felt like an insecure freshman navigating the halls of a much more experienced crowd. People threw around numbers with ease. 7 countries, 11 countries, 35 countries, even 50 countries.
I immediately wanted to accumulate as many stamps and make up for all the years I didn't travel. I've since learned that counting countries and ticking off boxes on a list doesn't make someone more or less worldly. I recently took my mother on a trip to Ireland and Scotland. This would be her 2nd country visited outside the United States (the first was Mexico). This would be my 20th and 21st country.
Guys. I cannot tell you how emotional I still get remembering my mother's face when she turned the corner out of the train station in Edinburgh. She didn't chalk it up to looking like another European city. She didn't say that it looked like it might be overpriced. She didn't complain about the rain, the crowds, or the tourist traps. Her eyes were wide, her mouth was open, and she grabbed my arm so tightly that I think my fingers lost feeling. Essentially, she wasn't jaded. She was seeing a dream come to life.
If you are at the stage of your traveling where you're feeling like you've been there and done that, might I suggest taking someone with you that has less experience. It will give you all the feels and undoubtedly that person will pay the favor forward. A chain reaction of travel goodness!
What's Your Why?
Ask yourself, what's your 'why'? Everyone has one. If you can answer this question honestly, you're going to have a better travel experience. Are you trying to prove something? To yourself or maybe to others? Did you have a major life experience or event that pushed you to see outside of your comfort zone? Everyone has their 'why', or so I've discovered.
I initially moved to South Korea to teach English to prove to myself that I could do something bigger. I wasn't trying to impress my family or friends. I really felt on the verge of some huge personal growth. I felt boxed into a way of life that I wasn't ready for. It literally felt like I was on the Truman Show and deciding to move to the other side of the planet was like rowing a boat into the backdrop of my life. The jig was up, and I was getting out. On the flip side, I have also traveled to prove something to someone else. No one likes being told that they can't do something. Cassie, don't cut your sisters hair (my sister got bangs that spring!). Cassie, don't get that tattoo. I got that tattoo (and many others). I have taken trips to destinations, because people said they would be too scared to go there. I took my first solo trip not because I thought traveling alone would be fun, but because I wanted to prove that I was an experienced traveler that could (it ended up being really great, actually, but still!). So ask yourself why you're moving abroad or taking this trip. Whatever the answer is doesn't really matter. Just allow yourself to be honest about it. You'll have a much more meaningful trip if you can do this.
EVERYTHING IS AWESOME!
Spoiler alert: everything is not awesome.
Behind every album of seemingly perfect travel photos is a story or two of travel woes. Here's a picture of my friends and I on a hike in Spain. Looks great, right? What's missing is the picture of my blistered, bloody, swollen feet, not to mention bed bug bites. It was one of the best trips of my life, but also the most trying. This trip changed my life.


Here's another picture of me in Colombia with some colleagues. What a party, right? What's not pictured is the food poisoning I got shortly after, which left me hugging the porcelain God for three days. This trip changed my life.
Here's a picture of me and a good friend in Bolivia, when we pretended to be 'the press' and got up close and personal with various Andean tribes at a parade. What's not pictured is the rage I went into after my wallet was stolen out of my backpack in my hostel. And you guessed it! This trip changed my life.
Here's the deal. You will have some of the best experiences of your life. Beautiful sunsets, meals shared with new friends, solo strolls around an ancient city as the church bells ring… but you will also have some lows. The crazy thing about travel lows is that THAT is where the growth happens. Look what you can handle! Look what you can do! Look how perfectly imperfect life is. I look back on every trip I've ever taken with such gratitude. I learn so much, every time. I've learned to pack extra camera batteries, always pack extra cipro, and always skip the souvenirs and buy a stranger a beer. This is life. Let's stop trying to make it perfect and start enjoying for what it is: imperfect.
The Travel Necessities You REALLY Need
If you Google travel packing lists, you'll go down a rabbit hole of blogs and online forums, convincing you of what you REALLY need for your next adventure. Well, guess what! I'm going to do the exact dang thing. Whether you're planning a two weeks trip or a two year trip, I've put some thoughts into this list and think it can make a huge impact on the quality of your travel.

The list is as follows:
- Tylenol PM
- wet wipes
- A good book
- Ear plugs
- A pocket charger
- Wireless speaker
- Travel size Febreeze
- Handle of whiskey
- Sense of humor
- Nap
- Flexibility
- A watch that's broken because nothing will happen on time and you need the reminder
- Notebook
- Some alone time,
- New found confidence
- Patience (if you think you have it, you know it's fleeting so think again),
- A budget,
- Camera,
- Empathy,
- A voice that says both WHY? And YES!,
- And last but not least the understanding that we are all just small little pieces in a big moving organism. We're all in this together, so play nice.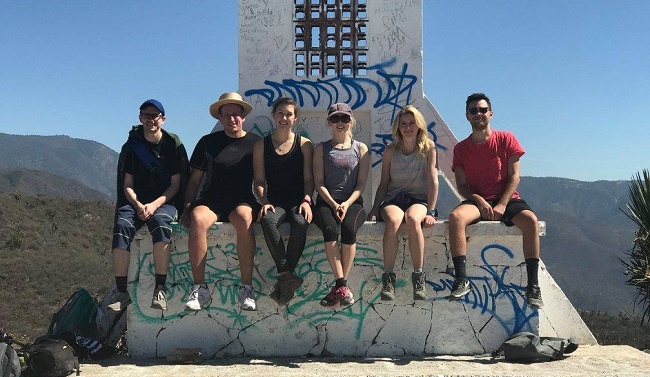 These are just my opinions, of course. I may or may not be qualified to give this sort of advice, but I do so in hopes of bringing to light some aspects of travel that truly make the experience worth while, even if they're not always beautiful. I leave you with a journal entry from my last trip abroad:
Set goals, make time, spend the money, go for it and figure it out later, ask for help, don't worry if you look like sh*t, get lost, be patient, talk to strangers, stop saying you'll do it next year, quit believing your happiness Is someone else's responsibility, find the differences, appreciate the differences, be grateful, stop complaining, and love every minute of it, even if it's hard. Just go. And tell me all about it when you get back.
Author Cassie Wells traveling in Scotland with her mother - how cool is that?!
Want to learn more about Teaching English Abroad?
Request a free brochure or call 773-634-9900 to speak with an expert advisor about all aspects of TEFL certification and teaching English abroad, including the hiring process, salaries, visas, TEFL class options, job placement assistance and more.
Related Articles:
About the Author: Cassie Wells
A Midwestern girl from Valparaiso, Indiana, Cassie had never been abroad until she quit her job as a television producer on her 24 birthday to teach English in South Korea. One of ITA's most senior advisors, Cassie is also head of the ITA Video Department.
---
A native of Valparaiso, Indiana, Cassie had traveled abroad only once prior to leaving her job as a television producer and heading to South Korea to teach English in 2009. Now a passionate traveler, Cassie's recent international exploits include camping on the beaches of Vietnam, hiking through the Andes to Machu Picchu and smoking water pipes and drinking tea with the locals in the cafes of Cairo. With more than 10 years of professional experience in the field of teaching English, Cassie is one of our most senior advisors. She has also produced many of the videos on the ITA website.
Want to Learn More About Teaching English Abroad?
Request a free brochure or call 773-634-9900 to speak with an expert advisor about all aspects of TEFL certification and teaching English abroad or online, including the hiring process, salaries, visas, TEFL class options, job placement assistance and more.