Teaching English in Hanoi, Vietnam - Alumni Q&A with Natalie Bigelow
What is your citizenship?
United States
What city and state are you from?
Rochester Hills, Michigan, USA
How old are you?
23
What is your education level and background?
Bachelor's Degree.
Have you traveled abroad in the past?
I studied abroad.
If you have traveled abroad in the past, where have you been?
Canada, Mexico, Germany, France, Italy, Greece, the Netherlands, and Spain.
If you studied abroad in the past, where did you study?
I participated in Semester at Sea so I visited the following countries for a week each- Japan, China, Vietnam, Myanmar, India, South Africa, Ghana, and Morocco.
What sparked your interest in going to teach English abroad?
While studying abroad with Semester at Sea, I met so many people who were living abroad. I had never considered living abroad before this point, but hearing about so many other people's amazing experiences, I knew that it was something I needed to do too. I learned that teaching English is a great way to live abroad so I decided to get TEFL certified right when I returned home from Semester at Sea!
What were some of your concerns before teaching abroad?
I was mainly concerned about moving to a foreign country alone. I hadn't traveled solo before moving to Vietnam so moving to a new continent on my own was pretty intimidating. Luckily, I quickly made friends which made the transition a lot easier!
What did your friends and family think about you moving and teaching abroad?
My family was a little concerned about my overall safety. Their main concern is how far away Vietnam is from the US. Nonetheless, they were still very supportive! My friends were all excited for me too!
TEFL CLASS INFORMATION
Why did you decide to get TEFL certified and choose International TEFL Academy?
I decided to get TEFL certified because I knew it would allow me to live abroad and see more of the world. I did a lot of research on TEFL companies and quickly saw that International TEFL Academy has one of the top tier programs. Along with the quality of the TEFL certification, I was also impressed by the lifetime career guidance and the huge alumni network that ITA has.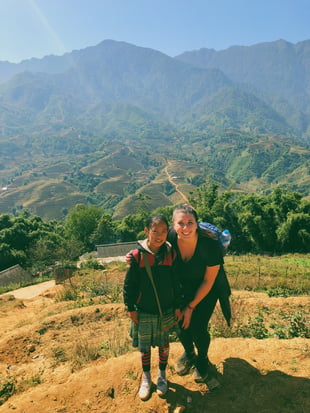 Which TEFL certification course did you take?
Online TEFL Certification.
How did you like the course?
The course was great! I completed the online TEFL certification because I was working a full time internship and I needed something that I could fit into my schedule.
Each week, there was required reading, a quiz about the reading, and an assignment due. At the end of the course, there was a final project due that required a little more work than the weekly assignments. It was very manageable to do while maintaining a full time job.
Along with the online coursework, there is also a practicum requirement that involves 20 hours of shadowing/student teaching/tutoring. This helps you gain hands on experience and lets you apply the material you learned online in a classroom setting. ITA was very helpful in providing a list of suggested practicum locations in each state. I was surprised to find several practicum options in my city, and I was lucky enough that my practicum actually turned into a paid, part-time position during my senior year of college.
How has your TEFL training helped you in your current teaching position?
The TEFL training really helped prepare me for the lesson planning and behavior management aspects of teaching. The framework for the weekly assignments is similar to the lesson plans I use in my current classes. The behavior management lessons from the training have also helped give me ideas on how to better control my classroom. Overall, the TEFL training gave me the confidence to enter a classroom and teach a room full of excited students.
How long have you been in Vietnam and how long do you plan to stay?
I have been living in Hanoi, Vietnam for seven months but I will be heading back home in a month due to a family event. If it weren't for the family event, I would stay here much longer.
Why did you decide to teach English in this location?
I had visited Hanoi while studying abroad, and I was completely captivated by the city. When I found out that Hanoi has a high demand for English teachers, I decided it'd be a great place to start my TEFL career.
What school, company, or program are you working for?
The majority of my teaching hours are at Wordplay English Language Center.
During which months does your school typically hire?
Wordplay hires throughout the year as positions become available.
Did you secure this position in advance of arriving?
No.

How did you interview for this position?
I had an in-person interview.
What kind of Visa did you enter on?
Tourist Visa.

Please explain the visa process that you went through.
I arrived to Vietnam on a 3 month tourist visa that I applied for about a month before my departure. When my visa was about to expire 3 months into living in Hanoi, I left the country. When I returned a couple days later, I went to the immigration desk to receive a visa on arrival. My school helped me get the invitation letter for the new business visa. I gave the immigration officer the letter, a passport sized photo of me, an information form that you can fill out on arrival, my passport and $50 USD. A few minutes later, I had my new business visa. My first business visa was only valid for 3 months so I did have to leave again recently to get another business visa, but visa runs are a nice excuse to go visit another place for a couple days.
What are the qualifications that your school requires for teachers?
Bachelor's Degree, TEFL Certification, Native English Speaker.
What is the best way to apply?
Email keithtacey@wordplayenglish.school or check out their Facebook page here.
Tell us about your English teaching job!
Hours: I currently work about 25 hours per week. Most of those hours are at Wordplay, but 7 hours are from a bilingual school that I teach math and science at. At Everest Bilingual School, I teach Monday- Friday 10-11:30. At Wordplay, I teach Monday-Friday usually starting at 4:30 or 6 and going until 9. I also teach one class from 10-11:30 on Saturday morning.
Pay/ability to save: At both schools, I make about $24-$25 (depends on the exchange rate). Depending on the month and how many days off there are, I've made between $1,500-$2,000/month. I am usually able to save at least a few hundred dollars, but it varies depending on my expenses for the month. If I'm going on a trip or paying rent (I pay 3 months rent at a time), I save less than usual. If it's a busy work month and I'm not traveling, I can save more.
Type of school/students: Wordplay is an American owned English language school, and the owners really care about their students. The classes are small (about 10 students maximum) and most students are 5-13 years old. I teach a phonics course, a writing course, two reading classes, and I do private tutoring with two students. I have learned so much through this job, and I really enjoy teaching here!
Vacation time: At Wordplay, we had 2 weeks off for the Tet Lunar New Year holiday at the end of January/beginning of February. We also have off national holidays. I signed a 6 month contract which means I get 4 days of unpaid vacation. If you sign a longer contract, you'll get more. I had the same days off at my other school also and I can request vacation time (any length of time) as long as I give a month's notice.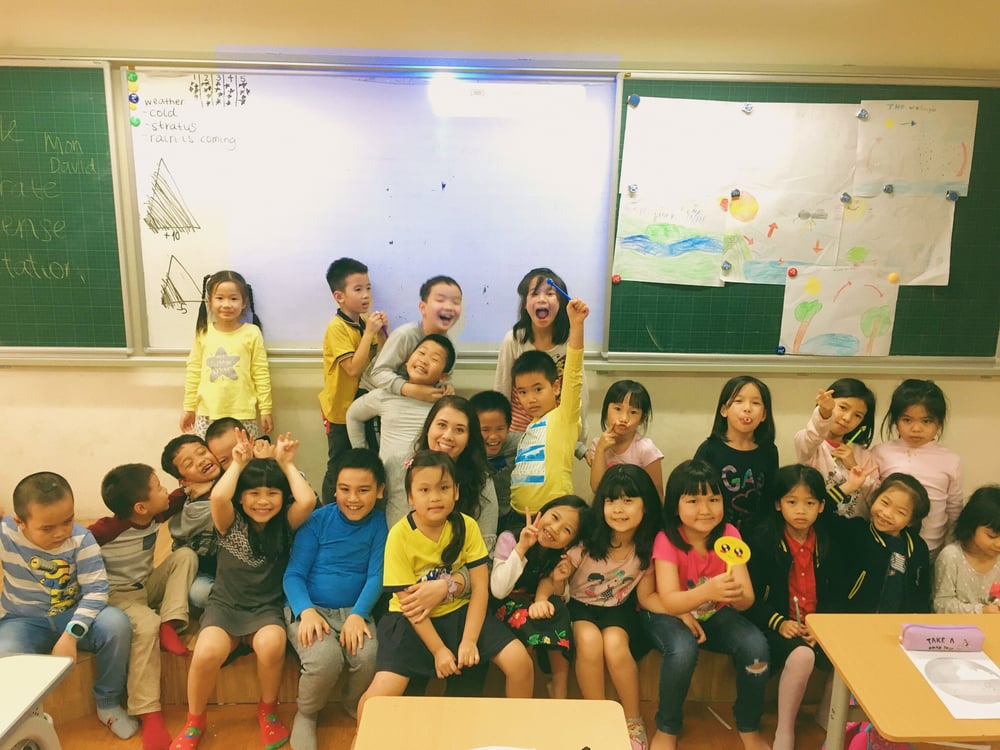 COUNTRY INFORMATION
Please explain the cultural aspects, public transportation, nightlife, social activities, food, expat community, dating scene, travel opportunities, etc...
Cultural aspects: Hanoi has a mix of traditional, ancient culture and modern, emerging trends. There are temples throughout the city, but also high rise buildings going up everywhere you look. The streets can be chaotic, but I find them exciting and interesting. There is a lot to be seen here! The people in Hanoi are generally friendly and kind. I have learned so much about the culture through my Vietnamese friends and coworkers.
Public transportation: Unfortunately, Hanoi lacks a great public transportation system (although one is slowly in the works). Most people get around on motorbikes. If you're not comfortable driving yourself, you can use Grab. It's similar to Uber and generally inexpensive. There are some buses also, but I have not used them before.
Nightlife: Due to communist rules, a lot of places close at midnight, but in the Old Quarter (the main tourist area) and Tay Ho (the expat area) you can find options that are open later. If you're looking to drink on a budget, head to a local bia hoi to drink for less than $0.50/cup.
Food: Two words- BUN CHA! This is a Hanoi speciality and definitely my favorite Vietnamese dish. I also really enjoy spring rolls and Vietnamese lunch buffets. If you're a coffee fan, you'll be happy to find cheap, delicious coffee here! Make sure you try the coconut coffee too (although it's more like a dessert)! I've been able to find any type of cuisine that I want here, and eating out is extremely affordable. Depending on where you grocery shop/what kind of appliances you have in your kitchen, it is often easier and cheaper to eat out here.
Expat community: There are lots of expats living in Hanoi which makes it pretty easy to make friends. I met my closest friend in Hanoi through ITA's Vietnam alumni Facebook page! I also made a lot of friends through a group called Girls Gone International. If you put yourself out there and get involved in different clubs/groups, you shouldn't have too hard of a time making friends here.
Travel opportunities: Hanoi is conveniently located near lots of great cities in Vietnam, and also has cheap flights to many other destinations. Since living here, I've taken trips in Vietnam to Sapa, Nha Trang, Da Nang, Hoi An, and Ninh Binh. I've also traveled to Thailand, Cambodia, and Singapore while living in Hanoi.
How did you find somewhere to live and what is it like?
Finding a place to live was super easy. There are so many different Facebook pages where you can post about looking for an apartment or a shared house like here and here.
I made a post with the details of what I was looking for on the Facebook groups and I had plenty of people messaging me about available options. I toured a few places before picking my current apartment.
I decided to live alone in a studio apartment. It is a very modern apartment with an amazing view of Tay Ho (West Lake). Rent includes cleaning 2 times per week, wifi, and water. I pay extra for electricity each month. If I wanted to save more money, a shared house would be a better option. But I really liked the location and layout of my apartment so I decided to pay a little bit more for housing.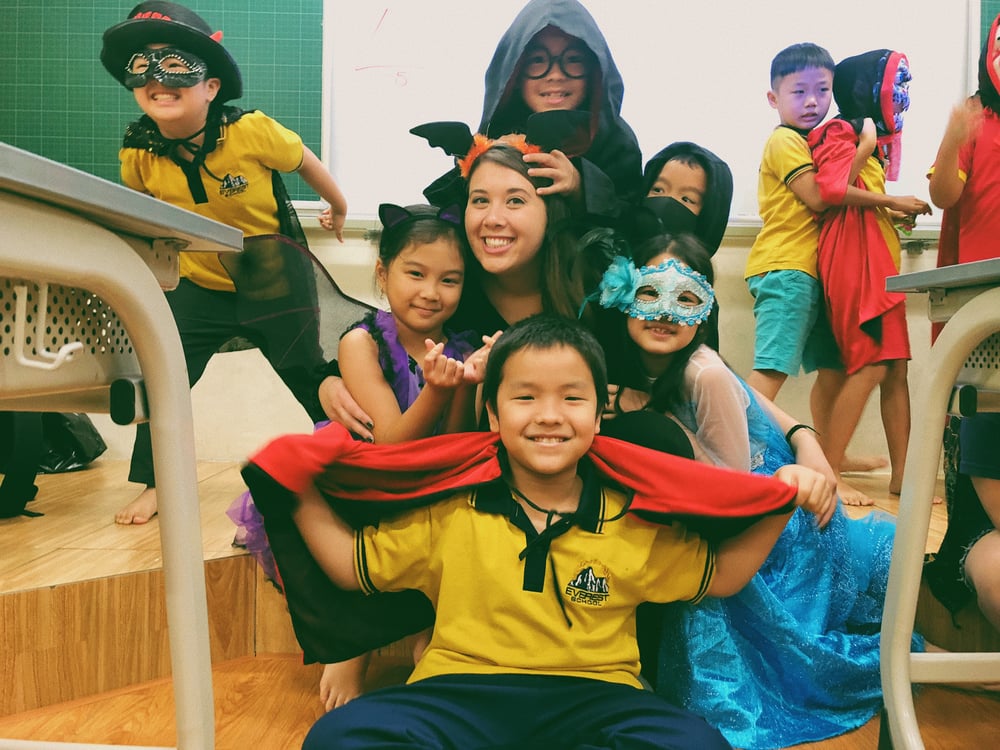 What are your monthly expenses?
Rent/utilities: $450. This is definitely on the higher end of housing costs. I know lots of people who live in shared houses for about $200/month. I decide to splurge on a more modern place with a lake view balcony and no roommates which is why my rent is relatively high. It's important to note that many housing options require a one month deposit and three months rent paid at a time.
Food: Maybe $300? I eat breakfast at home everyday. I usually go out to eat for lunch and sometimes have food delivered for dinner. If I'm eating Vietnamese food, a meal is usually between $1-3. If I'm eating Western food, a meal can be between $3-10.
Social activities: Depends - there are lots of cheap events in Hanoi on the weekends. Drinking and going out is very affordable. Although this isn't very social, I go to spas regularly here to get my nails done and massages. I usually pay around $5 USD for a manicure and I can get a decent massage for $15 USD (probably can be found for even less).
Transportation: $55/month + Grab costs- I rent a motorbike for $55/month, but also use Grab sometimes. A typical Grab motorbike ride is between $1-2 depending on how far you're going.
Phone: $5- I brought my iPhone from the US and got a SIM card here. I pay $5/month and I have calls, texting, and data. I'm not positive how much data I have, but I've never run out before.
Travels: Varies depending on the location. Travel within Vietnam and to most places in South East Asia is cheap. I visited Singapore for my last visa run and it was extremely expensive (not just compared to Hanoi, but even compared to big cities in the US).
How would you describe your standard of living?
Very comfortable! I am able to live in a great apartment, eat out as often as I want, go to spas almost weekly, and travel monthly without having to worry too much about my budget.
In your opinion, how much does someone need to earn in order to live comfortably?
$1,000 is probably fine if you do not need to save money. If you want to live more like a local, you can survive on way less.
ADVICE FOR PROSPECTIVE ENGLISH TEACHERS
What advice would you give someone planning or considering teaching abroad? Would you recommend teaching in your country?
Vietnam is a great place to start your career as an English teacher because there is a high demand for teachers and lots of schools will accept candidates who do not yet have lots of experience. It is an amazing country to live in with so many beautiful places to see. If you're looking to live comfortably, gain teaching experience, travel, and save money, Vietnam is an awesome option.
Teaching abroad has been such a life changing experience for me, and I'd highly recommend it to anyone who is looking for a change of pace or an adventure in their life. Having the ability to go basically anywhere in the world and find a job with a TEFL certification is incredible. Take the leap, get your TEFL certification, and get out there. You won't regret it!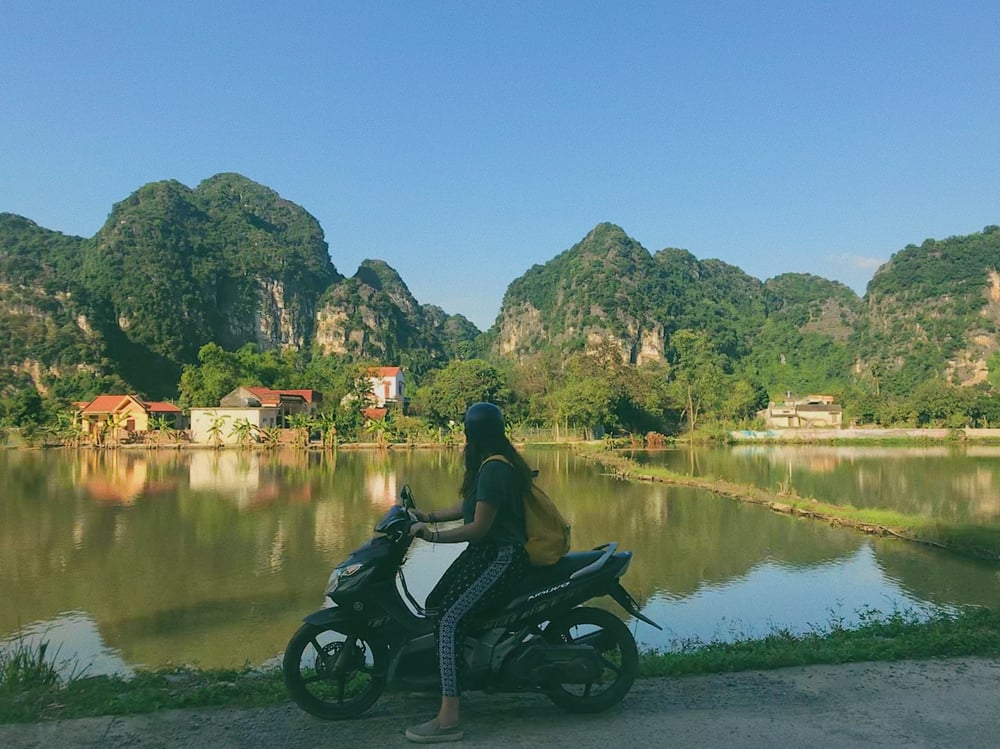 Founded in 2010, International TEFL Academy is a world leader in TEFL certification for teaching English abroad & teaching English online. ITA offers accredited TEFL certification classes online & in 25 locations worldwide and has received multiple awards & widespread recognition as one of the best TEFL schools in the world. ITA provides all students and graduates with lifetime job search guidance. ITA has certified more than 25,000 English teachers and our graduates are currently teaching in 80 countries worldwide.
Want to Learn More About Teaching English Abroad?
Request a free brochure or call 773-634-9900 to speak with an expert advisor about all aspects of TEFL certification and teaching English abroad or online, including the hiring process, salaries, visas, TEFL class options, job placement assistance and more.