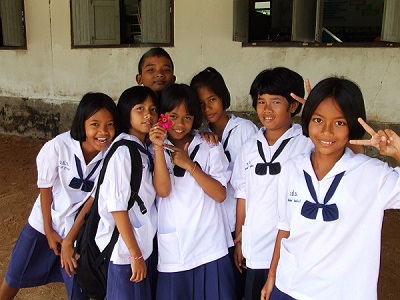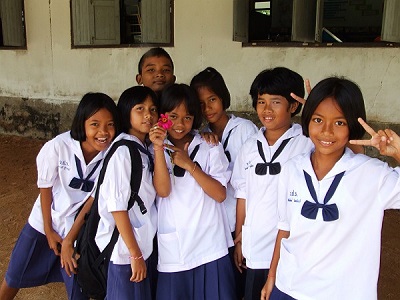 Nakhon Si Thammarat, Thailand English Teaching Q&A with Allie Wieland
TELL US ABOUT YOURSELF
What is your citizenship?

United States

What city and state are you from?

Chicago, Illinois

How old are you?

21

What is your education level and background?

Some College
Have you traveled abroad in the past?
Some international travel with friends, family, business, etc.

If you have traveled abroad in the past, where have you been?

East Africa, Nepal, Guatemala
What sparked your interest in going to teach English abroad?

I love traveling and I have always enjoyed working with children. After getting a few months experience volunteer teaching English in Nepal, I knew that is what I wanted to do with my life.
TEFL CLASS INFORMATION
Why did you decide to get TEFL certified and choose International TEFL Academy?

At first I saw they had a class in Chicago which is where I live, so I thought it would be easy to get to class everyday. Then I noticed how many international options they had for taking the class, and decided to go to Thailand to get my certification.
Which TEFL certification course did you take?

Thailand - Pattaya TEFL Class, which included 2 weeks in Phnom Penh, Cambodia

How did you like the course?

The TEFL course was very helpful! The teachers in Cambodia for the first 2 weeks were very knowledgeable and friendly, always willing to help. The student teaching for the second 2 weeks in Pattaya was also a very enjoyable experience, being thrown into a classroom and preparing lesson plans. After the class, the instructors continued to be very helpful with job searches and ended up getting me a great job!

How has your TEFL training helped you in your current teaching position?

The different kinds of teaching that we learned like communicative activities, dialogues, warmers, and everything else are all things that I do in my classes. The other part that really did help was when we took a Thai language class. Experiencing learning a new language really helped me to be able to relate with my students and how it might be easier for them to learn.

Which city and country did you decide to teach English in and why?

I am teaching English in Nakhon Si Thammarat, Thailand. I had a friend who finished the program with me tell me they had a vacancy at his school and I was really willing to go anywhere in Thailand for a job.

How long have you been in this country and how long do you plan to stay?
I have been in Thailand about a month and a half now and I plan to stay 9 more months until my contract is up. Unless I love it so much that I can't leave, then I really don't know!

How did you secure your English teaching job?

I emailed the director with my resume after hearing there were vacancies. He then told me if I could get down south by the end of the week, I had a job. I also had a lot of help from my class instructor, Jam, in Thailand, who recommended me.

What school, company, or program are you working for?

Kanlayanee Si Thammarat school.

How did you get your work visa?

I do not have a bachelors degree so it is quite hard to find work in Thailand. So far my visa has not run up, but once it does I will just have to leave the country for a few days and apply for another tourist visa.
Editor's note: Thailand is one example where visa practices can change. Visa restrictions have since tightened and a 4-year college degree is now required. Allie is headed to Cambodia, a beautiful country and a fast-growing job market, where a 4-year degree is not required.

Tell us about your English teaching job!

I work almost 40 hours a week, although I am not teaching that whole time. My school days are from 8 AM to 4 PM and I have about 4 or 5 fifty minute periods each day. I am paid close to $1,000 USD every month which is very good because living here is so cheap (only pay $125 a month for rent). I am just starting now so I haven't been able to save too much but in the future I'm sure I will.

I work at a public school and am teaching M5 and M2 which are kids that are between 14-17 years old. I am teaching English but only speaking and listening practice. They have other teachers who do the grammar and reading/writing skills.


How did you find somewhere to live and what is it like?

I got lucky with this because my friend who had gotten the job at the same school before me also had moved down here two weeks prior, and had already found a two bedroom apartment. I moved in there; it is a beautiful place..amazing what you can get for your money here in Thailand!
COUNTRY INFORMATION - FUN!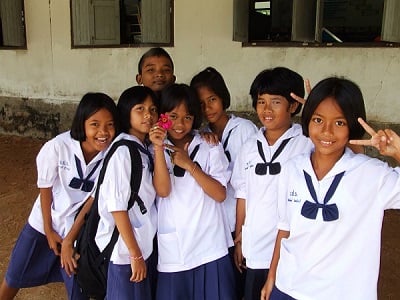 Please explain the cultural aspects, public transportation, nightlife, social activities, food, expat community, dating scene, travel opportunities, etc...
The city that I am living in is not touristy at all. I feel like I do get the real Thai experience everyday since I do not get to speak much English outside of my classroom and at home.
At most restaurants we just point at a random item in Thai because the menus are not written in English. It has been a fun experience so far.

Just a half hour drive away from the city are beautiful waterfalls, national parks, mountains and many fun activities. We are also very close to the islands like Koh Samui and a short bus ride away from Phuket. I was also surprised to find how many other Western English teachers there are here. They all have a few bars that they seem to meet at on the weekends and there is a great support group of fellow teachers here.
COUNTRY INFORMATION - MONEY
What are your monthly expenses?

Rent is only about $125 a month not including electric, wifi, and water, but those only add about $50 more once split between myself and my roommate

Food is very cheap. A meal on the street can be anywhere from $1-$4 USD. At a nicer cafe with air con and wifi (maybe even an English menu), you are looking at about $6 for a drink and a full meal.

For transport I ride a bicycle everywhere, but might invest in a motorbike to get around easier. The public transport is very cheap and there are metered taxis which are not much more expensive.

Going to the bars actually turns out to be one of the most expensive things here as beer and mixed drinks are quite expensive.

For my phone I just have a local phone with a SIM card and buy minutes at Seven Eleven. I find i do not use my phone very often and having 200 Baht on my phone is plenty for a long time.

How would you describe your standard of living?

I really don't have high standards before coming here, but I am definitely living comfortably here!

In your opinion, how much does someone need to earn in order to live comfortably?

I'd say close to what I am making, which is $1,000 USD if you want to save money.


ADVICE FOR PROSPECTIVE ENGLISH TEACHERS
What advice would you give someone planning or considering teaching abroad? Would you recommend teaching in your country?

Do it. If you feel like it is right and you want to start on a great adventure I think that it is a great idea to start teaching English abroad.
Having a TEFL certification opens so many doors, I could be in Thailand this year and whole new country/continent next year.
You meet some amazing people who are all pretty like minded and the reward is so great for seeing your students learn and start to understand. Plus it is fun!

I love Thailand so far, the people are so warm and the food is delicious, it is very hot and I sweat all day but at the end of the day I love living here and would definitely recommend teaching here.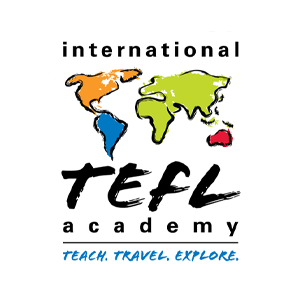 Founded in 2010, International TEFL Academy is a world leader in TEFL certification for teaching English abroad & teaching English online. ITA offers accredited TEFL certification classes online & in 25 locations worldwide and has received multiple awards & widespread recognition as one of the best TEFL schools in the world. ITA provides all students and graduates with lifetime job search guidance. ITA has certified more than 25,000 English teachers and our graduates are currently teaching in 80 countries worldwide.
Want to Learn More About Teaching English Abroad?
Request a free brochure or call 773-634-9900 to speak with an expert advisor about all aspects of TEFL certification and teaching English abroad or online, including the hiring process, salaries, visas, TEFL class options, job placement assistance and more.