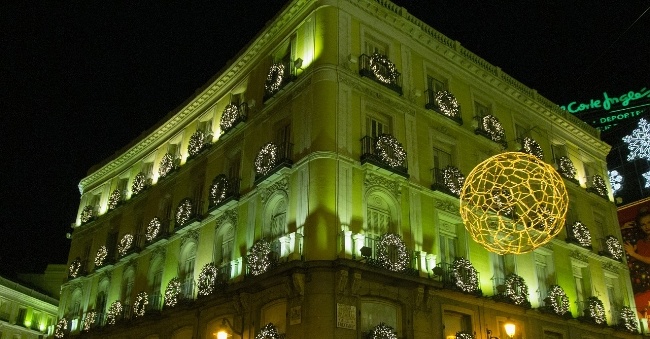 Madrid, Spain English Teaching Q&A with Emily Egan
TELL US ABOUT YOURSELF

What is your citizenship?

United States

What city and state are you from?

Philadelphia, PA

How old are you?

24

What is your education level and background?

Bachelor's Degree

Have you traveled abroad in the past?

Some international travel with friends, family, business, etc.

If you have traveled abroad in the past, where have you been?
Ireland
If you have studied abroad in the past, where did you study?

I have not studied abroad.

What sparked your interest in going to teach English abroad?

When I was a sophomore in college, I realized I needed to get out and see the world. I had a major interest in different cultures and languages. I spent two years of researching different programs and ways that I could do just that. After finding the International TEFL Academy, I knew this was the perfect option for me. My job had already allowed me to work with ESL students and I loved helping them improve. Now I was able to go abroad and do the same thing!

What were some of your concerns before teaching abroad?

Cultural and language barriers and my anxiety

What did your friends and family think about you moving and teaching abroad?

My friends were super supportive and loved that I was following my dreams. My family was a little bit more apprehensive and cautious at first but eventually were totally supportive of my decision.
TEFL CLASS INFORMATION
Why did you decide to get TEFL certified and choose International TEFL Academy?

The TEFL Academy had great reviews and the price just was in my budget. I decided that getting TEFL certified was the best option for me.

Which TEFL certification course did you take?

Online TEFL Course

How did you like the course?

The Online TEFL Course was well organized and overall very informative. I never experienced an online course before, so I was hesitant to take it. I was nervous that the lack of personal communication with the instructor would hinder my ability to perform. That was definitely not the case! My instructor was very proactive and gave great feedback on everything submitted which allowed my enthusiasm and interest in the topics to grow.

How has your TEFL training helped you in your current teaching position?

It definitely gave me the ability to create lesson plans and discover different ways to educate my students.

Which city and country did you decide to teach English in and why?

I chose to teach English in Spain in the city of Madrid. I have always wanted to be fluent in Spanish, but I was also nervous to go to another country alone. Many people in Madrid have some knowledge of English, so I knew it would make my adjustment easier.
How long have you been in this country and how long do you plan to stay?

Two months and I plan to stay one more and then come back next year.
What school, company, or program are you working for?

I actually took a different route and took up being an au pair and tutoring classes to support myself here.

During which months does your school typically hire?

The typical hiring time in Spain is in September/early October and sometimes in January

Did you secure this position in advance of arriving?

I secured my au pair position before arriving through a website called workaway.info

How did you interview for this position?

Skype/phone interview

What kind of visa did you enter on?

Tourist Visa

Please explain the visa process that you went through.

After looking to the process of the student visa, I realized it would be impossible for me to prove I had sufficient funds to support myself here. I realized at this time a student visa would just be too hard for me to obtain. For this reason, I came on a tourist visa with the intention of possibly overstaying it. However, I have decided now that I will leave when my 90 days is up and go and do the same thing in Turkey.

What are the qualifications that your school requires for teachers? Please check all that apply

Native English speaker

What is the best way to apply?

In-person

Tell us about your English teaching job!

I work 4-5 hours a day, 5 days a week for the family I am living with. I do not get paid but I do not have to pay rent. I have my own room and bathroom, and my meals are also free. I also as of now tutor three different people. I probably make about 100 euros (approx$110 USD) a week. I do not save anything as I use that money to explore Spain on the weekends. I have off weekends but my family is easy going and is willing to adjust to my plans. Although going abroad and being an au pair was not something I had in mind, it is definitely a great way to establish yourself in a new country. The family helps you adjust to the culture and it gives you an in for tutoring with all of the family friends.

How did you find somewhere to live and what is it like? Do you have roommates?

As I said before, I live with a family. It is a little different for me since I am 24 and having to follow some rules that I was not used to in America, but it keeps me grounded so it actually worked out for me.

On a scale of 1 - 10 please rate your experience with this school.

9
COUNTRY INFORMATION - FUN!

Please explain the cultural aspects, public transportation, nightlife, social activities, food, expat community, dating scene, travel opportunities, etc...

Life in Madrid is upbeat. It reminds me of New York City, but everyone seems to be happier. It is easy to adapt here because so many people in Madrid still speak some English, especially because there are many people from different parts of Europe living here, so if you don't know Spanish you are not completely clueless of what is going on around you.

Public Transportation: I have never been more in love with public transportation. Its cheap if you are under 26, only 20 euros for 30 days (approx $22 USD). It is fast and you can go anywhere in Madrid. I took public transportation many times in America and it will never compare to how great the transportation system is here.

Nightlife: The nightlife never ends in Spain. There are bars and discos everywhere. You can always find somewhere to go or someone to go out with.

Social Activities: Hopping on the metro and getting off at a random stop, you will always be able to explore something new, whether it be a building or just a cute town. I find it enjoyable just wandering around, looking and listening to my surroundings.

Food: I love the food here. I don't know what I will do when I leave, not being able to eat jamón or chorizo.

Expat community: In Madrid the expat community is huge and you can always find someone to get a coffee, go to the disco, or simply walk around.

I love my situation here in Madrid. There are many opportunities to travel all over Spain or just in Madrid for very low prices. If you are really interested in improving your Spanish, I have been involved with many intercambios, which is where you speak English for someone and help them for a bit and then they will do the same for you in Spanish. This exchange is great because it is free since you are both benefiting. It also opens you up to many other opportunities and gives you a connection to other people.
COUNTRY INFORMATION - MONEY
What are your monthly expenses?

Rent: None

Food: I only have to pay for food if I am going out. I usually eat out maybe three times a week and pay anywhere from 20-50 euros depending on what I want to indulge in. In a month, I would say I wouldn't spend more than 75 euros ($80 USD).

Social Activities: You can find these anywhere. Someone is always offering something to do. Join any Facebook group related to Madrid and you will have a variety of options.

Travel: It is cheap whether you are going somewhere in Spain or to another country. Definitely provides opportunities you wouldn't want to pass up.

How would you describe your standard of living?

I am living comfortably here and do not need to worry about my income.

In your opinion, how much does someone need to earn in order to live comfortably?

900 Euros (approx. $950 USD)


ADVICE FOR PROSPECTIVE ENGLISH TEACHERS
What advice would you give someone planning or considering teaching abroad? Would you recommend teaching in your country?

Take all options you have into account. I was lucky enough to be placed in the auxiliares program (Cultural Ambassadors) in Extremadura; however, I passed up that offer because I was scared I wouldn't enjoy the area. I did not do my full research and passed up a wonderful opportunity. Being open minded to everything is the most important thing when teaching abroad.
I love it here in Spain and would totally recommend it to anyone.

Founded in 2010, International TEFL Academy is a world leader in TEFL certification for teaching English abroad & teaching English online. ITA offers accredited TEFL certification classes online & in 25 locations worldwide and has received multiple awards & widespread recognition as one of the best TEFL schools in the world. ITA provides all students and graduates with lifetime job search guidance. ITA has certified more than 25,000 English teachers and our graduates are currently teaching in 80 countries worldwide.
Want to Learn More About Teaching English Abroad?
Request a free brochure or call 773-634-9900 to speak with an expert advisor about all aspects of TEFL certification and teaching English abroad or online, including the hiring process, salaries, visas, TEFL class options, job placement assistance and more.