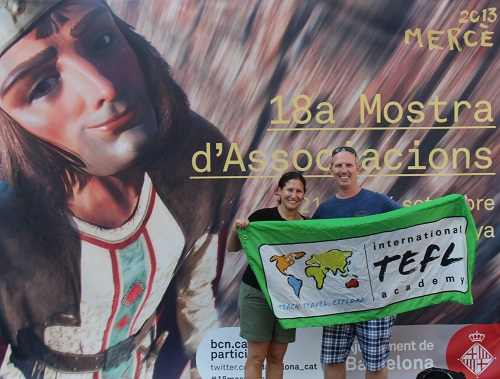 Barcelona, Spain English Teaching Q and A with Rachel Sair with Video
TELL US ABOUT YOURSELF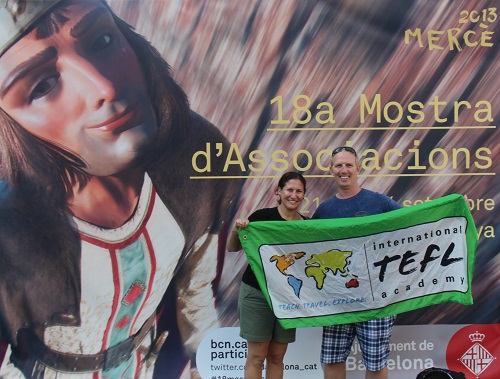 What is your citizenship?
United States
What city and state are you from?
Chicago, Illinois
How old are you?
36
What is your education level and background?
Master's Degree in Spanish
Have you traveled abroad in the past?
Taught English abroad previously
If you have traveled abroad in the past, where have you been?
I've traveled throughout the Spanish-speaking world, England, Greece and Israel. I lived in Mexico City for 6 months when I received a Fulbright grant to do a teacher exchange.
If you have studied abroad in the past, where did you study?
Master's degree in Spain and Mexico
What sparked your interest in going to teach English in Spain?
I knew I wanted to continue to teach, but after twelve years in the same position in the same school in the US I was ready for a change and a new challenge.
Ever since I lived abroad for six months in Mexico, I have wanted to live abroad for the long-term. I was very excited for the opportunity to combine my passions of teaching and traveling abroad.
What were some of your concerns before going to teach English in Spain?
I was concerned if I would find work and if I would earn enough money.
What did your friends and family think about you moving and teaching English in Spain?
Almost everyone was overwhelmingly supportive of my decision. Some very concerned about the economic aspects of the move, especially as Spain was at the time and is still in a deep recession.
Check out Rachel's video of her experience teaching English in Barcelona Spain


TEFL CLASS INFORMATION
Why did you decide to get certified and choose International TEFL Academy?
I decided to get TEFL certified because with it I would be qualified to teach English as a foreign language anywhere in the world. I chose the International TEFL Academy because of positive reviews that I found online but mostly because they have an office in Chicago (where I'm from) and I was able to go in and talk with someone face-to-face. During my appointment they answered all of my questions and didn't pressure me at all to sign up at that moment, which I really appreciated. Then they thoroughly answered all kinds of follow-up questions that I emailed.
Which TEFL certification course did you take?
How did you like the course?
I really enjoyed the course. It is very demanding and challenging which ensures that you are very well prepared to begin teaching as soon as you complete the program.
The Spain TEFL course trainers, Stephen and Kerry, are absolute experts in what they do, especially as in just 4 weeks they are able to mold you into the teacher you hoped you would be. I greatly respect the instructors; they are highly qualified for their positions and will give you the best training possible.
I really liked that the TEFL class is smaller than the big TEFL companies in Barcelona because the trainers are able to provide a more personalized approach and take the time to meet one on one with the students and address all types of concerns - professional ones and personal ones too.
Practice teaching was a great experience as there are small group classes that you get to teach. Leading up to the class, the instructors take you through every step of the planning to make the class as successful as possible. You are then provided with immediate feedback following the class and it is always constructive.
I taught in the U.S. for more than 10 years and definitely came into the experience thinking that I could just breeze through it - that wasn't the case. I say that so that potential students are aware that you have to work really hard, but if you're willing to do so and want to learn from the best, then the Barcelona TEFL class is definitely the place for you.
How has your TEFL training helped you in your current teaching position?
My TEFL training has helped me in every aspect in my teaching positions – from planning and knowing how to exploit materials to dealing with classroom situations like error correction and evaluating students' progress.
TEACHING ENGLISH IN BARELONA, SPAIN
Which city and country did you decide to teach in and why?
I am teaching English in Barcelona, Spain - I knew that I wanted to be in a Spanish-speaking country and I had been in Barcelona for a friend's wedding years ago and loved it.
How long have you been teaching English in Spain and how long do you plan to stay?
I have been teaching English in Spain for 2 years and plan to stay for at least a couple more if not even longer.
How did you secure your English teaching job in Spain?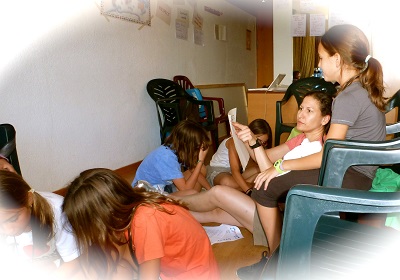 The trainers helped us rework our resumes to the Spanish format. I found classes with three different language companies from the website loquo.com. I picked up private classes when students responded to my ad on the website, tusclasesparticulares.com.
What school, company, or program are you working for?
I have the most hours with an international language institute.
How did you get your work visa? If you didn't get a work visa, please elaborate on working under the table without a work visa.
Feel free to contact me through my blog and I can go into more details privately:
https://mylife2blog.wordpress.com/
Tell us about your English teaching job in Spain!
My first year I taught about 25 hours a week. The average for most teachers is about 15-25 hours a week. My pay varies - one company pays 15 Euros/hour and another pays 22 Euros/hour. With private classes I vary what I charge depending on the number of students and the length of the class.
When budgeting and thinking about how much income one can actually make in a month there are a couple of other factors to consider, like cancellations and holidays. The academic year in Barcelona is generally from October to the end of June and during the year there is a week off at Christmas and Easter and many other holidays in between.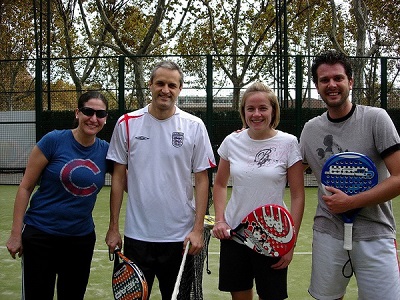 During the first two weeks of July I work at an overnight summer camp and the pay is 1200 Euros, which I think it's a fairly high wage for a camp and then I also don't have any expenses for two weeks.
This year I was able to save about 4,000 Euros during the year and I'll live off of that during August and September when I won't be making money, although I will try to pick up some private classes then.
During my first year, half of my hours came from working for three different language companies teaching both private classes and in-company business ones. The in-company classes were an hour or an hour and a half long and were with two to ten students. I also had one private class with the director of one of the companies and another class with a 15-year old girl.
The other half of my hours were private classes that I found on my own and the students paid me directly. One of those classes was with a family and each of the three kids had a 45-minute session. Other classes were with young adults and professionals.
How did you find somewhere to live and what is it like? Do you have roommates?
I found my apartment on the website www.loquo.com, which is just like Craig's List. There's another site that is just for housing, www.idealista.com.
I rent a room in the apartment I share with two other people, one is from Brazil and the other is Spanish. I live in the Gracia neighborhood, about a ten minute walk from the Sagrada Familia and the Intesol school. My rent is 495 Euros/month and that includes all expenses like gas, water and Internet. You can find rooms for much less, starting around 300 Euros but I wanted my own bathroom and the apartment also has a big kitchen, balcony and an extra room for storage, which is quite rare.
COUNTRY INFORMATION - FUN!
Please explain the cultural aspects, food, social activities, nightlife, expat community, public transportation, dating scene, travel opportunities, etc. about your country:
– The information in this section is specific to Barcelona and may not be true for all of Spain.
-Cultural aspects: Barcelona is in the region of Spain known as Catalunya, which has a unique culture, including the Catalan language. Plenty of expats live in Spain and don't know Spanish but I think learning the language goes a long way towards helping you to interact more with the people and understand the culture.
There are festivals almost every weekend and there is always something fun and interesting to do. There are many fantastic museums and amazing architecture.
-Food: Barcelona has great food; tapas are my favorite along with tortilla española (Spanish omelet) and paella.
-Social activities and Nightlife: I have made a lot of good friends by joining Meetup groups (www.meetup.com). There is a group for every single thing you might be interested in and they are extremely popular here in Barcelona, both with Spaniards and Expats. There are tons of language exchange groups and I regularly go to paddle tennis events and a music and arts group.
-Expat community: There is a very large Expat community here in Barcelona, and not just from the U.S., this is a very international city. You can join The American Society or meet other TEFL teachers on the Facebook page, Barcelona Tefl Teachers Association in addition to the International TEFL Academy Spain Alumni group.
-Public transportation: Barcelona's public transportation system is excellent – it's efficient and affordable.
COUNTRY INFORMATION – MONEY
What are your monthly expenses?

-Rent/utilities: 495 Euros (but there are options for much less, in the 300 range)
Food: Plenty of affordable options and grocery stores that even have peanut butter now.
Social activities: Movies are about 8 or 9 Euros; most clubs/bars don't have a cover charge. Website dedicated to finding free activities in Barcelona: www.forfree.cat
Transportation: A 50/30 card gives you 50 rides to use in 30 days and costs about 39 Euros. Or a ticket with 10 rides costs less than 10 Euros and is good for a year.
Phone/communication: At first I bought a cheap phone for about 10 Euros and then I purchased more credit as needed, maybe 10 or 20 Euros at a time and not more than that per month.
Then I bought an iPhone in the U.S. and brought it back to Barcelona. It was "jail broken" and works perfectly. I bought an initial pay-as-you-go card from a cell phone company to get my phone number and now I add credit as necessary.
Locally, most people tend to use the free messaging app Whatsapp rather than making calls.
To call home to the U.S., I either call with my regular phone and my family calls me back, or we communicate via Skype. When my family calls me it's very cheap as they use a calling card they bought on www.nobelcom.com.
Travel: Flying to other European countries is very affordable – almost always less than 100 Euros roundtrip to London, depending on the time of year.
How would you describe your standard of living?
Comfortable and if I want to change it I can always work more hours. My quality of life is what has been the best change with moving to Barcelona.
In your opinion, how much does someone need to earn in order to live comfortably?
1500-2000 Euros a month
ADVICE FOR PROSPECTIVE ENGLISH TEACHERS IN BARCELONA, SPAIN
What advice would you give someone planning or considering teaching English abroad?
*LEARN THE LANGUAGE: Students really appreciate you making the effort and it helps you understand the learning process better, especially from your students' point of view. And when you place an ad in Spanish, the potential students you attract multiplies exponentially.
*SAVINGS: Before moving I sold almost everything I owned to have as much in savings as possible.
Having savings is extremely important and can save you a lot of stress as you don't know when you'll get a first paycheck or how much it will be for and you probably won't have much work in the summer. Also, when you rent a room or an apartment you have to also pay a deposit that's usually the same as a month's rent.
*HEALTH INSURANCE: I found my insurance broker's name, David Harris, in the book "Living Abroad in Spain". He set me up with a one-year travel insurance plan (that I renewed for a second year), which gave me coverage anywhere outside of the U.S. The plan cost me about 1500 USD a year and while this was overwhelming at first, I was extremely grateful for having insurance and for the assistance they provided me when I needed it when I had an unexpected surgery and hospital stay.
David Harris: mainlyhealthplans@gmail.com
I definitely recommend teaching English in Spain. The only thing is that you have to be willing to live as most Americans do, without work papers (unless you work on a student visa). Before moving to Spain, I decided that I would stay as long as they let me – so far, so good.
Check out Rachel's blog: https://mylife2blog.wordpress.com/
Founded in 2010, International TEFL Academy is a world leader in TEFL certification for teaching English abroad & teaching English online. ITA offers accredited TEFL certification classes online & in 25 locations worldwide and has received multiple awards & widespread recognition as one of the best TEFL schools in the world. ITA provides all students and graduates with lifetime job search guidance. ITA has certified more than 25,000 English teachers and our graduates are currently teaching in 80 countries worldwide.
Want to Learn More About Teaching English Abroad?
Request a free brochure or call 773-634-9900 to speak with an expert advisor about all aspects of TEFL certification and teaching English abroad or online, including the hiring process, salaries, visas, TEFL class options, job placement assistance and more.