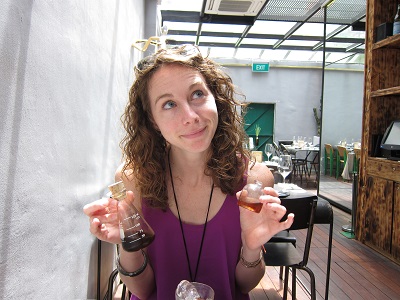 Singapore English Teaching Q and A with Whitney Hegseth
TELL US ABOUT YOURSELF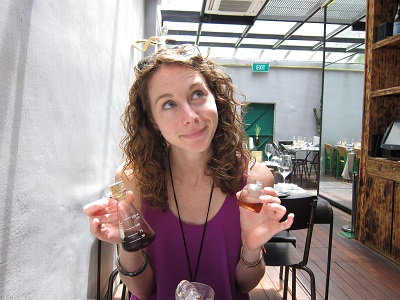 What is your citizenship?
United States
What city and state are you from?

Sacramento, CA
How old are you?
27
What is your education level and background?
Master's Degree or Higher
Have you traveled abroad in the past?
I taught English abroad previously
If you have traveled abroad in the past, where have you been?
28 countries! In Europe, Southeast Asia, South and Central America, and the Middle East.
If you have studied abroad in the past, where did you study?
I studied in Lyon, France, and taught English in Rennes, France.
What sparked your interest in going to teach English abroad?
I wanted another teaching and international experience before committing to a PhD program in the next year or two. I've been in the US, and in educational research, for the past three years and I miss the classroom!
What were some of your concerns before teaching abroad?
Receiving an adequate salary.
What did your friends and family think about you moving and teaching abroad?
Some were excited, some apprehensive (because I had a stable job in the US that I was choosing to leave).
TEFL CLASS INFORMATION
Why did you decide to get TEFL certified and choose International TEFL Academy?
I mainly chose International TEFL Academy for your job guidance resources. I knew I wanted to teach in Singapore (I'm interested in their educational system from a researcher's standpoint), and it seemed hard to find a job on my own. I was very happy with the job search guidance and resources that International TEFL Academy offered.
Which TEFL certification course did you take?
How did you like the course?
I have previous experience as an ESL teacher and education background so the class was fine. The readings were useful, the assignments were painless, and my instructor did a good job. I appreciated that the practicum was flexible in terms of what one could do, and when, and what could be waived based on previous English teaching experiences.
How has your TEFL training helped you in your current teaching position?
I've used the grammar resources! It was very nice to get that refresher course on grammar, and to plant some ideas in my head about classroom management.
TEACHING ABROAD IN SINGAPORE
Which city and country did you decide to teach English in and why?
I teach English in Singapore, Singapore.
How long have you been in this country and how long do you plan to stay?
1-2 years (I've been here since August 31, 2013).
How did you secure your English teaching job?
International TEFL Academy recommendation, then email, then Skype interview with I Can Read, Singapore.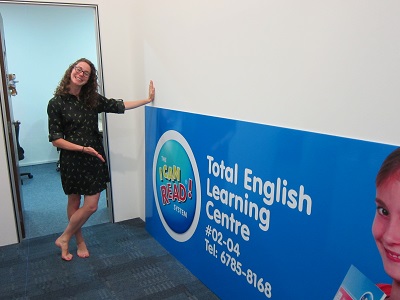 What school, company, or program are you working for?
I Can Read! Singapore (Yishun centre)
How did you get your work visa? If you didn't get a work visa, please elaborate on working under the table without a work visa.
My centre owner had me fill out a few documents while I was still in the US. I scanned them back to him, and he applied for my Employment Pass. He paid for the process, and he set up an appointment for me to finalize the paperwork once I was in Singapore. I brought all of the necessary documents and got fingerprinted, and then picked up my Employment card about one week later. It was very easy, though be exact with your documents, they are picky!
Tell us about your English teaching job!
It is great thus far! I work Wednesday, Thursday, Friday evenings (anywhere from 3-6 hours) and Saturday and Sundays (7 hours each of those days). I get paid 4500 SGD per month, though you are on probation your first three months, and only receive 4000 SGD.
I think I will be able to save, it is still a bit early to tell, though. I'm in a private enrichment centre. I teach students ages 4-12, in classes as small as 1:1 or as large as 1:8. I get 20 days of vacation, but I don't get to pick those days, they are during the term breaks. I Can Read has been fairly organized and supportive of me thus far, and I love my students!
How did you find somewhere to live and what is it like? Do you have roommates?
I used an agent that I Can Read recommended to me. IT IS EXPENSIVE TO LIVE HERE. I am currently living with my boyfriend, but once he returns to the States, I will sublet the government housing that we are renting.
COUNTRY INFORMATION - FUN!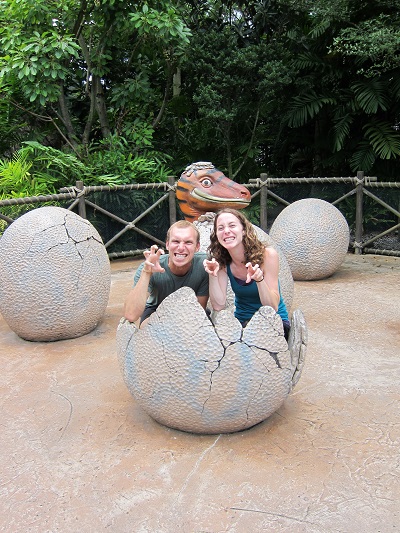 Please explain the cultural aspects, public transportation, nightlife, social activities, food, expat community, dating scene, travel opportunities, etc. about your country:

The culture is mixed, which is lovely.
Public transit is clean and reliable.
My work schedule cuts down on my nightlife experience, but apart from being expensive, it is fun and present here. There are many social activities, a nice mixture of jungle/tropical activities (I see monkeys whenever I go on runs!) and big city activities (museums, exploring new neighborhoods, etc).
Food can be good, though it seems unhealthy, and you have to know where to go to get the tasty stuff.
The expat community is huge here, I can't speak to the dating scene because I'm here with my boyfriend.
Travel opportunities are awesome! You can go anywhere very easily and cheaply. I already got scuba certified in Malaysia.
COUNTRY INFORMATION - MONEY
What are your monthly expenses?
Rent: HDB flat-2500 SGD shared between 2 people (all reported costs are in SGD)
Food: can be very cheap or expensive, depending on where you go-about 500 a month
Utilities: about 100-150 per month
Social activities: varies! about 500 a month?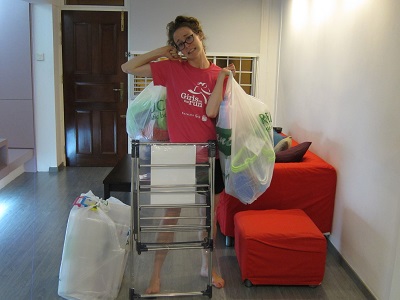 Transportation: about 130 a month (I have a long commute)
Phone/communication: already counted this in utilities cost, internet is about 40 a month
Travel: depends!
How would you describe your standard of living
Comfortable as long as you pay attention to prices and good deals.
In your opinion, how much does someone need to earn in order to live comfortably?
At least as much as what I'm earning, 4500, cost of living is increasing here.
ADVICE FOR PROSPECTIVE TEACHERS IN SINGAPORE
What advice would you give someone planning or considering teaching abroad? Would you recommend teaching in your country?
Be brave! The more you try, the better your experience will be. Don't be shy and avoid interactions and experiences with locals, jump right in!
I don't love Singapore, but I like it. I would recommend it for someone interested in Asia, but afraid to take an initial plunge into the more nitty gritty Asian countries.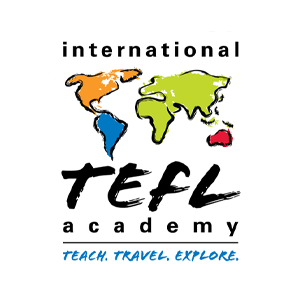 Founded in 2010, International TEFL Academy is a world leader in TEFL certification for teaching English abroad & teaching English online. ITA offers accredited TEFL certification classes online & in 25 locations worldwide and has received multiple awards & widespread recognition as one of the best TEFL schools in the world. ITA provides all students and graduates with lifetime job search guidance. ITA has certified more than 25,000 English teachers and our graduates are currently teaching in 80 countries worldwide.
Want to Learn More About Teaching English Abroad?
Request a free brochure or call 773-634-9900 to speak with an expert advisor about all aspects of TEFL certification and teaching English abroad or online, including the hiring process, salaries, visas, TEFL class options, job placement assistance and more.