Teach English in Peru & Discover the Majesty of the Andes - And More!
Discover Ancient Civilizations, Lush Jungles and Great Surfing while Teaching English in Peru

Boasting thousands of years of history and an incredible array of stunning topography from beaches and jungles to the heaven-bound peaks of the Andes, Peru should be at the top of any bucket list for international travelers. The nation's most famous landmark is certainly Machu Picchu, the 15th-century Incan ruins that rise high into the mists of the Andes. But Peru offers a vast array of other worthy attractions and traits that make it a great destination to teach English abroad and discover the magic of Latin America. Read on to learn more about what awaits those who teach English in Peru.
Lima
Founded in 1535, Lima is the entryway to the country, so you will probably arrive here! Lima was declared a Cultural World Heritage site by UNESCO, for its beautiful colonial architecture, churches and museums. It's also a great place to sample colorful street life and discover why Lima has earned a reputation as a center of cutting edge Latin American cuisine. As the largest city in the nation, Lima is also the largest job market in Peru for teaching English.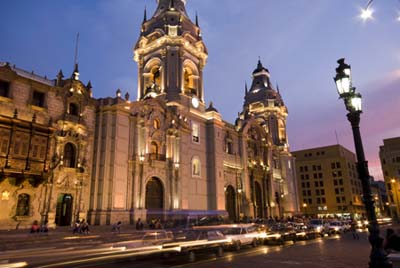 Jungles of the Amazon

Peru is home to the second largest portion of the Amazon after Brazil and up to 60% of the country, primarily east of the Andes, is located in the river's basin, yet less than 10% of the nation's population lives in this region. The best way to go to the Amazon Basin is through Iquitos or Puerto Maldonado. After arriving in one of these destinations, take a boat for about 3 hours upriver to enter the Amazon Jungle.
Here you will discover an amazing array of virgin rainforest bursting with wildlife including birds, monkeys, sloths and other unique species. The river itself is also home to amazing creatures like piranhas and pink river dolphins. Sleep in an open cabin watching the stars, enjoy the silence while monkeys chant in the trees around you, and explore why the Amazon is so enigmatic!!! This is an ideal place for lovers of nature and biodiversity, who will enjoy staying in jungle lodges and protected natural areas such as Pacaya Samiria National Reserve or Alpahuayo Mishana National Reserve.

Sandboarding in Huacachina
About 5 hours south from Lima by car, exploring this desert village can be a great adventure! Known as the Peruvian Desert Oasis, Huacahina is surrounded by a small natural lake and sand dunes and has become really popular for high speed sand boarding!

Surfing in Mancora
Located on Peru's northern coast, Mancora is the most famous surfing spot in the country. Turquoise waters, beautiful white sand and nice long waves will welcome you here. Mancora is also known for its nightlife and happening social scene!

Trekking in the Andes
The possibilities for the trek of a lifetime are nearly endless in the Andes, and one of the most famous routes from Cordillera Blanca in Huaraz. This city is located about 300 miles north of Lima and is in the highest range of the Peruvian Andes. In fact, nearby Huascaran is the highest mountain in Peru and the third largest in the Western Hemisphere at an elevation of 22,205 feet.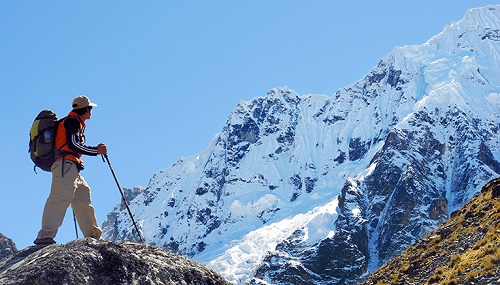 Explore Incan History in Cuzco
Once upon a time, Cuzco was the most important and only city in the continent; it was the destination of Spanish expeditions for gold to bring back to the Crown of Spain. At that time it was also the heart of the Incan Empire and center of one of South America's great pre-Columbian civilizations. This makes a revered location not only in Peru, but through Latin America. Today, Cuzco retains both its Spanish colonial charm and its traditional indigenous character, which can be found in local markets and in the dress and lifestyle of local citizens. Cuzco is also the gateway to the Andes, and to the Lost City of Machu Picchu.
Discover the "Lost City" of Machu Picchu
Machu Picchu is the number one tourist destination in South America, and it's easy to understand why. Dramatically located high in the Andes among the mists of tropical mountain forests, the site was built in the 15th century, but was lost to the outside world until American explorer, Hiram Bingham III "discovered" it in 1911. Despite extensive excavation and study, the city's roots and history remained shrouded in mystery, which only enhances its mystique and allure.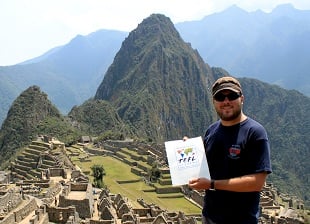 These are just a taste of the countless treasures and sites to see and experience in Peru. The best way to see more of them is to live in Peru for a year or more and get paid as an English teacher. This is also a great opportunity to travel and explore the rest of South America.
Learn about teaching English in Peru and other countries in Latin America by talking to an International TEFL Academy Advisor!
Articles related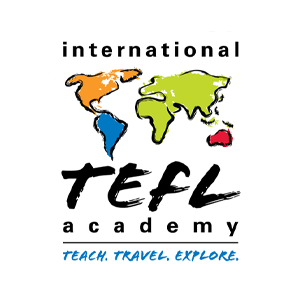 Founded in 2010, International TEFL Academy is a world leader in TEFL certification for teaching English abroad & teaching English online. ITA offers accredited TEFL certification classes online & in 25 locations worldwide and has received multiple awards & widespread recognition as one of the best TEFL schools in the world. ITA provides all students and graduates with lifetime job search guidance. ITA has certified more than 25,000 English teachers and our graduates are currently teaching in 80 countries worldwide.
Want to Learn More About Teaching English Abroad?
Request a free brochure or call 773-634-9900 to speak with an expert advisor about all aspects of TEFL certification and teaching English abroad or online, including the hiring process, salaries, visas, TEFL class options, job placement assistance and more.