Changwon City, South Korea English Teaching Q and A with Thomas Joiner
TELL US ABOUT YOURSELF!
What is your citizenship?
United States
What city and state are you from?
Carbondale, Colorado
How old are you?
26
What is your education level and background?
Bachelor's Degree
Have you traveled abroad in the past?
Studied Abroad
If you have traveled abroad in the past, where have you been?
Barcelona, Costa Rica, Panama
What sparked your interest in going to teach English abroad?
I was looking to change the direction of my life. Teaching English abroad seemed like a good way to get away from everything and re-establish myself.
TEFL CLASS INFORMATION
Why did you decide to get TEFL certified and choose International TEFL Academy?
I chose to get TEFL certified because I wanted a recognizable credential. ITA simply offered the best support that I could find.
Which TEFL certification course did you take?
How did you like the course?
The course was great. I found the information to be very useful. Additionally, the online TEFL course was a very efficient use of my time for the most part.
How has your TEFL training helped you in your current teaching position?
I had very little previous teaching experience prior to taking my current job in South Korea. The TEFL course prepared me for a lot of things that I otherwise wouldn't have been ready for.
TEACHING ABROAD IN CHANGWON CITY
Which country did you decide to teach English in and why?
I chose to teach English in South Korea. Quite simply, if you want to get the biggest bang for your buck, Korea is where it's at. Here in SK you can save a ton of money while simultaneously having a great experience.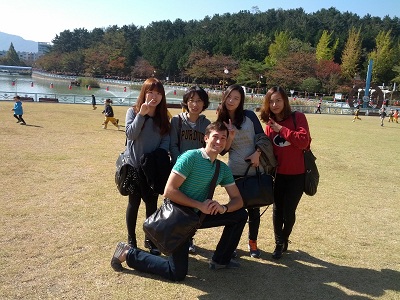 How long have you been in this country and how long do you plan to stay?
Been here 3 months. I'll probably be headed to another country when my contract is up next September.
How did you secure your English teaching job?
Through a recruiting company ITA recommended to me, Educon www.educonus.com
How did you get your work visa? If you didn't get a work visa, please elaborate on working under the table without a work visa.
My recruiter helped me with this process. It was relatively easy.
Tell us about your English teaching job!
Work hours per week: 20-30 hours per week.
Pay: Roughly $2,000 per month plus free housing.
Savings: I live an enjoyable lifestyle including at least one overnight trip every month. I only spend $500 per month and save the rest.
School Type: I work for a private language institute.
Students: The youngest students are 12 years old and my oldest student is 75. I teach them all!
Vacation Time: Korean holidays plus 8 days of paid vacation. All of my vacation time is packed onto the end of my contract, however so I don't have much free time.
Teaching English abroad is awesome. Do it!
How did you find somewhere to live and what is it like? Do you have roommates?
The academy I work for hooked me up with a place to stay that is a five minute walk away from work. I live in a studio apartment by myself. I have all of the basic accommodations. No major complaints. Utilities are very expensive in Korea, however so I try to keep my energy usage to a minimum.
COUNTRY INFORMATION - FUN!
Please explain the cultural aspects, public transportation, nightlife, social activities, food, expat community, dating scene, travel opportunities, etc. about your country:

Culture: Korea is so different from the USA or any other country that I've ever been in my entire life, for that matter. It's difficult to describe the culture in words, you just have to see it for yourself. Korea is an extremely peaceful place, however and the people are very friendly for the most part.
Public transportation: Is abundant and once you're in Korea for three months or so, you start to get the hang of it.
Nightlife: Is great. Koreans love to drink though, so if you plan on making Korean friends, be prepared. If you don't feel like drinking that much, it's better to turn down an invitation to go out for the night than it is to show up at the party and not drink. Some Korean people get offended if you refuse to drink with them.
Social Activities: I've done so much in the short amount of time that I've been in Korea. Korean people love to do stuff on the weekends. My suggestion: make Korean friends and just let them show you around. That way you don't have to worry about making plans and you are guaranteed to have a full calendar. The Expat community is huge here too so it's not difficult to find other native English speakers to hang with.
COUNTRY INFORMATION - MONEY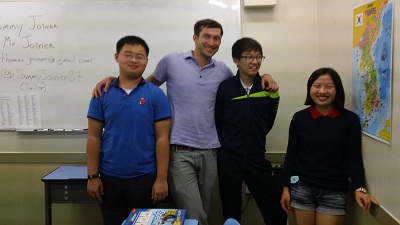 What are your monthly expenses?
Rent/utilities: I only pay utilities; about $100 per month
Food: $250 per month
Social Activities: $100 per month
Transportation: $0
Phone/communication: $50
Travel: $0
How would you describe your standard of living?
Good.
In your opinion, how much does someone need to earn in order to live comfortably?
You need to earn at least $2,000 per month to live comfortably and save a good amount of money.
ADVICE FOR PROSPECTIVE TEACHERS IN CHANGWON CITY, SOUTH KOREA
What advice would you give someone planning or considering teaching abroad? Would you recommend teaching in your country?
Make the jump, you won't regret it. Korea is a great place to begin your Expat lifestyle if you are a little unsure about moving to a country without a job lined up. Private academies and public schools generally take very good care of their teachers in advance. Plus, Korea has a tons of cool stuff to see and is very centrally located if you want to travel around Asia. It's a great time!
Check out Tommy's article: Teaching English Abroad: What's in it for you?
Founded in 2010, International TEFL Academy is a world leader in TEFL certification for teaching English abroad & teaching English online. ITA offers accredited TEFL certification classes online & in 25 locations worldwide and has received multiple awards & widespread recognition as one of the best TEFL schools in the world. ITA provides all students and graduates with lifetime job search guidance. ITA has certified more than 25,000 English teachers and our graduates are currently teaching in 80 countries worldwide.
Want to Learn More About Teaching English Abroad?
Request a free brochure or call 773-634-9900 to speak with an expert advisor about all aspects of TEFL certification and teaching English abroad or online, including the hiring process, salaries, visas, TEFL class options, job placement assistance and more.