Anseong City, South Korea English Teaching Q&A with Chris Schannauer
TELL US ABOUT YOURSELF!
What is your citizenship?
United States
What city and state are you from?
Reinholds, PA
How old are you?
25
What is your education level and background?
Master's Degree
Have you traveled abroad in the past?
Before deciding to teach English in South Korea, I had never left the country.
What sparked your interest in going to teach English abroad?
I was attracted to the opportunity to get paid to travel, while also experiencing another culture and enhancing my resume.
What were some of your concerns before teaching abroad?
I had a list! I was very excited to live abroad, but there were lots of nervous moments during the planning process. Looking back, I realize that's all they were, nervous moments:
Where was I going to live?

What would the area where I would be living look like?

Would I like the food?

What would my classes/students be like?

Is the country safe?

Would I get paid every month?

How do I find my way from the airport?
What did your friends and family think about you moving and teaching abroad?
My family was skeptical at first. Actually, I don't think they believed that I was actually going to go through with it until the day I left for the airport. Overall my family and friends were very supportive.
TEFL COURSE INFORMATION
Why did you decide to get TEFL certified and choose International TEFL Academy?
I received an e-mail from my advisor from International TEFL Academy shortly after I requested more information on their website, I was impressed with the quick follow-up. After looking at some of the materials, I spoke with one of the admission advisors, and after the conversation I decided that this would be a great experience.
Which TEFL certification course did you take?
The online TEFL certification course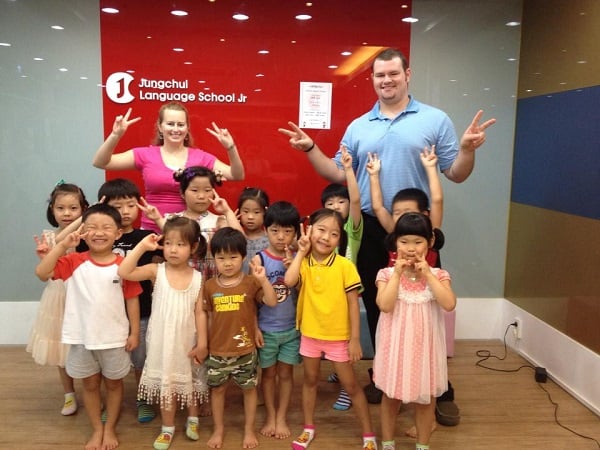 How did you like the course? Please include information about the instructors, tasks, practicum, etc.
The course wasn't too difficult for me, as I had already received my Bachelor's Degree in History Education from Albright College. I believe that the online course provided a nice blend of content, and did a great job of preparing me for the adventure of living abroad.
How has your TEFL training helped you in your current teaching position?
I think the most valuable thing that my TEFL training provided me with was a broader perspective about teaching abroad, including a better understanding of what living abroad would entail. The TEFL course also exposed me to a wide range of teaching tools and methods which are helpful in the classroom.
Which city and country did you decide to teach English in and why?
Anseong City, South Korea. My school offered me a couples position, which was the clincher, because my girlfriend is also teaching abroad. We actually are teaching in the same school.
How long have you been in this country and how long do you plan to stay?
We have been here six months and plan to stay for one year.
How did you secure your English teaching job?
I used Reach to Teach recruiting. They were recommended to me by the ITA Student Affairs department.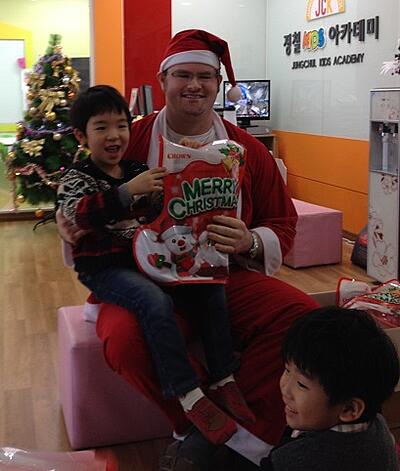 What school, company, or program are you working for?
Jungchul Language School, Gongdo Branch
How did you get your work visa?
First, I had to obtain two copies of a federal background check. Second, the results had to be authenticated, and the apostilled. After this, I had to get two copies of my degree notarized, and then apostilled. I also had to complete a health questionnaire, renew my passport, and request an official copy of my college transcripts. After this, I had to send one copy of all the materials to my school in Korea. The second copy had to sent to the Korean Consulate in New York along with my passport as well as E2 passport application. After receiving my E2 (work visa), I was able to arrange a flight to Korea.
As you can tell, this is a rather long process. One should allow themselves plenty of time to get all this taken care of. Also, one should take care of the federal background check before they are finished with the TEFL course, because things can move rather quickly once you begin interviewing for potential positions.
I would recommend that someone looking to teach abroad follow the Job Search Guidance manual provided by International TEFL Academy. It is extremely accurate, and very helpful.
Tell us about your English teaching job!

I typically work about 40 hour per week. I receive 2.1 million won per month before Health Insurance is deducted. I typically send home somewhere around 1,000 USD per month.
My students are all children. They range in age from Kindergarten to Middle School. Some of the kindergarteners are very young (3-5 years old). The oldest students I have are 14-15 years old.
My school is closed for all the major Korean holidays such as: Chuseok, Christmas Day, the Lunar New Year, etc. It's been a great place to work. It can be crazy sometimes, but overall, everyday is interesting.
My living arrangement was part of the contract. When I signed my contract, the living arrangement was already confirmed. We moved into the same apartment where the couple who was teaching before us was living. We do not have any roommates.
COUNTRY INFORMATION - FUN!
Please explain the cultural aspects, public transportation, nightlife, social activities, food, expat community, dating scene, travel opportunities, etc...
Cultural Aspects: Korean culture is very different from American culture. I would highly recommend purchasing a "Culture Shock" book, which is a book series devoted to making the transition to living abroad easier. There are country specific books that introduce the reader to the cultures and customs of a particular country.
Public transportation: Public transportation in Korea is excellent. There is a really efficient network of subways, buses, trains, and taxis which are cheap, and accessible from anywhere in the country.
Nightlife: There are bars and clubs all around, but it is much different. Koreans love 노래방 which is basically karaoke. They have these singing rooms all over Korea, and Koreans love to go to a bar for a bit and then go to these singing rooms with friends.
Expat community: We live in Gongdo which is basically in between two cities (Anseong to the East and Pyeongtaek to the West). There is a pretty large group of Expats in Anseong and Pyeongtaek. There are also a few Expats who live in Gongdo, but these people typically hang out with one of the two larger Expat groups.
Food: The food is great! There is a variety of different things to try. Most of the food is meat based, but it is possible to survive in Korea as a vegetarian. How do I know this? Jenni (my girlfriend) is a very strict vegetarian. Kimchi is the "national food dish." It is pickled Napa cabbage. There are a number of different pickled vegetables to choose from. There is also Korean barbeque, which is very popular.
Travel opportunities: We usually travel when we are on holiday break. Our work week is pretty hectic, and we like to use the weekends to relax and unwind. However, there are a number of different things to explore in Korea, and because the public transportation system is so good, these places are very easy to get to.
COUNTRY INFORMATION - MONEY!
What are your monthly expenses?
Rent/Utilities: Rent is paid by my school. Utilities vary depending on the season. Our highest month we paid about 360,000 Won for electric, internet, gas, and state tax. This was during the hottest month of the summer. Since then our bills are typically around 150,000 Won (150 USD).
Food: Really depends how much you plan to go out. It is actually very cheap to go out to eat, depending on where you go. Groceries can be expensive, especially if you want to get imported goods.
Transportation: Bus tickets are very cheap (4,000 Won) for a one way bus ticket to Seoul. The subway and intercity buses use rechargeable cards.
Phone: 60,000 Won
How would you describe your standard of living?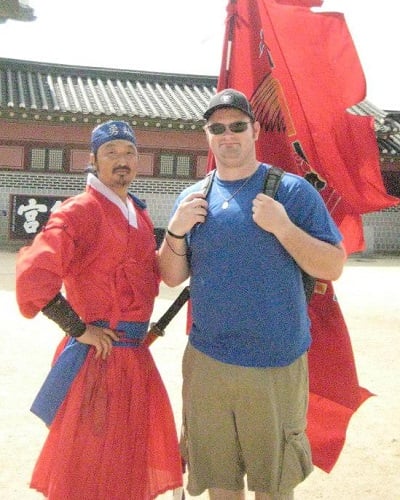 I think the standard of living is reasonable in Korea. Some things are much more expensive than in the United States, but then other things are cheaper.
In your opinion, how much does someone need to earn in order to live comfortably?
Most positions in Korean offer 2.1 million won. This should definitely be enough to live on each month and as mentioned, I send home about $ 1,000 USD a month after expenses.
ADVICE FOR PROSPECTIVE TEACHERS
What advice would you give someone planning or considering teaching abroad? Would you recommend teaching in your country?
I would highly recommend teaching English abroad. It can be stressful at times, but this is true with any job. I believe that living abroad will provide you with a very unique perspective about yourself as well as those around you that is not possible to receive any other way. Living abroad will also help you to appreciate the simple things in life. The only advice I will give you is to weigh the pros against the cons. If you do this, and there are more pros than cons, go ahead and go for it. Don't be afraid, there are tons of Expats in Korea as well as Koreans who are more than willing to help you.
Founded in 2010, International TEFL Academy is a world leader in TEFL certification for teaching English abroad & teaching English online. ITA offers accredited TEFL certification classes online & in 25 locations worldwide and has received multiple awards & widespread recognition as one of the best TEFL schools in the world. ITA provides all students and graduates with lifetime job search guidance. ITA has certified more than 25,000 English teachers and our graduates are currently teaching in 80 countries worldwide.
Want to Learn More About Teaching English Abroad?
Request a free brochure or call 773-634-9900 to speak with an expert advisor about all aspects of TEFL certification and teaching English abroad or online, including the hiring process, salaries, visas, TEFL class options, job placement assistance and more.