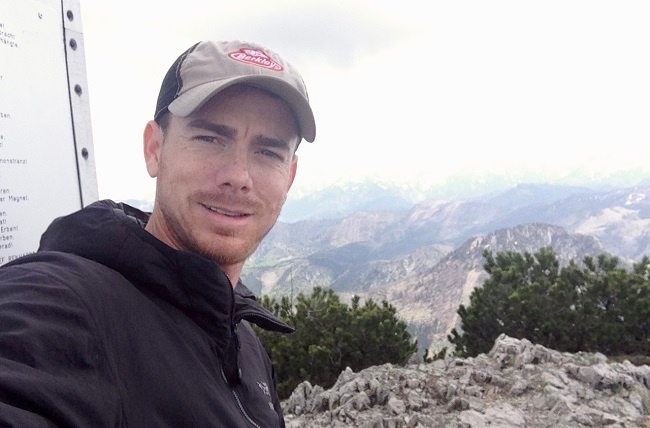 Teaching English in Berlin, Germany: Alumni Q&A with Shane Kelly
TELL US ABOUT YOURSELF

What is your citizenship?

United States

What city and state are you from?

Chicago, IL

How old are you?

32

What is your education level and background?

Bachelor's degree

Have you traveled abroad in the past?

Some international travel with friends, family, business, etc.

If you have traveled abroad in the past, where have you been?

Brazil, France, England, Ireland
What sparked your interest in going to teach English abroad?

I've always been interested in culture, and I love meeting new people. I wanted to become a professional English teacher abroad because I believe it would provide me with a platform to engage with people from all over the world. It's exciting to travel, and for me, culture shock is really exciting.

What were some of your concerns before teaching abroad?

I knew I wanted to teach abroad...anywhere. I was slightly overwhelmed at all the different places that were looking for native English speaking teachers. But like most things, the hardest part was getting my feet wet. Another concern I had was with dealing with bureaucracy. Doing official paperwork in English was already arduous for me, and so having to do it in another language to make your livelihood I thought would be challenging. It turned out, of course, that again the hardest part was getting started.

What did your friends and family think about you moving and teaching abroad?

My friends and family were generally happy for me. Some may have been jealous of the opportunity. A few were sad to see me go. Still others were confused why I would want to leave Chicago! But I never looked back!

TEFL CLASS INFORMATION
Why did you decide to get TEFL certified and choose International TEFL Academy?

First and foremost, the TEFL certification is internationally respected and required to teach at many schools. The International TEFL Academy was right in the neighborhood of where I was living in Chicago. It couldn't be more convenient!

Which TEFL certification course did you take?

USA - Chicago

How did you like the course?

The course provided a well rounded overview of all the aspects of teaching English, particularly to foreign students. Having two instructors provided a nice variety and infused fresh energy into the classroom. It's true that the homework could be monotonous, but the material seemed to be relevant to the demands of the profession. My favorite part was the practicum where I actually had a chance to engage with real language learners. There is no better training than real life experience.

How has your TEFL training helped you in your current teaching position?

Throughout my TEFL training there were many opportunities to go up in front of the class and explain different English concepts. I learned how to speak slowly and articulately as well as how to use body language and engage with instructional materials. Moreover, one presentation where I had to teach the class a song helped me build confidence and flexibility. In general, it allowed me to develop my teaching style.

Which city and country did you decide to teach English in and why?

I chose to teach English in Germany in the city of Berlin. It's not easy to secure a work visa in Europe. There is, however, a particular freelance work visa for English teachers. I discovered that this is unique to Berlin and the rest is history!
How long have you been in this country and how long do you plan to stay?

I have been abroad now for over a year. I intend to keep searching for new opportunities throughout Europe as they arise.

During which months does your school typically hire?

All year

Did you secure this position in advance of arriving?

No

How did you interview for this position?

Skype/Phone Interview

What kind of Visa did you enter on?

Tourist Visa

Please explain the visa process that you went through.

The process begins with making an appointment online with the office for foreigners. Often the soonest appointment, however, is not for a couple of months. In the meantime, you must find housing and register yourself with the city office. You must also acquire a valid health insurance before your visa appointment. On the big day, I was flatly denied a visa because they wanted me to be hired by two schools. And, the next appointment wasn't for another two months! In this time I found another school to hire me, and fortunately the second time around I easily got the work visa. It wasn't easy but it was worthwhile!


What are the qualifications that your school requires for teachers? Please check all that apply

- Bachelor's degree
- TEFL Certification
- Native English Speaker

What is the best way to apply?

Email
Tell us about your English teaching job!

Hours per week: I choose to only work about 20 hours a week so that I can devote sufficient time to studying German. While this doesn't allow me to save much, I believe it will help me find higher paying positions for the long term.

Pay: Typically, I make anywhere between 10-20 Euros an hour depending on the client (whether they are a student or professional).

Type of school: Typically, as a freelance English teacher in Berlin, you associate with a school and they assign you clients based on your experience and what they believe to be a good fit. My experience has been quite typical, however, I also found the need to acquire clients through my own marketing. Speakeasy Language Academy, for example, links teachers with students as well as providing online marketing support and other services. You must constantly be on the lookout for new clients and opportunities- but they are out there!

Vacation time: It's not all work and no play in Germany. Every evening is "Feuerabend" in which Germans set aside their work and truly enjoy a glass of beer. My vacation this year will be working at a summer language camp at a lake near Berlin!

How did you find somewhere to live and what is it like? Do you have roommates?

It's a little stressful to find a place to live in a new city. There is also always a learning curve. For example, there are no "for rent" signs in Berlin-everything is online and you must be quick. There are multiple websites in both English and German that help though. I particularly liked "http://www.wg-gesucht.de/". I chose a flat with roommates in order to save money and also make new friends. So far it has been a really good experience.

COUNTRY INFORMATION - FUN!


Please explain the cultural aspects, public transportation, nightlife, social activities, food, expat community, dating scene, travel opportunities, etc...

Cultural aspects: Germany is a culturally diverse country for historical reasons. Berlin in the North is quite different than Munich in the South or even Hamburg in the Northwest. Berlin itself, where I ended up, is the second largest city in the European Union and it is very unique. It is actually built on a marsh and is reminiscent of an island. In fact, the Berlin wall and the isolation imposed by governments further developed its special character. Today, however, it is truly an international city. It's very progressive and is bustling with energy. From museums and art galleries, to expansive parks and flower gardens, to the best nightclubs in the worlds, there is truly something for everyone. I remain surprised at the juxtaposition and seeming harmony of yuppies with strollers and regular working (and non-working) class people. Usually big cities have the reputation of not being a place to raise children, but in Berlin many parents find it quite satisfactory.

Public transportation: The public transportation is superb and timely in stereotypical German style. There are also designated bike lanes and biking is very popular and convenient. The streets, though they can be wild at night, are clean and calm once the revelers disperse.

Expat community: There's always someone to talk English to as there are expats and travelers from all over the world living in Berlin.

Dating scene: There are many singles and opportunities to meet people. They have a monthly speed dating event in the famous Prenzlauer Berg.

Food: Beyond the Berlin-famous "Currywurst" (sausage with curry sauce) there is actually a thriving organic and vegan scene in Berlin.

Social activities: There is so much to do! Flea markets, sports clubs, and artists everywhere! Berlin is a playground for adults and children alike!

Like most cosmopolitan cities, Berlin is growing fast and changes quick. In turn, comes opportunities-which is why Berlin is the start-up capital of Europe.

COUNTRY INFORMATION - MONEY
What are your monthly expenses?

Expenses in Euros:

Rent: 400
Food: 150
Entertainment:120
Transport: 50
Phone: 20
Health Insurance:150
Other/Misc: 75

How would you describe your standard of living?

My standard of living is comparable to what it was in Chicago. There are so many parks in Berlin, so it is easy to get away from the hustle and bustle of the city. All the greenery certainly improves the standard of living. Additionally, for entertainment one needn't pay much if at all. The people watching is excellent and there are street performers everywhere. The food is cheap and good, and there are always farmers' markets. In general, Germany provides a better social safety net than in the U.S., and so the average person seems to be much happier, which resonates throughout the city.

In your opinion, how much does someone need to earn in order to live comfortably?

I would say one should earn at least 750 Euros per month in order to live comfortably. Health insurance is required which can be expensive. Also, one can't be comfortable if they don't have a little cushion for emergencies.

ADVICE FOR PROSPECTIVE ENGLISH TEACHERS
What advice would you give someone planning or considering teaching abroad? Would you recommend teaching in your country?

I would definitely recommend teaching abroad in Germany to anyone with an interest. German people are very friendly when you get to know them. I would advise that one should learn some German and be interested in German culture and history. Although not essential, knowing the language will enable one to earn more money and get better positions. It is also much appreciated by the Germans. Too many Americans can be arrogant in this regard. In general, one should be open minded to new experiences and ready for an adventure. It is a rewarding experience.



Founded in 2010, International TEFL Academy is a world leader in TEFL certification for teaching English abroad & teaching English online. ITA offers accredited TEFL certification classes online & in 25 locations worldwide and has received multiple awards & widespread recognition as one of the best TEFL schools in the world. ITA provides all students and graduates with lifetime job search guidance. ITA has certified more than 25,000 English teachers and our graduates are currently teaching in 80 countries worldwide.
Want to Learn More About Teaching English Abroad?
Request a free brochure or call 773-634-9900 to speak with an expert advisor about all aspects of TEFL certification and teaching English abroad or online, including the hiring process, salaries, visas, TEFL class options, job placement assistance and more.