San Jose, Costa Rica English Teaching Q and A with Brad Scheel
TELL US ABOUT YOURSELF
What is your citizenship?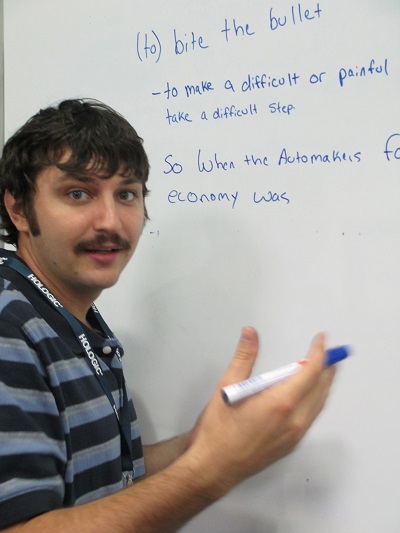 United States
What city and state are you from?
Elk Grove Village, Illinois
How old are you?
27
What is your education level and background?
Bachelor's Degree
Have you traveled abroad in the past?
I never left the country before this trip.
What sparked your interest in going to teach English in Costa Rica?
I have my teaching certification in Illinois. I haven't been able to get a job. So I was looking for something new besides being a substitute teacher. I also enjoy traveling. So why not teach while I travel.
TEFL CLASS INFORMATION
Why did you decide to get TEFL certified and choose International TEFL Academy?
Most places I read about said you needed a TEFL Certification in order to teach abroad so that's why I choose to get TEFL certified. As far as International TEFL Academy goes, I have had a few friends in the past go to the Academy and they really liked it which made the decision that much easier.
Which TEFL certification course did you take?
How did you like the course?
I really enjoyed the course, it really helped me get prepared to teach English abroad. The practicum (student teaching to non native ESL students) was the best preparation. I had Jan and Gosia as my teachers and they were amazing. They really were there to help you with anything you needed. They helped prepare me greatly.
How has your TEFL training helped you in your current teaching position?
The TEFL training really gave me an idea of what to expect when I got here to teach English in Costa Rica. It helped prepare me in lesson planning, grammar, coming up with activities, and styles of teaching. Even as a licensed teacher, without the TEFL training I would have been no where near as prepared as I am.
TEACHING ENGLISH IN SAN JOSE, COSTA RICA
Which city and country did you decide to teach English in and why?
I am teaching English in San Jose, Costa Rica. I heard it was beautiful here (which it is). Also I'm from Chicago and it's the middle of winter there now and it's 80 and sunny everyday in Costa Rica!
How long have you been teaching English in Costa Rica and how long do you plan to stay?
I have been in the country for a little over a month and plan to stay for at least 6 months.
How did you secure your English teaching job in Costa Rica?
When I arrived in Costa Rica I sent emails, made phone calls, and visited schools until I got job offers.
What school, company, or program are you working for?
I work for 2 different companies:
Pro language (https://www.pro-language.org/) and English 2 go (http://www.english2go.co.cr)
How did you get your work visa? If you didn't get a work visa, please elaborate on working under the table without a work visa.
I did not get a work visa (it's legal to teach without one in Costa Rica). So every 90 days I have to leave the country for a new tourist visa. The places I work for realize this so they allow time off for you to leave the country. They do help you set up a bank account though.
Tell us about your English teaching job in Costa Rica!
I teach English in Costa Rica for 2 different English Schools. However, the schools kind of work together. If they have a teacher they like and one doesn't have any classes available to teach but the other one does, they will recommend the teacher. I work about 20 hours a week. The pay really depends. It depends on how far you have to travel to get to the class. It also depends on how much the company is willing to pay to have a teacher there. I teach business adults for a few different companies. In Costa Rica there is a lot of vacation time. More than in the states. So there is plenty of time for traveling.
How did you find somewhere to live and what is it like? Do you have roommates?
While staying in the hostel I actually met 2 guys from Illinois who came down here to teach English too. So we all decided that we were going to live together. We asked all of the places where we work at if they could point us in the right direction. They suggested some places. We found some through craigslist and encuenta24.com which is website you can look at apartments for rent on. Then we just went and looked at them all and decided on which one would be best for us.
COUNTRY INFORMATION - FUN!
Please explain the cultural aspects, public transportation, nightlife, social activities, food, expat community, dating scene, travel opportunities, etc. about your country: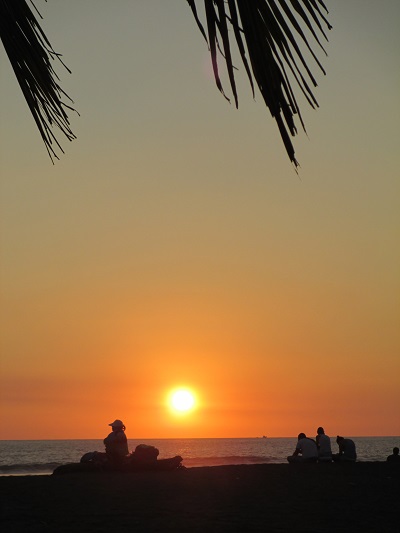 So far Costa Rica has been awesome! The public transportation is pretty good. San Jose is the main hub for getting around. So if you live near San Jose you can pretty much get anywhere in the country. Buses are relatively cheap. The further you go the more it costs but most of them are less than a dollar to get on.
In the San Jose area the night life is great. There's a college in the city so there are a lot of college aged students. San Jose has all sorts of different types of bars. The food is also very good. There is a really wide variety in the places you can eat. They have anything from your typical Costa Rican food, to Jamaican, Peruvian, American, Mexican restaurants and more. Most are reasonable priced.
There are a lot of expats in Costa Rica. They have web sites set up so you can meet other people who are traveling/living in the country. The travel opportunities in Costa Rica are amazing. From San Jose at the most it takes 5 hours by bus to get pretty much anywhere in the country. From San Jose to the Pacific Ocean is about a 2 hour bus ride or less. They have amazing beaches, waterfalls, and rain forests.
COUNTRY INFORMATION - MONEY
What are your monthly expenses?
Housing: I share a house with 2 other people. We pay $850 a month between the 3 of us. That includes rent, cable, internet, and all utilities. From what I've heard we got a really good deal.
Food: We don't eat out to much, maybe a few times a month. Pretty much when I travel is the only time I eat out. Beer is not the cheapest to buy from the stores. To get a 12 pack its anywhere from 13-15 dollars. However, at the bars it's about 2 dollars a bottle.
Transportation: The buses are pretty cheap. Usually to get to where I work it costs between 1 to 2 dollars.
Communication: I bought a pay as you go phone. I got the cheapest one possible. It cost me $30 for the phone and its about 15 cents a minute. I use the company called movistar.
Travel: When you travel hostels are usually about $15 a night. It depends on the how far you go when it comes to bus fair. We went on a 4 hour bus ride to the Atlantic side and that cost $10. When we went to the Pacific side which is 2 hour ride it was $5.
How would you describe your standard of living?
I'm living pretty well. With the amount of hours I get and the rent I pretty much break out about even.
In your opinion, how much does someone need to earn to live comfortably?
Right around $600 a month.
ADVICE FOR PROSPECTIVE ENGLISH TEACHERS IN SAN JOSE, COSTA RICA
What advice would you give someone planning or considering teaching abroad? Would you recommend teaching English in Costa Rica?
I would definitely recommend taking the TEFL class (even for certified teachers). It really helps you prepare for the teaching aspect of it all.
I would recommend brushing up on the language for the country you plan on going to. Knowing directions would be a huge help. I got lost a few times in the beginning because I had no idea where I was going. It also doesn't help in Costa Rica that they really don't have street names or numbers. When it came to getting a job I think the best thing I did was get a phone when I got down here. I called the schools and asked to speak to the person in charge of hiring English teachers. I got a lot of interviews set up that way.
Founded in 2010, International TEFL Academy is a world leader in TEFL certification for teaching English abroad & teaching English online. ITA offers accredited TEFL certification classes online & in 25 locations worldwide and has received multiple awards & widespread recognition as one of the best TEFL schools in the world. ITA provides all students and graduates with lifetime job search guidance. ITA has certified more than 25,000 English teachers and our graduates are currently teaching in 80 countries worldwide.
Want to Learn More About Teaching English Abroad?
Request a free brochure or call 773-634-9900 to speak with an expert advisor about all aspects of TEFL certification and teaching English abroad or online, including the hiring process, salaries, visas, TEFL class options, job placement assistance and more.